When it founded, Cloudflare was all about speeding up websites and protecting them from hackers. A years passed, many websites have been using its services to stop flood of traffic severing their servers.
The company software automatically routes web visitors through the most geographically-close data center, in order to offer the fastest speeds. It also automatically block traffic it believes to be malicious.
In a move to go beyond the web and into protecting and speeding up other parts of the internet, including games, email servers, to the Internet of Things (IoT), the company releases Spectrum.
Spectrum works similarly to other Cloudflare services, which proxies internet traffic that runs through the company's distributed data centers around the world. But Spectrum has a broader goal: allowing systems that connect to the internet, but aren't part of the web, still virtually sit on Cloudflare's network to benefit from DDoS defense.
What this means, Spectrum works with pretty much anything that is connected to the internet.
Promises all TCP services to be protected against Layer 3 and 4 DDoS attacks
"Cloudflare has always been focused on improving the Internet experience for users around the world, but until now, we've only protected and accelerated web protocols. Spectrum represents a huge step in helping to build a better internet, as we open the power of Cloudflare to protocols beyond the web," said Cloudflare CEO Matthew Prince.
This kind of service is needed as DDoS attacks have increased in size and potency, This is a result of more capable systems, tools and also internet connected devices that can be manipulated. DDoS attacks have also gone away from traditional targets to less mainstream ones.
For example, in 2016, Dyn which is a major provider of DNS services, has been hit with one of the largest DDoS attack in history. The attack that peaked at 1.2Tbps, disrupting many business on the internet that relied on Dyn.
With Spectrum, Cloudflare that is already managing and optimizing customer data flow around the world anyway, might as well also take the opportunity to act as a middleman between customer systems and the wilderness of open internet.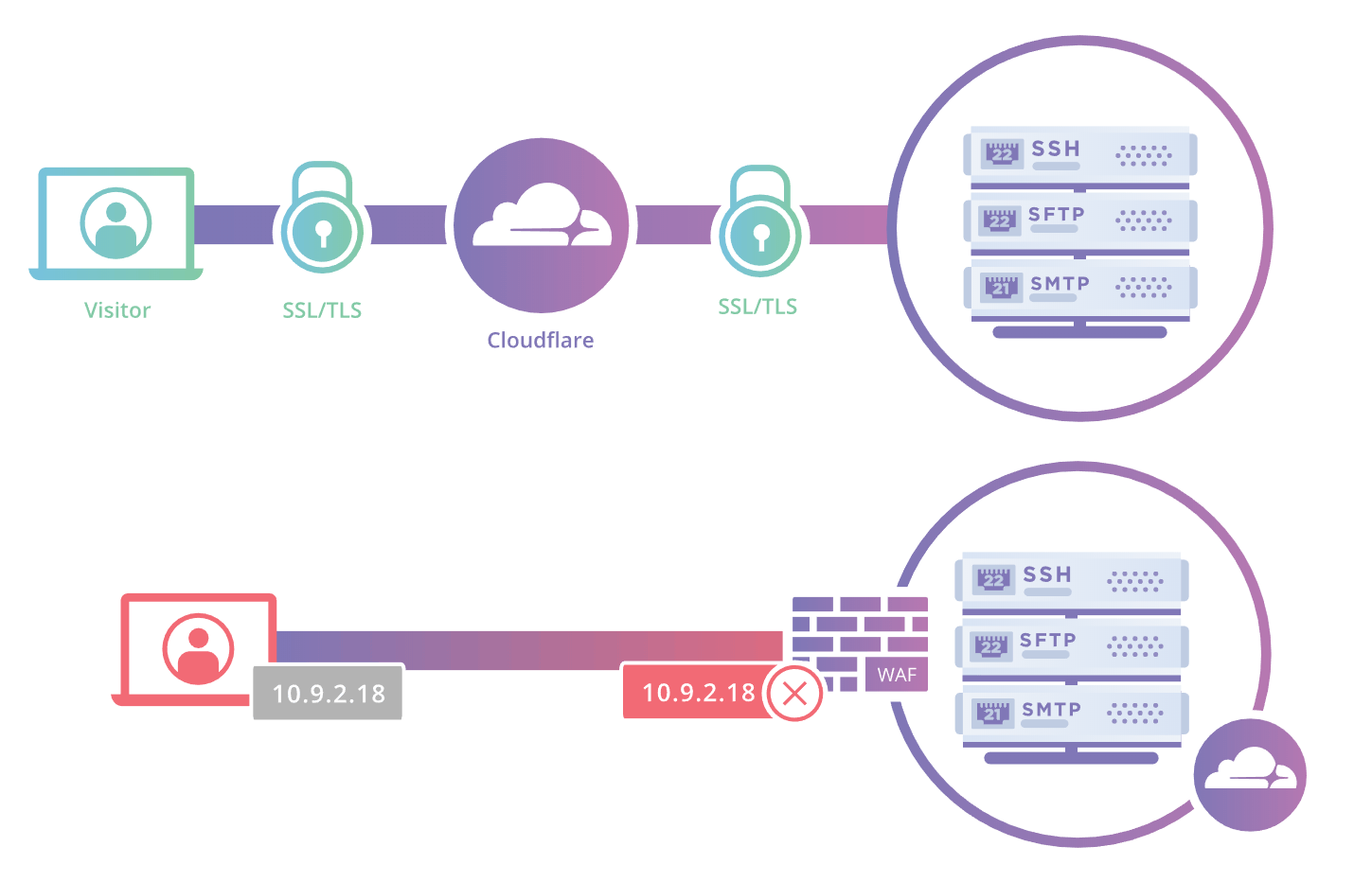 Encrypts services running on TCP to prevent unencrypted data from falling into the wrong hands. Spectrum is also integrated with Cloudflare's IP Firewall
With Spectrum, Cloudflare also wants to protect more than older legacy products. In addition to offering DDoS protection and faster connections, the company wants Spectrum to work on systems that use outdated software that doesn't support transport-level encryption.
Here, Spectrum can automatically protect it without causing any compatibility headaches.
Spectrum is different and unlike other regular Cloudflare products, which work only for apps, APIs and websites, all of which tend to use regular web protocols. as the company puts it: Spectrum extends Cloudflare to 65,533 ports. It's also not a self-serve product like the the majority of Cloudflare's existing services. It's also mostly about security, not performance.
For that matter, the product is initially available for the company's larger enterprise clients only.
According to Prince, Cloudflare started as a company that protected websites, in part because it was going after small customers during its early days. As the web grows, those customers went from small websites to more advanced web applications and mobile apps. And this is where Prince sees Cloudlare: it's not anymore just for websites, but to the whole internet.
"For born-on the web companies, we've been great, but if you are a big financial institution, there is a bunch of stuff that you use networks for that isn't on the web," Prince noted.