Google has announced a major upgrade to its Gmail email service which include an updated look and a bunch of new features.
The much-awaited makeover of Gmail arrives after five long years of anticipation. After having rumors circulating for weeks, the huge update is how Google wants to help users cope with the ever-increasing needs for emails.
"Email is a necessity for most of us," said Matthew Izatt, Gmail's Product Manager in a blog post. "We use it to stay in touch with colleagues and friends, keep up with the latest news, manage to-dos at home or at work—we just can't live without it."
The updates are meant to increase productivity for its more than one billions users, especially at work.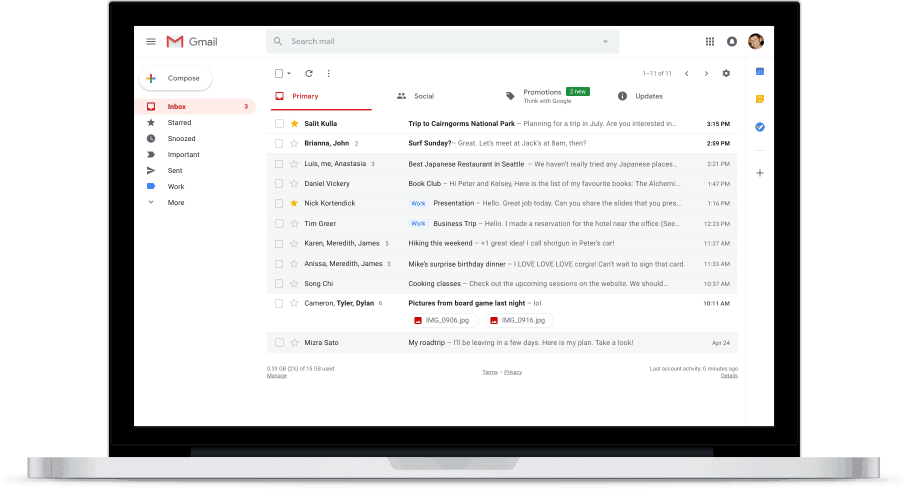 The first is a Snooze feature.
What it does, is snoozing incoming emails, just how Google previously did with Inbox app, and make them disappear for a time being. The Snooze feature looks like a clock, and here users can set the preferred time they want the email to be redelivered.
This feature is located on the inline quick action buttons which together, should be helpful in handling separate emails. Here, users can 'Archive', 'Delete', 'Mark it read' or 'unread', or 'Snooze it'.
And in case emails get through unnoticed, Gmail has a 'Nudge' feature which follows up and responds to messages with quick reminders that appear next to users' email messages.
For the most notable addition, is Google Tasks. With it, users can drag emails to the Tasks section to set a to-do list based on those emails. Here, users are allowed to create multiple lists which can be rearranged by date or manually. Other features include assigning subtasks, dates and additional notes to the tasks.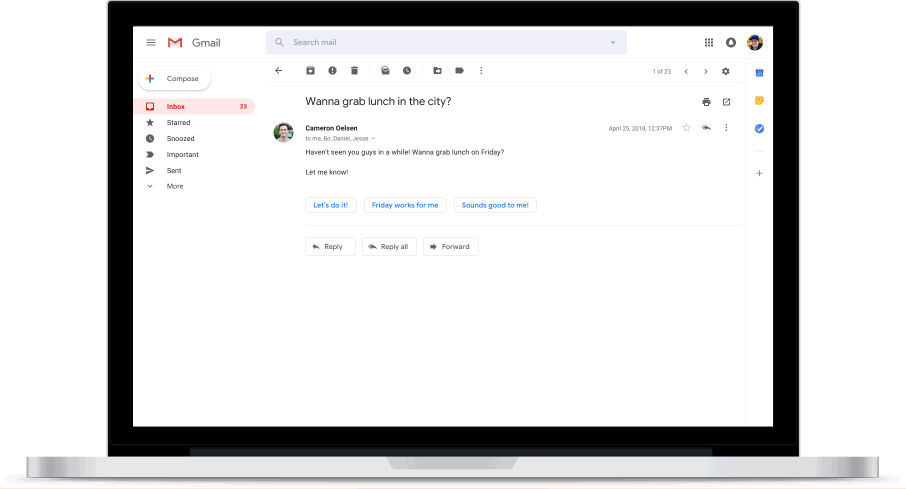 Then there is the Smart Reply feature, which allows users to reply messages faster with quick answers.
Google also beings a brand new sidebar which is located at the right-hand side of the screen. Here, users can tap on any of the icons to pull up Google Calendar, Tasks and Keep, or access other Gmail addons users have installed on their system.
The updated Gmail also introduces clickable attachments, This should save users' time by displaying attachments inline so they can open them without even opening the mail itself.
There is also an easier way to subscribe to unwanted newsletters. Users may receive annoying newsletters from services they forgot or didn't sign up for. The feature is called Assistive Unsubscribe, which learns from users' interaction with emails. The less frequent users interact with an email newsletter, the feature will recommend unsubscribing such emails with a quick option.
To improve security and privacy, Gmail also introduces features to help users.
The first is the risk warning feature which is designed to detect potentially harmful emails. With this security feature, Gmail can display a risk warning text - "This message seems dangerous" and offer a 'Delete Now' button. This should prevent users from clicking malicious links in messages and preventing them from falling to phishing activities.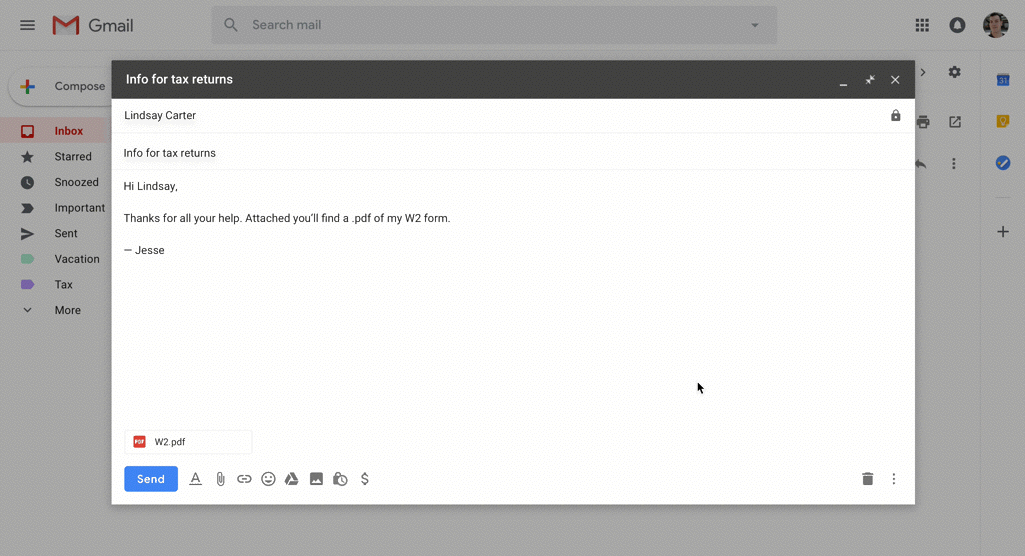 Then there is the confidential mode which allows users to self-destructing emails. Users can pick an expiration date after which the email and its attachments will no longer be available. In addition to that, users can also revoke a sent mail after which it won't be readable by the recipient.
Messages sent in the confidential mode cannot be forwarded, copied or downloaded by the recipient. This should be useful when sending sensitive information. There is also an option to include a password so only authorized recipient can open the message.
And for last, there is a native offline support which allows users to search, write, delete, and archive emails up to 90 days and work on them, even without internet connection available. This can be quite helpful in places that have low network connectivity by helping them to save their work.
What Google is doing here, is getting closer to Microsoft Outlook which is popular with its business-focused features.
Outlook's main users include big businesses, and so for that it is designed to have features that improve productivity, security, and managing email sharing. Outlook dominates this productivity software market, and Google wants a share for its pie. The company has been closing the gap with its G Suite service, but with the Gmail updates, Google wants more than that.