The browser war continues, and Google Chrome remains victorious by a large margin.
But that doesn't mean the competition is dead. Safari, while unique to Apple, is gaining its pace that in 2022, it comes in second place, according to web traffic analysis website StatCounter. Others include Microsoft Edge, Mozilla Firefox, Samsung Internet, Opera and others.
There are many other smaller browsers, like Vivaldi, UC Browser, and many more.
This time, Josh Miller is entering the market with his creation.
Calling it the Arc browser, the developer is rethinking the fundamentals of how people use the web.
Arc that market itself as the "space to breathe on the internet," wants to become the Chrome replacement web users have been waiting for.
According to Arc's developer 'The Browser Company' on its website:
"Despite the ways our internet use has evolved, the browser has remained relatively unchanged. While all of our other software tools are changing for the better—with more collaborative features, flexible interfaces, and powerful functionality—the browser largely still does what it did twenty-five years ago."
"What's more, we blame ourselves for the browser's shortcomings. When our browser has an overwhelming number of tabs, we call ourselves inefficient; when we get distracted online, we tell ourselves we need more discipline; when we can't find a url, we think we're disorganized. Why does the browser get a free pass?"
That's why we're building a new browser, which we call Arc, because we believe browsers can do so much more to empower us. We're imagining a browser that can think as quickly as we do, take work off of our plates, and pull our creativity forward. A browser equipped for the way we use the internet in 2022, and foundational for how we hope to use it in the future."
It all began when Miller, a product developer, spent his days using and analyzing Chrome and its rival, Safari.
And according to him, the experiences are "broken."
He said that staring at both browsers side-by-side, he considered the two browsers as almost indistinguishable in terms of their interfaces.
From the grey menus and the wide address bars, he considered them a waste of valuable space.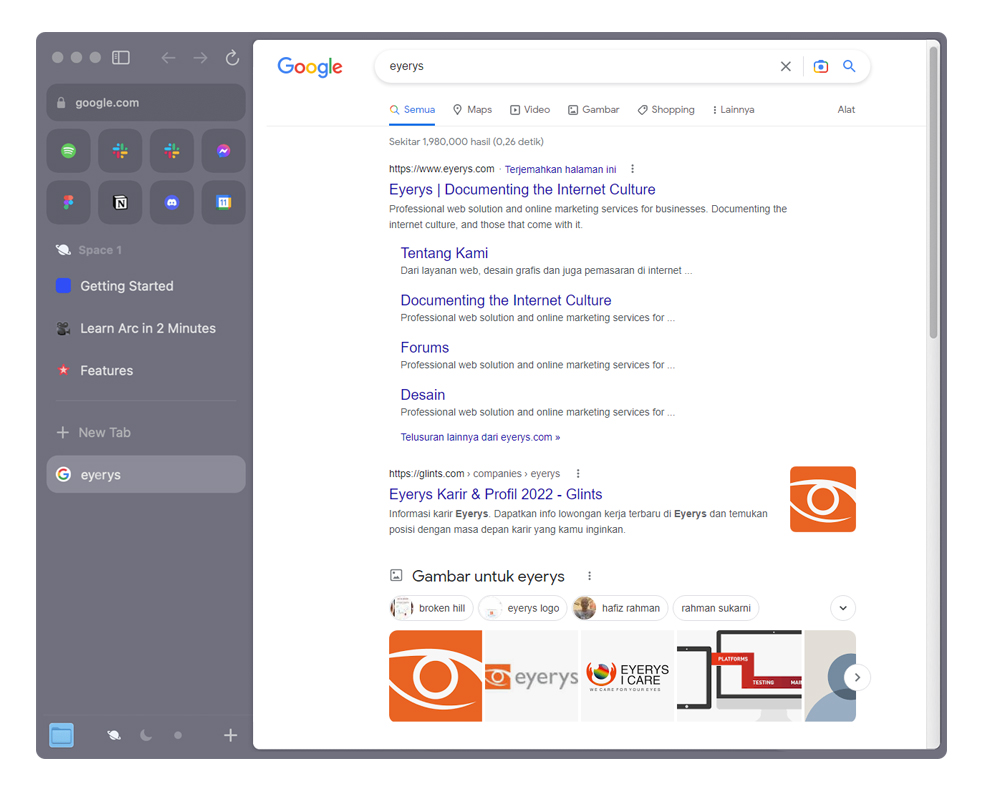 The Arc browser centers on its sidebar.
And most notably, he criticized how users of the two browsers can suffer from cluttered tabs that collapse into tiny icons when too many are open.
"Why do I have seven versions of the same Google Doc tab open across three windows?" he said.
"It doesn't make any sense!"
Power users of the web often complain about how web browsers have poor tab management, and how cluttered their interface is.
In Miller's view, this kind of things shouldn't be that hard to solve.
It's only that tech giants are caring too much about themselves, that they don't have much reason to care about their users.
According to Miller, the basic assumption of what a browser is, which is a rectangle with a topside URL and a row of tabs, each displaying a separate web page, could be all wrong.
His solution, is eliminating them altogether.
The Arc browser lacks the toolbar web browsers are all known for.
Once entering the URL of a website at the sidebar, the browser opens the web page in full screen, allowing users to focus on whatever is on the screen.
Literally everything users do starts from inside Arc's left-hand sidebar. The sidebar houses regular tabs, pinned tabs, folders, spaces, favorite tabs, Spaces, the Library, Notes, Easels, screen captures, and more. If it exists in Arc, it exists in the sidebar.
The browser also has a split view mode, which allows users to see two screens at one.
With this mode, users can also use other Arc features, like launching a whiteboard-like function that users can use to drag-drop and make notes as they go.
And when speaking about productivity, Arc also has a feature for easy note-taking, allowing users to scribble up things or clip items.
Then, users have a dedicated library that homes their latest downloads, as well as bookmarks, and more.
Arc centers on this sidebar, so if exists in Arc, it exists in the sidebar.
Arc is powered by Chromium, meaning that it has the same engine has Chrome, Edge and a bunch of others.
But since Chromium is open source and allows anyone to modify the codes, Miller tweaked it to make Arc a unique browser.
At this time, Arc is still young and is undergoing continued development. It may not be able to replace Chrome or Safari in terms of usability and features, but it does provide a bit of fresh air.