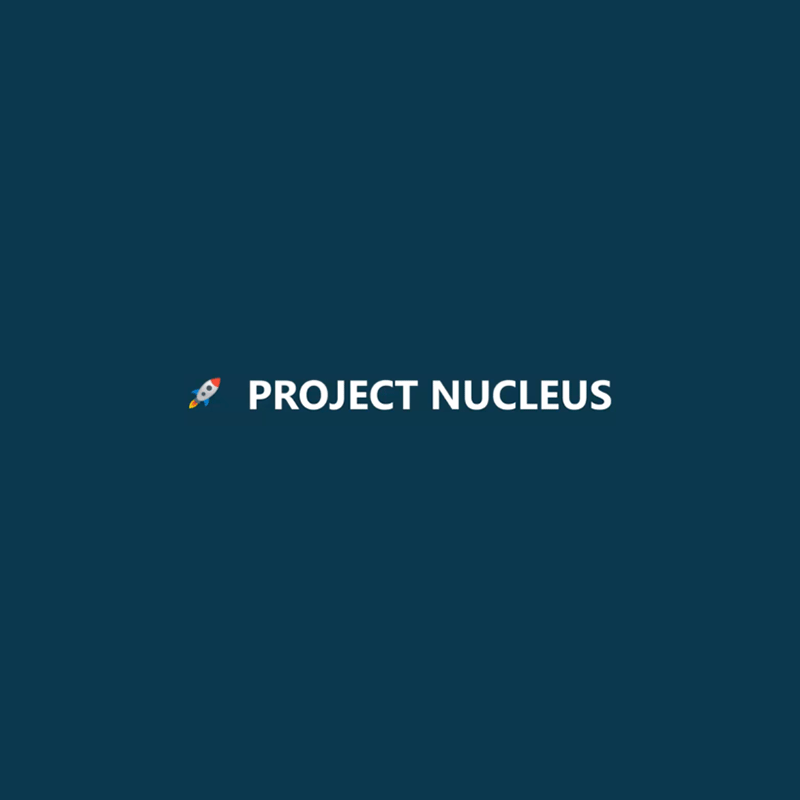 Microsoft is not an internet company. But it does have the influence that affects others, including the web in general.
The company has numerous of services and products that run on the web. But in the form of apps and web apps, they are heavily reliant on internet speed to work properly. And if the size the services need to transfer is huge, the services can fail in providing the best of experience.
Back in September, during the virtual Ignite 2020 conference, Microsoft Corporate Vice President Jeff Teper showed off 'Project Nucleus,' a technology that Microsoft said, can improve the performance and reliability of intranet-focused web apps.
As Microsoft explained it, "no synchronous round trips are needed for filtering, sorting or scrolling," and large lists will work without throttling with the addition of Nucleus technology.
All changes made to content offline will automatically sync once internet connection is reestablished.
"Project Nucleus will power the next generation of our web apps and portals. It will use intelligent sync to a database to keep a cache on the client that our web apps use to deliver a leapfrog in performance," wrote Microsoft in a blog post.
Project Nucleus is Microsoft's bet for improving the performance and reliability of the apps and web apps.
In comparison to Google's Progressive Web Apps (PWAs), which are a very lightweight way of distributing apps, Microsoft said that Project Nucleus is to make interaction with content as soon as users can see it on-screen, and not just something to be used as a bookmark.
For this reason, Nucleus should be able to work with very large and complex data sets, fast, and still reliable on slow network connection.
According to Microsoft, the goal of this project is to make the time for 'first meaningful paint' (how quickly the important content is visible on screen) and 'first CPU idle' (how soon the web app can respond to user input) to be as similar as possible.
To do this, Project Nucleus was built on the synchronization Microsoft has implemented on OneDrive, including the differential sync, where only the changes in a file are transferred, rather than the whole file every time.
Nucleus can then use the data it has to make a cache for a PWA to improve the performance and allow offline use. The method is to only cache whatever data the app needs, with changes that are made to be uploaded when internet connection returns.
Project Nucleus is also built on an extensible framework, so other web apps can take advantage of it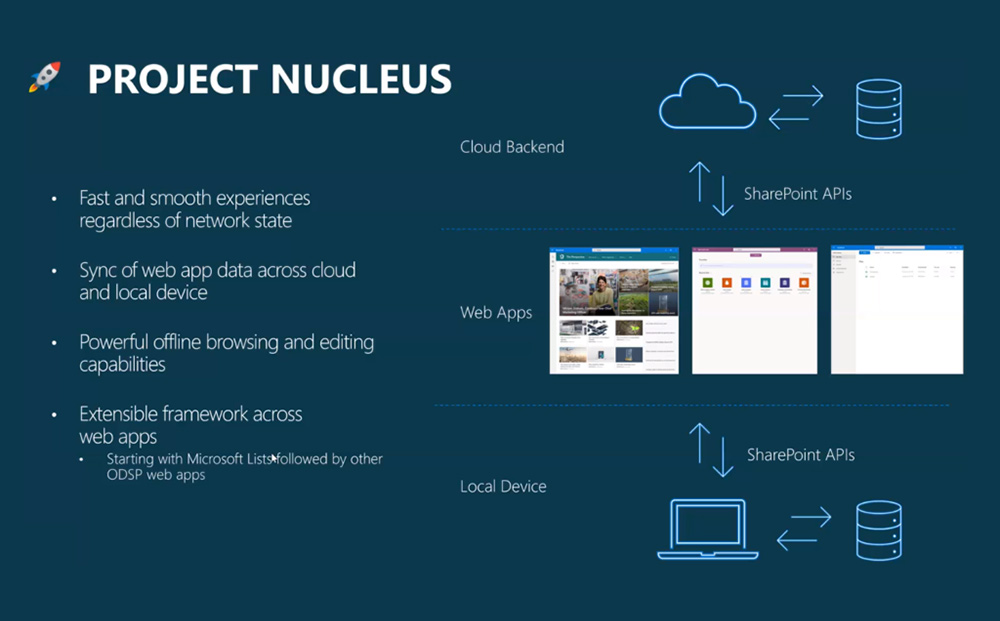 According to Microsoft's Director of Product Marketing Dan Holme:
"The first place that it will come to life is with Microsoft Lists, which is the evolution of SharePoint lists into a standalone hero list experience."
"Project Nucleus will allow you to work with Lists offline: it will take care of all of the merging and synchronization of changes. Behind the scenes, it uses some of the capabilities and technologies we've developed as we scaled OneDrive. So just as OneDrive is doing a really awesome job for customers synchronizing work on files, which in many ways is even more complicated because those are unstructured, Project Nucleus is going to facilitate offline access to lists, on mobile, as well as on desktop."
As a start, Microsoft plans to make this technology part of Lists information-tracking app.
Lists is a good application to start with because the cache means that even on a slow connection, sorting or grouping columns and filtering, even in really large lists, can improve significantly. Microsoft has demonstrated this with lists containing a hundred-thousand items, has already tested million-item lists internally, and expects to support even larger lists.
Initially, the Project Nucleus version of Microsoft Lists is available only in private preview.
As of the announcement, the technology that is a SharePoint platform improvement, is only available for Windows and Chromium-powered browsers like Edge. But Microsoft wants to make it cross-platformed and on all modern browsers when it's generally available.