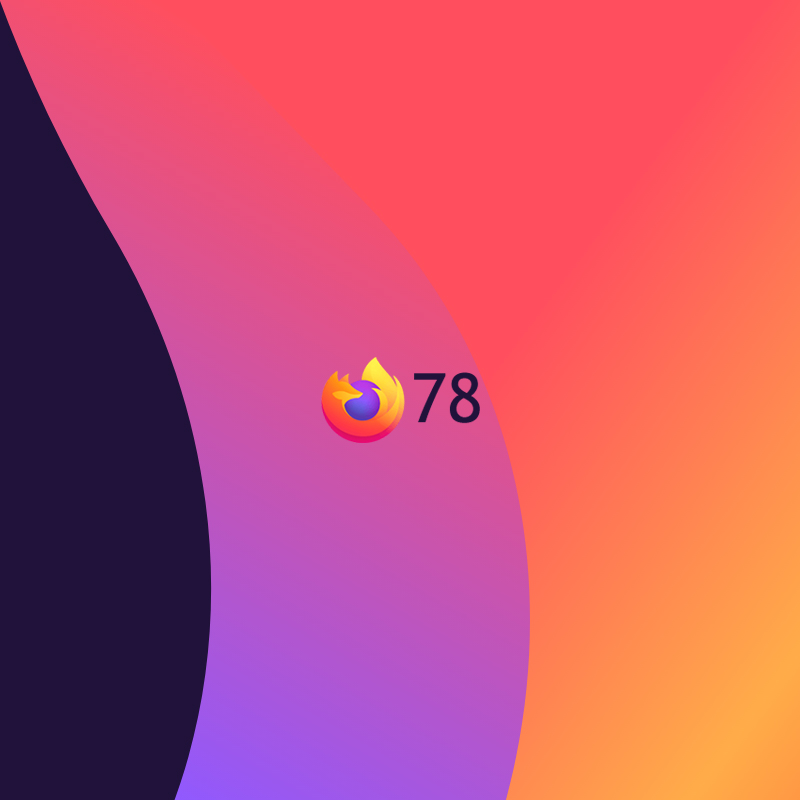 Mozilla Firefox 78 has been made available to download for users on Windows, macOS, and also Linux.
First of, Firefox 78 brings some welcome security patches, bug fixes, and additional usability features. They include: Service Worker and Push APIs, video autoplay blocking, and picture-in-picture support, and more.
Most however, focuses on ESR, or also called 'Extended Support Release'.
This version of Firefox is often preferred by IT departments because not only that it gets security fixes at the same rate as the regular version, but only takes on new features in a staggered fashion. In other words, it's more stable per feature introduced.
Then there is the Accessibility inspector, which is out of beta.
The feature can come in the form of a tab within the developer instruments, where developers can examine a web page for accessibility points when enabled. Firefox 78 also has a Map that permits developers to debug websites easier.
Mozilla has been engaged on the Common Expression (RegExp) evaluator, and has included it in the SpiderMonkey (Mozilla's JavaScript engine). This brings the evaluator updated with the necessities of ECMAScript 2018.
The regular Firefox 78 'Stable' does have some noticeable updates, like for example the 'Undo Close Tabs' option that's been added to the right-click tab menu. This option only shows if users have recently closed tabs.
This should save them a lot of trouble from needing to restore tabs individually by repeatedly clicking on the restore tab shortcut.
Then there is the addition of a special web page called the 'Protection Dashboard, which is accessible by browsing to the about:protections in the address bar. The dashboard gives users a summary of any trackers recently blocked. The feature also allows users to track how many breaches have been resolved, and to see if any of their saved passwords have been exposed in a data breach.
There is also a button to entice Firefox users to sign up to Firefox breach alerts, as well as a link to the Firefox password manager.
As for the Linux support, Firefox 78 supports a new minimum Linux system requirements, specifically: GNU libc 2.17, libstdc++ 4.8.1, and GTK+ 3.14 or newer. Any release of Ubuntu 16.04 LTS and newer is also supported.
Last but not least, Mozilla said that it has added the option to view a PDF download(s) in Firefox 78 using the browser's built-in PDF reader.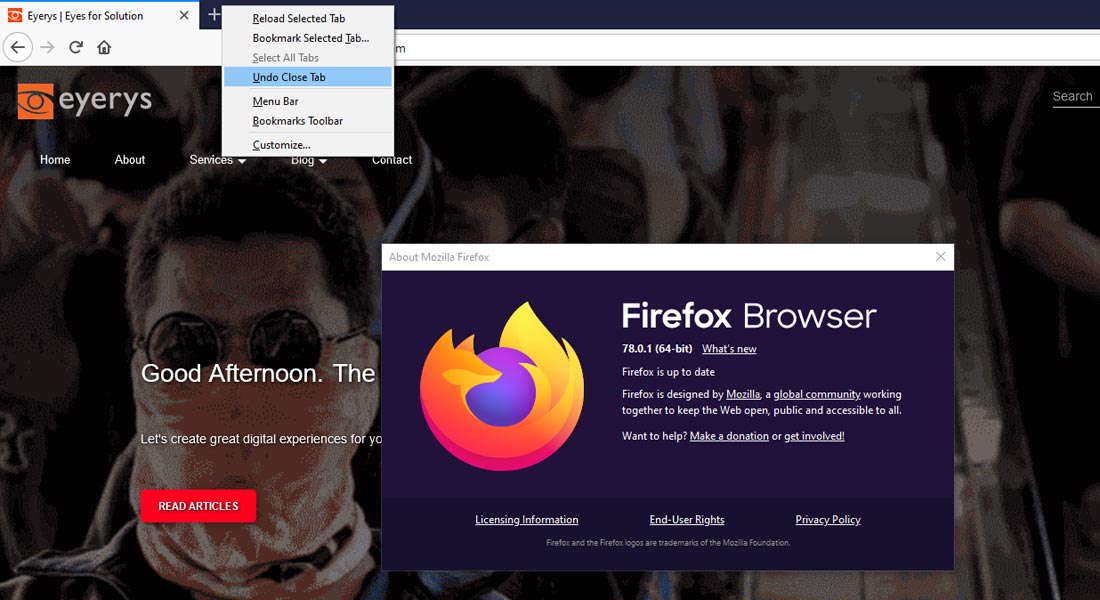 The 'Undo Close Tab' on Firefox 78.0.1.
On the security side, Firefox 78 no longer supports TLS 1.0 or TLS 1.1, which are older versions of the TLS security protocol.
Those older flavors of TLS are no longer supported due to them being retired earlier this 2020 by all the major browser makers. In its place and by default, Firefox supports TLS 1.2 that offers better security using newer cryptographic algorithms.
For end users, visiting a site that doesn't support TLS 1.2 or later, will see the 'Secure Connection Failed' error message.
"Sites that don't support TLS version 1.2 will now show an error page," said Mozilla in the Firefox 78 release notes.
Users however, can change the default setting by going to about:config, and search for security.tls.version.min.
There, they have the option to set the value to 1 (protocols TLS 1.0 and newer are supported), 2 (protocols TLS 1.1 and newer are supported), or 3 (means that protocols TLS 1.2 and newer are supported).
The support for the older versions was meant to be totally dropped. But since the 'COVID-19' coronavirus has hit the world rapidly, Mozilla re-enabled the support to ensure that people could still access critical websites, even if those websites hadn't been updated to TLS 1.2.
Some 850,000 were still on legacy versions of TLS this March 2020.
Mozilla has also fixed a usability issue with its implementation WebRTC for video calling. With Firefox 78, a screen saver won't interrupt WebRTC calls, which should make experience better.
And finally, Firefox 78 addressed seven high-severity security flaws, four medium-severity flaws, two low-severity ones, and a set of high-severity memory safety flaws.
Firefox 78 supports TLS version 1.2 and higher by default. Users need to change the settings to access sites that are still using TLS below that version.
A few moments after releasing version 78, Mozilla temporarily halted the release because search engines were missing from the browser.
According to the bug report, not only that Firefox 78 was missing all search engines as well as the list of one-click search engines, it also had broken auto-complete functionality in the address bar, and the search on the start page didn't launch as a search.
This issue affected Firefox Stable and ESR when the browser was updated to the new version. New installations of Firefox was not affected by this issue.
Mozilla updated version 78 to 78.0.1, to then continue the release.
"Fixed an issue which could cause installed search engines to not be visible when upgrading from a previous release," wrote Mozilla in the Firefox 78.0.1 release note.
At this time, Mozilla is focusing on a "speedy launch plan" for Firefox, which suggests that a new version would be introduced earlier than usual. Because of this, main new features and options shouldn't be anticipated at each release.
With that in mind, this is also the reason why Firefox 78 can prolonged the assist launch of ESR, which suggests customers who follow ESR can get updates from this and the earlier 10 releases.