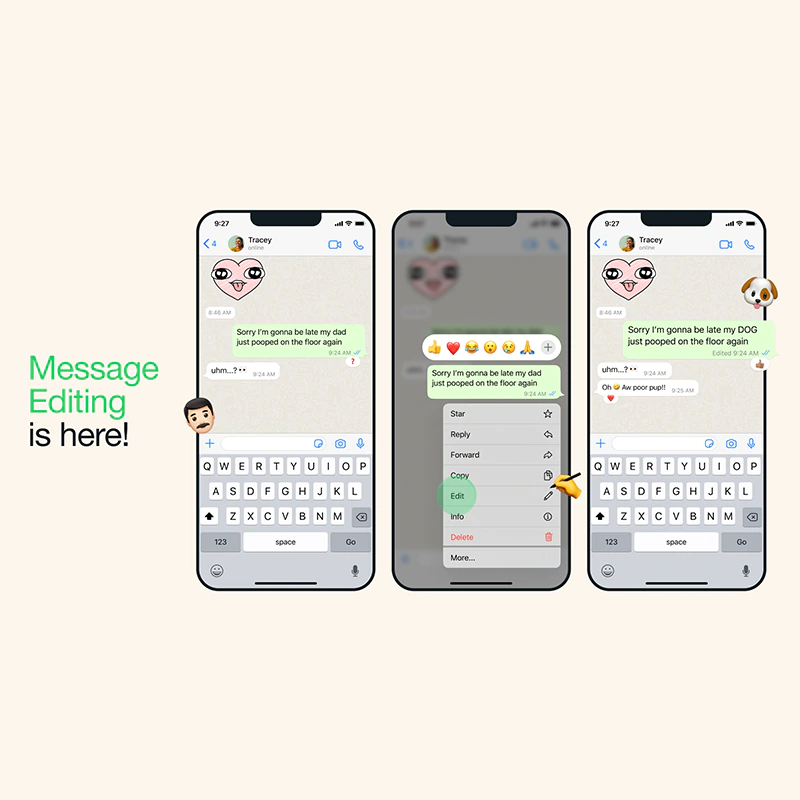 People make mistakes, and typo is the most common mistake people make when typing messages.
WhatsApp is the most popular instant messaging app, in terms of number of users. Backed by Meta, WhatsApp is not only ubiquitous, but only straightforward and easy to use.
And this time, the platform is finally rolling out the ability for users to edit their messages after they've been sent.
According to Meta's CEO and founder, Mark Zuckerberg, he said that the ability to edit messages is one of the most often-requested features among WhatsApp users.
In a blog post:
"For the moments when you make a mistake, or simply change your mind, you can now edit your sent messages."
Previously, the only way to correct a message sent in haste or containing an error, was to delete the message and send a new one, with recipients alerted to the fact by the removed post being replaced with the phrase: "This message was deleted."
This time, WhatsApp is changing that.
From just correcting a simple misspelling, or to add extra context to a message, WhatsApp is giving users the ability to control more of their chats.
Within the 15 minutes timeframe after sending a message, users can edit the message by simply long-pressing the message and choosing 'Edit' from the menu.
But since editing can change the meaning of subsequent messages and the way of the conversation, and may cause confusion, according to WhatsApp, edited messages will display the word and the icon 'edited' alongside them.
This way, recipients will be aware of the correction, even without WhatsApp having to show the message's edit history.
It's worth noting that the 15-minute time limit is identical to the limit imposed by Apple for editing iMessages.
However, Apple also limits iMessages to only being edited five different times, and that each of the edits is logged and visible to both the sender and the receiver of the iMessage.
IT'S HERE Message Editing is rolling out now.

You now get up to 15 minutes after sending a message to edit it. So you don't have to worry if you duck it up pic.twitter.com/JCWNzmXwVr

— WhatsApp (@WhatsApp) May 22, 2023