Blockchain, best-known to power the Bitcoin cryptocurrency, also has multiple of other uses. As the technology offers transparency, other industries can also use the technology, and Carrefour here is betting big on the distributed ledger.
The French supermarket giant started using the technology to track 20 out of its 300 Carrefour-branded products across the supply chain, but it plans to add about 40 more goods to the list over the coming months, Carrefour blockchain program director Emmanuel Delerm said.
The company's blockchain pilots are initially commencing in six countries, including France, Italy, Spain, and China.
With it, Carrefour customers can access detailed information about the origin of the product they're buying by simply scanning a QR code on the packaging.
"When we tested this feature in China – we tested it with a Chinese pomelo – we got incredible figures," explained Delerm. "Customers scanned one out of two (or three) pomelos to check where the fruit was coming from."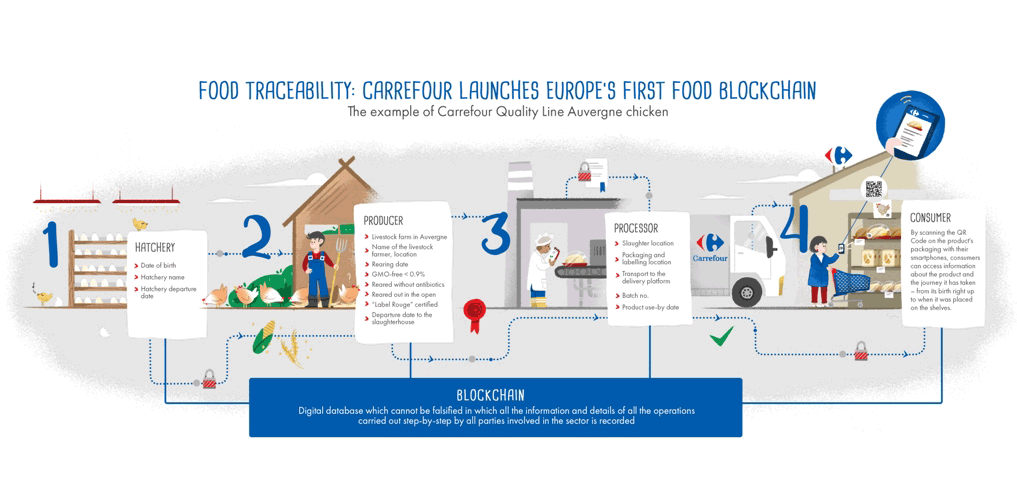 The attempt began in early 2019.
Carrefour found that over the years, a number of health scandals have shaken consumer confidence. "What could be done to reassure people about the source and traceability of the food that they buy?" asked Carrefour.
This where the company started putting its sight on the blockchain technology.
Using a list of encrypted digital records, updated by its users, which resulted in the creation of the famous Bitcoin currency, Carrefour bets that it could use the same technology on its food sector.
Emmanuel Delerm involved two specialist firms: Crystalchain and Connecting Food. He set up an internal unit made up of five IT specialists. "We have a pioneering culture", said Delerm. "We wanted this blockchain to be a Carrefour product".
Three months later, the small team were certain about which technology they wanted to adopt: Ethereum, "which was the most stable at the time". They'd also decided which food product they were going to test their project on: Auvergne free-range chicken.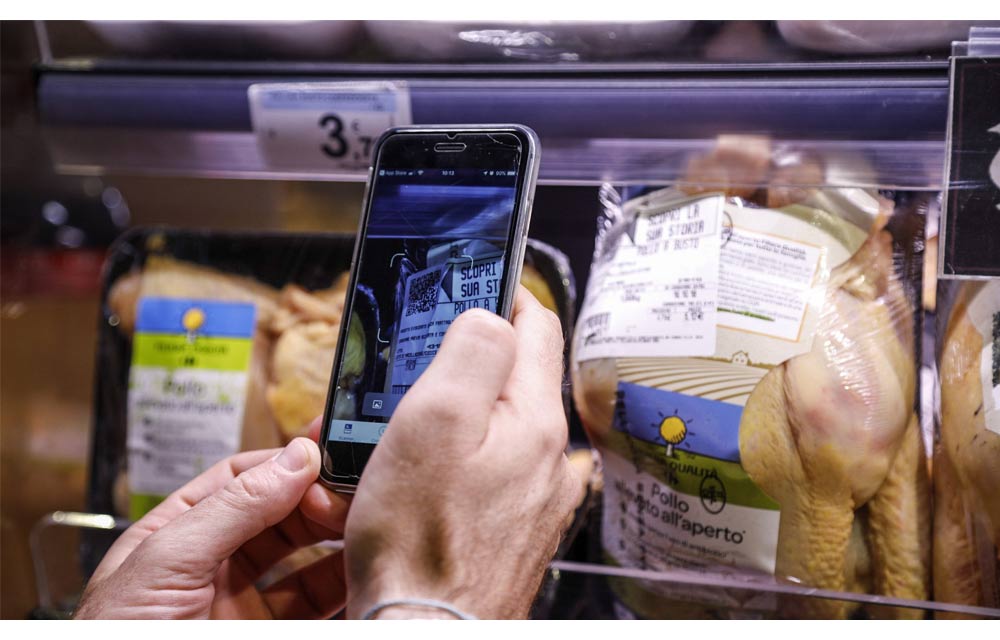 Carrefour customers can access detailed information about the origin of the product they're buying by simply scanning a QR code on the packaging
The team then gathered the traceability evidence that consumers wanted, which Carrefour said, was difficult because "it was fragmented and dispersed among our partners."
It took Carrefour two weeks to gather all the information altogether in a variety of different formats.
As Emmanuel Delerm remembers: "Carrefour had come to talk to them about a blockchain project… Initially, some of them were a little anxious. But they quickly realized that this initiative actually showcased their efforts".
Then in the summer of 2017, the team started the first tests. A survey that was carried out in the stores, found exactly what consumers want. Then In September that year, the team got to work on developing "smart contracts", which are applications that generate contracts if previously-determined conditions have been met.
In February 2018, when Delerm and his team were close to completion, the final technical tests proved conclusive. What was initially intended as an experiment became Europe's first fully functional food blockchain.
It was unveiled to consumers in March 2018 in the form of a simple QR Code on the chicken's packaging.
The company then expanded it to include eggs, and tomatoes, and later to also include Carrefour-only products. And as for non-Carrefour products, the company wants to keep relying on centralized solutions for supply chain traceability, at least for this moment.
Although Carrefour partnered with IBM's Food Trust initiative for its distributed ledger tracking pilots, the company revealed that it is also developing its own permissioned blockchain.