China is one of the many countries in the world trying to recover from the 'COVID-19' coronavirus pandemic.
And when the market opens in the country, tech giant Apple is one of the few that benefits most handsomely.
The Cupertino-based company is the fastest-growing smartphone maker in China in the second quarter of 2020, according to a research data from Counterpoint Research.
In the report, Apple experienced a surge in its iPhone sales to up to a staggering 225%.
The sell-through volume for iPhones in China was 7.4 million units in the April to June quarter, a 32% growth year-on-year.
Sell-through refers to iPhones that go to Apple's retail partners and is a close gauge to actual sales to consumers.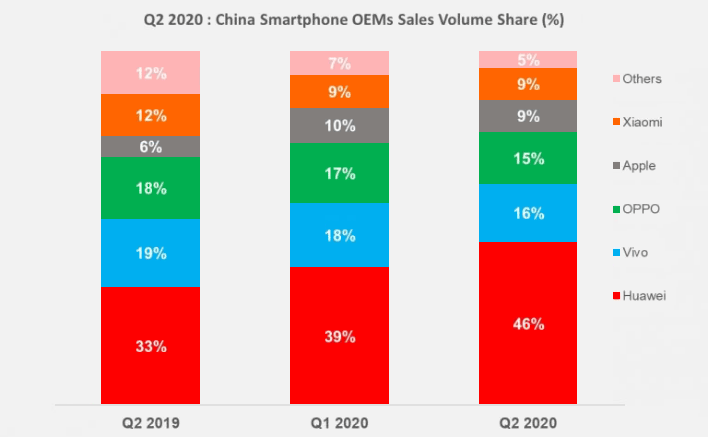 Credit: Counterpoint Research / Monthly Smartphone Market Pulse, July 2020
In comparison, Chinese phone maker Huawei that is the best-selling brand in the Chinese market, saw sell-through volumes of 36.6 million units, or up 14% compared from 2019. While Huawei sold a lot more phones than Apple, Huawei's growth rate was a lot lower than Apple.
Oppo, Vivo and Xiaomi, which are the brands that make up the rest of the top five biggest players in China, all saw significant declines, with an overall market that fell 17% year-on-year.
What made Apple to experience this surge, was its ability to sell the cheaper iPhone SE, and the increased popularity of the iPhone 11 series in China.
"iPhone 11 remains the best-selling model in China. iPhone 11 has consecutively led as the best-selling model in China since last September, which indicates the strong brand power of Apple amongst Chinese consumers," Flora Tang, research analyst at Counterpoint Research.
Pair them with big discounts during a major online Chinese shopping festival in June, Apple got a boost in China, where one of its most critical markets reside, which helped keep the momentum going.
On Alibaba's Tmall, for example, consumers can buy an iPhone 11 model for ¥4,779 ($669), or down 13% from the original price of 5,499 yuan. On JD.com, the iPhone 11 Pro Max is priced at ¥7,499, or more than 21% down from its original price on JD.com, according to media reports.
In a separate report, the Shanghai-based CINNO Research showed that iPhone sales jumped 62% year-on-year to 13 million in the second quarter of 2020. The difference in the number is because CINNO Research tracks sales rather than sell-through.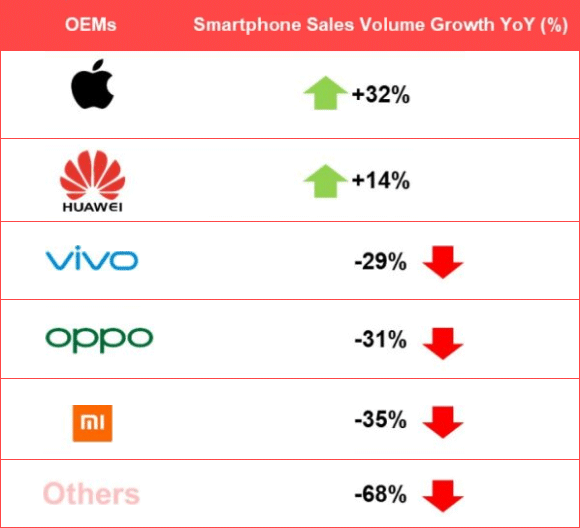 Credit: Counterpoint Research / Monthly Smartphone Market Pulse, July 2020
Either way, this shows how the Cupertino giant is able to recover after the coronavirus outbreak that forced it to even close its stores in China, that significantly dented its sales performance in the three months that ended in March.
In the low sales during February, Apple sold fewer than 500,000 phones.
On the services front, Apple also scored fairly with its App Store having generated $4.4 billion in gross revenue in the second quarter. While this number is down 4% from $4.6 billion in the first quarter, according to data from Sensor Tower, but that was a 13% year-on-year rise.
"Spending on China's App Store typically increases between Q1 and Q2 each year, but the Q/Q decline this year could be attributed to the ecosystem there normalizing following the height of COVID-19 in the country," explained Stephanie Chan, a mobile insights strategist.
Looking forward, China and the world are starting anticipating for a more coverage for 5G networks.
With more and more smartphones are launched and speculated to be introduced with 5G capabilities, consumers are expecting that Apple can deliver 5G connectivity to its iPhone 12. But this time, the company has yet to prove that it has that planned.
"We expect 5G iPhones to gain immediate traction in China, if Apple goes for a juicy pricing strategy. Chinese consumers have been well educated about the benefits of 5G, and Chinese telecom operators are promoting competitively priced 5G plans," Counterpoint Research's Tang said.