Two consecutive terrorist mass shootings happened at Al Noor Mosque and the Linwood Islamic Centre in Christchurch, New Zealand, during Friday Prayer.
The suspect, a 28-year-old white supremacist Australian identified as Brenton Harrison Tarrant, was wearing a military-style clothing when live-streamed his first attack on Facebook Live using his helmet-mounted camera, as he mercilessly killed 50 people and injuring 50 more.
At that time, an estimated three to five hundred people may have been inside the mosque.
Tarrant also posted a link to the recorded footage, which was hosted on Google Drive, in which was shared among a hate-filled online community. The footage was quickly watched and shared, downloaded, republished and edited by many.
The result was inevitable: Facebook, YouTube (Google) and Twitter struggle to halt the spread of the horrific footage, considered as the deadliest mass shooting in modern New Zealand history.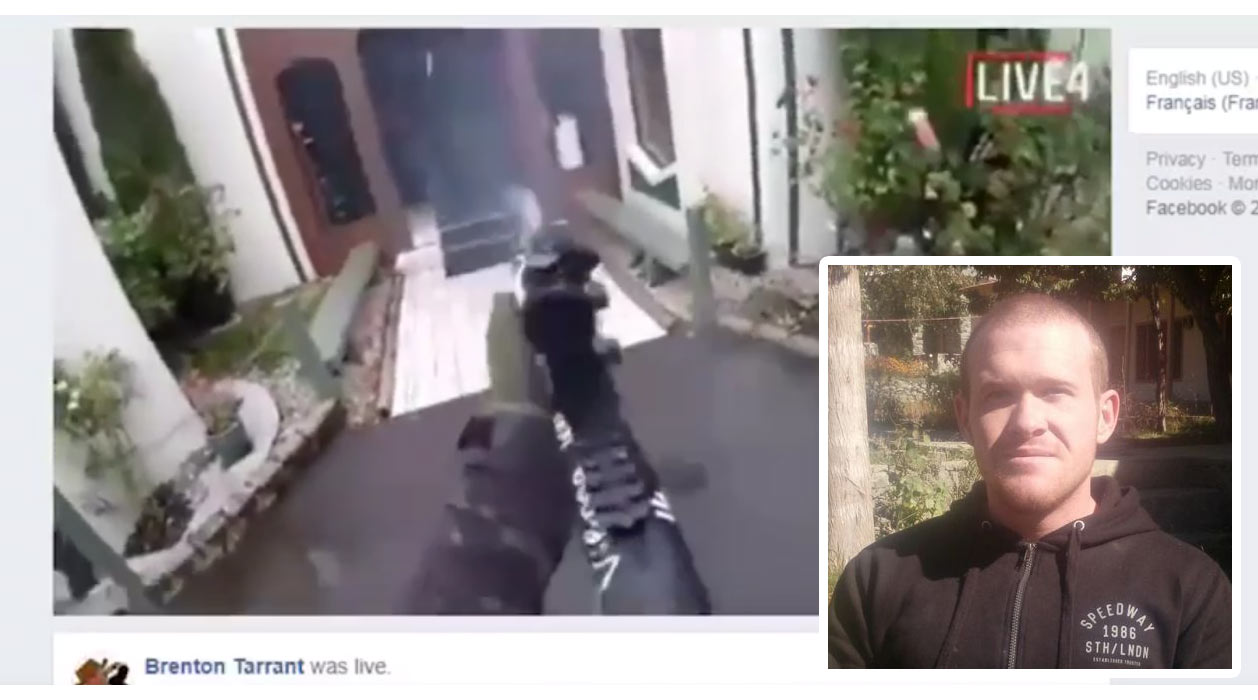 A screenshot of the livestream massacre on Facebook Live, and a photo of Brenton Harrison Tarrant
Facebook is "removing any praise or support for the crime and the shooter or shooters as soon as we're aware."
"New Zealand Police alerted us to a video on Facebook shortly after the livestream commenced and we quickly removed both the shooter's Facebook and Instagram accounts and the video," said Mia Garlick, Facebook's director of policy for Australia and New Zealand.
Twitter said that it suspended an account related to the shooting, and is working to remove the video from its platform.
YouTube, which is owned by Google, has removed "shocking, violent and graphic content" as soon as it is made aware of it, according to a Google spokesperson.
The footage also circulated on Reddit. In its respond, Reddit removed the message boards titled, 'WatchPeopleDie' and 'Gore', which showcased the video along with other clips of people being killed or injured. Those message boards had been operating on the site for the past seven and nine years, respectively.
The companies however, declined to comment on how long they took to first remove the video.
Because the videos may have been downloaded by many, many countries around the world, especially Islamic communities and Muslim advocacy groups, are urging people to stop sharing the purported shooting footage.
New Zealand's internet service providers have taken steps by blocking access to 8chan and other sites related to the attack, and have temporarily blocked other sites like 4chan, LiveLeak, and Mega where the footage has been hosted. 8chan, Kiwi Farms Voat and some other websites are being investigated for material pertinent to the attack, where the video and other posts were made as the attack was live.
Besides preventing the spread of the footage, they are also trying to prevent a worse case scenario, in which the spread of the video could inspire copycats.
In the first 17 minutes of the attack on Facebook Live, the shooter showed his prepared arsenal of firearms inside the back of a car. Tarrant brought the guns to the mosque and started opening fire to the people inside.
During the shooting, Tarrant was charged by one of the worshippers, but got the advantage. Tarrant continued by approaching the already-wounded victims, and fired on them multiple times. Running out of ammo, he left the mosque, firing few bullets to the people outside before retrieving another weapon from his car, to the return to the mosque to murder more people.
Tarrant then left the mosque for a second time, killed a woman he encountered as she pleaded for help, returned to his car, and fled the scene. Tarrant also shot another person as he drove away at high speed.
15 minutes later, Tarrant arrived at the Linwood Islamic Centre, a mosque 5 kilometers away from Al Noor. There, he shot several people outside the mosque, killing seven.
At Linwood Islamic Centre, Tarrant didn't kill as many people as when he was at Al Noor. This was credited to a worshipper named Abdul Aziz Wahabzadah, who stopped Tarrant from accomplishing his shootings. When Tarrant retreated, Aziz who is a father of four children, took a credit card reader, ran after the gunman and threw the machine at him. The gunman took another firearm from his car and fought back by firing at Aziz who managed to take cover between cars and a fence.
Receiving continued offence from Aziz, and knowing that Aziz had acquired a shotgun, Tarrant got on his car and drove away.
Tarrant's motives were recorded in a 73-page manifesto titled "The Great Replacement", a reference to the Great Replacement and white genocide conspiracy theories. In the manifesto, he expressed several anti-immigrant sentiments including hate speech against migrants, white supremacist rhetoric, and calls for all non-European immigrants in Europe who he claims are "invading his land" to be removed.
Describing himself as an ethno-nationalist, Tarrant had planned for this attack for about two years prior to the shootings, after he became obsessed with terrorist attacks committed by Islamic extremists in 2016 and 2017. Tarrant chose his targets three months in advance.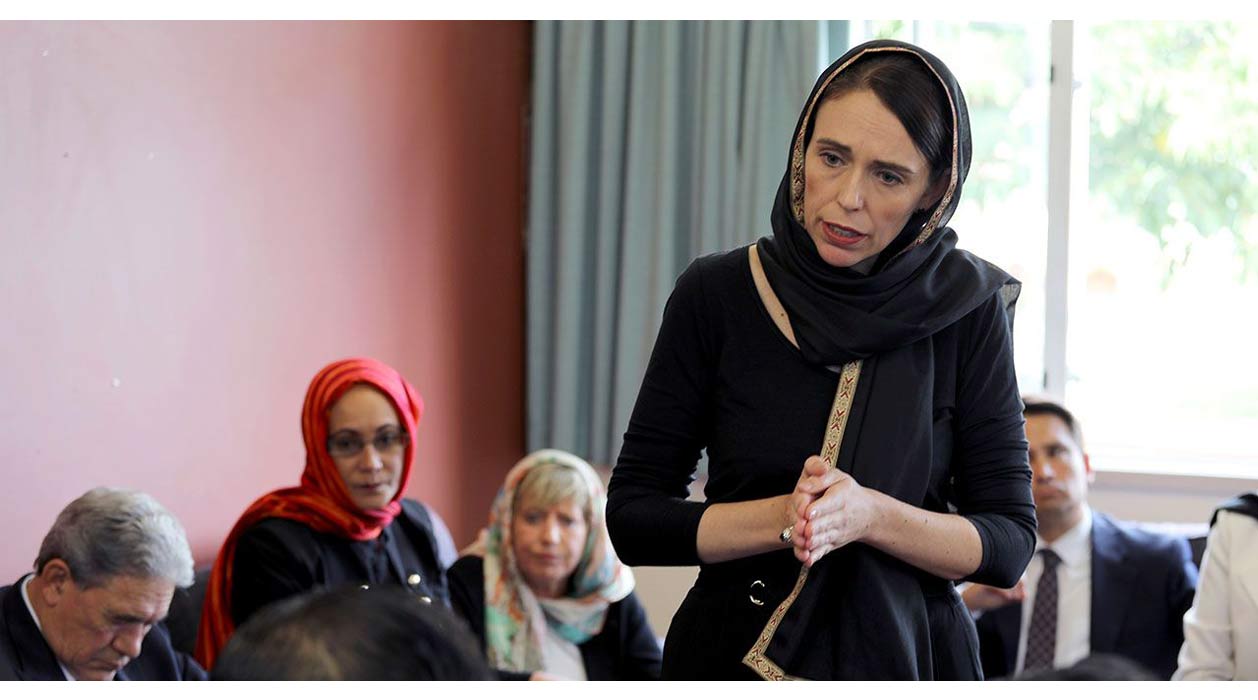 Wearing an Islamic headscarf, New Zealand Prime Minister Jacinda Ardern visited the Islamic community to show her empathy
Tarrant was said to have used five firearms, which included two semi-automatic weapons, two shotguns and one lever-action firearm, in which were covered in white writing that named historical events, people, and motives related to historical conflicts, wars, and battles between Muslims and European Christians, as well as the names of some Islamic terrorist attack victims and the names of far-right attackers.
Tarrant legally bought those weapons under New Zealand's law from a gun-rights activist and the owner of 20 Gun City stores in New Zealand. The gun licence Tarrant held, the guns and high-capacity magazines used in the attacks, were all within reach.
In fact, Tarrant was one of the about 250,000 gun licence holders in New Zealand. With nearly 7,000 people in New Zealand already endorsed to have military-style semi-automatic guns, it was estimated that 15,000 of these guns are out there.
In the wake of the mosque shootings in Christchurch, Prime Minister Jacinda Ardern changes the law:
"Our gun laws will change, now is the time... People will be seeking change, and I am committed to that."
"There have been attempts to change our laws in 2005, 2012 and after an inquiry in 2017. Now is the time for change."
To the mosque massacre suspect, the Prime Minister said that:
"You may have chosen us, but we utterly reject and condemn you."
Just heard news of the devastating reports from New Zealand Christchurch.
I feel absolutely sickened having my name uttered by this person.
My heart and thoughts go out to the victims, families and everyone affected by this tragedy.

— (@pewdiepie) March 15, 2019
The incident also dragged one of YouTube's biggest celebrities.
Felix Kjellberg who is better known as PewDiePie, found himself entangled with the massacre because the gunman who broadcast the attack urged those watching to "subscribe to PewDiePie."
"I feel absolutely sickened having my name uttered by this person," Kjellberg said as he quickly distance himself from the shooting.
This is the case where the internet and social media companies were caught off guard by Tarrant posting videos of his crime, in which resulted in users of the web sharing and spreading the disturbing footage.
Because the copies of the gruesome video continued to appear on those three platforms hours after the attack, this raised questions about Facebook, YouTube and Twitter's ability to manage harmful content on their respective platforms.
"While Google, YouTube, Facebook and Twitter all say that they're cooperating and acting in the best interest of citizens to remove this content, they're actually not because they're allowing these videos to reappear all the time," said Lucinda Creighton, a senior adviser at the Counter Extremism Project, an international policy organization.
Facebook's artificial intelligence tools and human moderators were apparently unable to detect the gruesome livestream. It was only made aware of it, after it was alerted by New Zealand police.
"The tech companies basically don't see this as a priority, they wring their hands, they say this is terrible," added Creighton. "But what they're not doing is preventing this from reappearing."