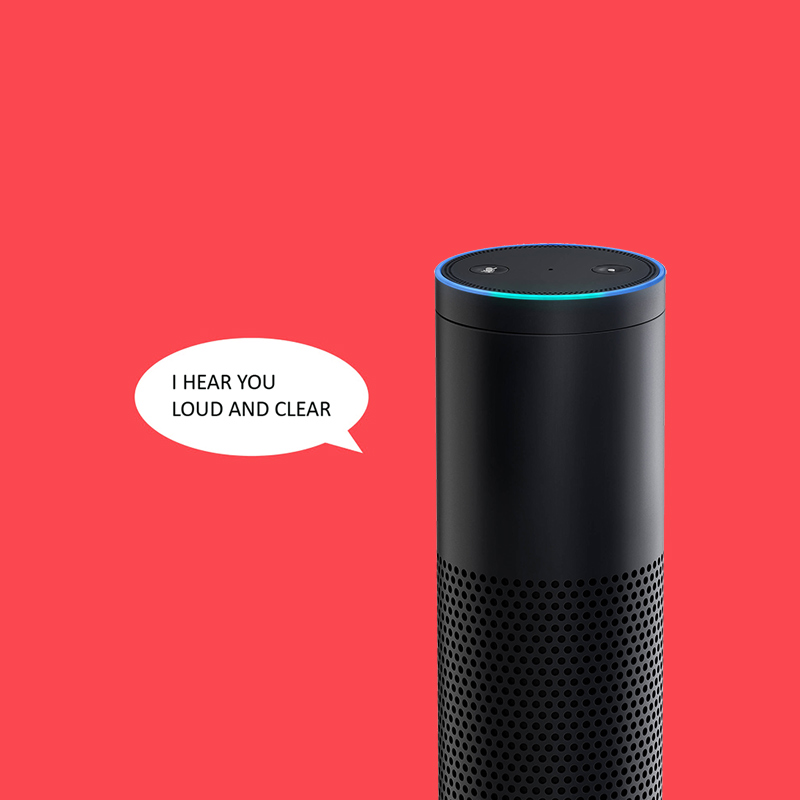 Intelligent personal digital assistants allow people to talk to computers, and make them do what they are told using voice commands.
It is certainly a glimpse of the future, where computers get smarter, and made to serve humans as their masters. Amazon has what it calls 'Alexa', and the company by Jeff Bezos has been providing unique experiences using the AI-powered device, with the ability to customize using what it calls 'skills'.
Using the so-called skills, users can enhance their Alexa experience.
And here, Amazon allows users to install the skills from third-party developers.
But because of gaping privacy holes in its third-party access, installing third-party skills for Alexa pose serious privacy and security risks.
This was reported in a study by a team of researchers from North Carolina State University and academics at Germany's Ruhr-Universität Bochum.
First things first, Alexa skills are its versions of mobile apps.
And installing third-party skills follows a similar to fashion to smartphone users visiting app stores to install apps in order to extend the ability of their phones.
For Alexa, the skills are useful for everything from controlling third-party hardware gadgets such as smart lights or smart thermostats, to logging in to bank account using voice command via the Alexa digital assistant.
But the thing is, users' personal data – including, potentially, their banking information and contact lists – could all be at risk if they've installed any third-party skills from the Alexa skills marketplace.
The cause of this issue, is Amazon in seemingly lacking the proper vetting when dealing with third-party skill developers.
For example, Amazon at this time has no verification in place to ensure that the person or company selling or giving Alexa users a skill, is who they say they are. Apparently, Amazon's system is only set up so users might think that they are using a skill from their smart thermostat or smart lock manufacturer when in fact, they've been tricked into installing a shady skill from a malicious imitator.
Things get worse when the researchers also found that third-party skill developers can use redundant wake words.
And things can go from worse and worst, when third-party skills developers are apparently allowed to change their privacy policy after gaining approval and publishing.
What this means, they can get away in the act, even if they are caught doing nefarious things.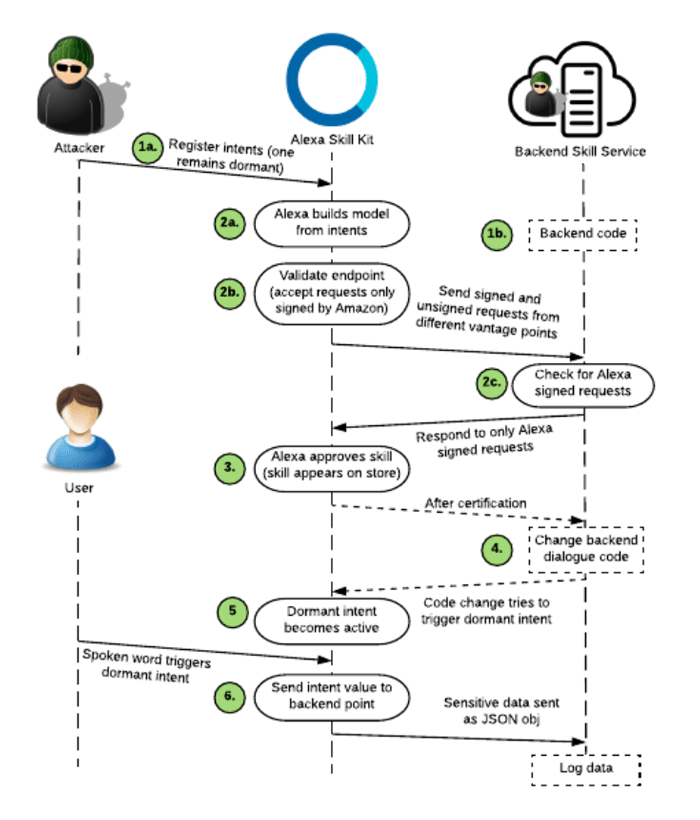 Workflow diagram for making backend code change to trigger a dormant intent which will contain sensitive information like phone number. (Credit: Christopher Lentzsch, Sheel Jayesh Shah, Benjamin Andow, Martin Degeling, Anupam Das, William Enck)
According to the researchers' press release:
"The researchers demonstrated that developers can change the code on the back end of skills after the skill has been placed in stores. Specifically, the researchers published a skill and then modified the code to request additional information from users after the skill was approved by Amazon."
In their paper, the researchers wrote that:
"We find that around 23.3 % of such skills do not fully disclose the data types associated with the permissions requested. We conclude by providing some suggestions for strengthening the overall ecosystem, and thereby enhance transparency for end-users."
The only way to address the issue, at least at this time, is to ensure that there is third-party skills installed on the Alexa.
It should be noted though, that the only thing that stopped the researchers from constituting a red-alert is because they have yet to see any evidence that the security risks have been exploited in the wild.
Responding to this, an Amazon spokesperson said:
"The security of our devices and services is a top priority. We conduct security reviews as part of skill certification and have systems in place to continually monitor live skills for potentially malicious behavior. Any offending skills we identify are blocked during certification or quickly deactivated. We are constantly improving these mechanisms to further protect our customers. We appreciate the work of independent researchers who help bring potential issues to our attention."