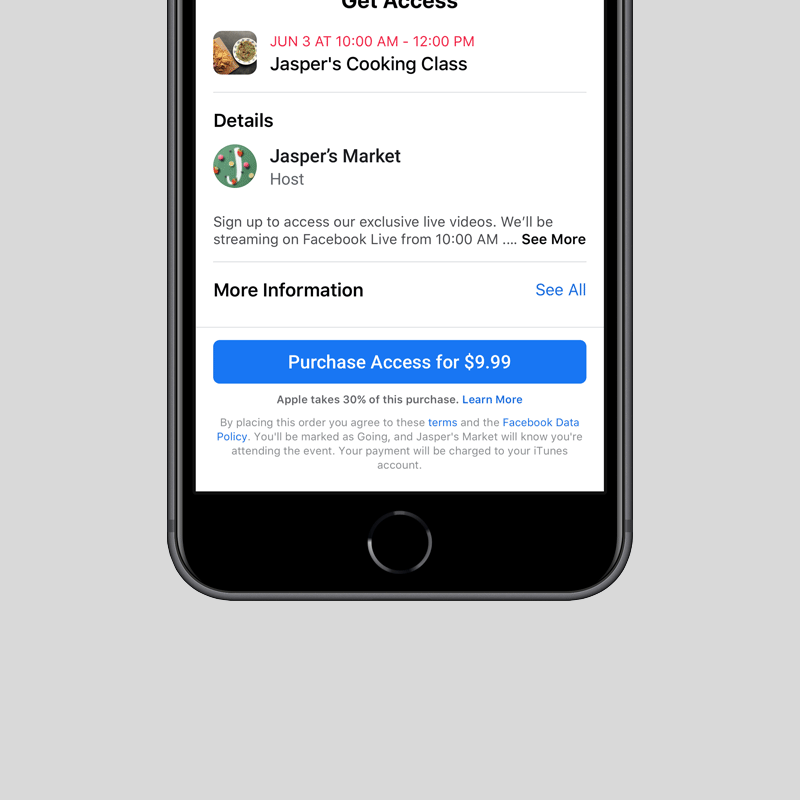 Facebook said that Apple rejected its update that told users that the iPhone maker would take a 30% cut on every purchase of its new online event feature.
It started earlier this August when Facebook launched a feature that allows influencers and other businesses to host paid online events in an effort to help them offset revenue lost during the'COVID-19' coronavirus pandemic.
Knowing that Apple requires developers to use its own payment system, Facebook "asked Apple to reduce its 30% App Store tax or allow us to offer Facebook Pay so we could absorb all costs for businesses struggling during COVID-19." asked Apple to waive the 30% fee the iPhone maker charges for in-app purchases.
According to Facebook, this would allow it to pass all of the event's revenue to business owners.
"Unfortunately, they [Apple] dismissed both our requests and SMBs will only be paid 70% of their hard-earned revenue."
Because of this, Facebook created an update so the app would show a notice to inform buyers that "Apple takes 30% of this purchase." That according to Facebook in its blog post.
Again Apple dismissed this, and then rejected the update.
Facebook said:
"Now more than ever, we should have the option to help people understand where money they intend for small businesses actually goes. Unfortunately Apple rejected our transparency notice around their 30% tax but we are still working to make that information available inside the app experience."
Apple took Facebook's notice on the app as an offence.
Apple said that the update violated an ‌App Store‌ rule that prevents developers from showing irrelevant information to users.
Facebook said that if users make the same purchase elsewhere, whether on the web or through the app on an Android phone, small businesses will keep 100% of the revenue. But unfortunately, that cannot happen on iOS.
In publicly criticizing Apple's App Store commissions, Facebook joined other developers such as Fortnite creator Epic Games, which is suing Apple on antitrust allegations over the fees.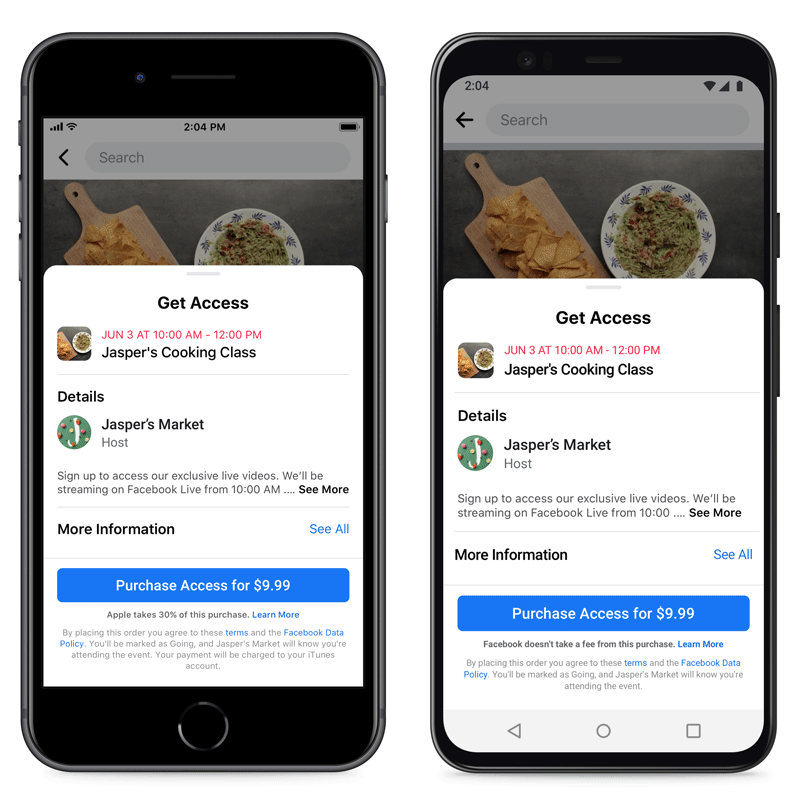 The payment flow on iOS (left) and Android (right). (Credit: Facebook)
.
In a company-wide meeting, Facebook CEO Mark Zuckerberg referred to Apple's App Store as monopolistic and harmful to customers.
He said that Apple "blocks innovation, blocks competition," and uses the ‌App Store‌ to "charge monopoly rents."
Facebook has been disappointed at Apple's decision after Apple rejected Facebook Gaming for multiple times because Apple does not allow apps that offer alternative stores with content that it cannot control. As a result, Facebook launched the app without gameplay functionality, which is its primary purpose.
Apple, said Zuckerberg, has a "unique stranglehold as a gatekeeper on what gets on phones."
In addition to disagreements, Zuckerberg is also unhappy with changes that Apple is making in iOS 14.
Through iOS 14's anti-ad tracking feature that is turned on by default, Apple requires its iOS users to opt-in to trackers, before apps can track them. As a result of this Facebook and other apps that rely on ads may experience as much as 50% decline in revenue.
Apple is a long supported for user privacy. And in this case where it is blocking the Facebook update, Apple has argued that it tries to keep a level playing field for all developers and that it takes a standard 30% cut from all in-app purchases.