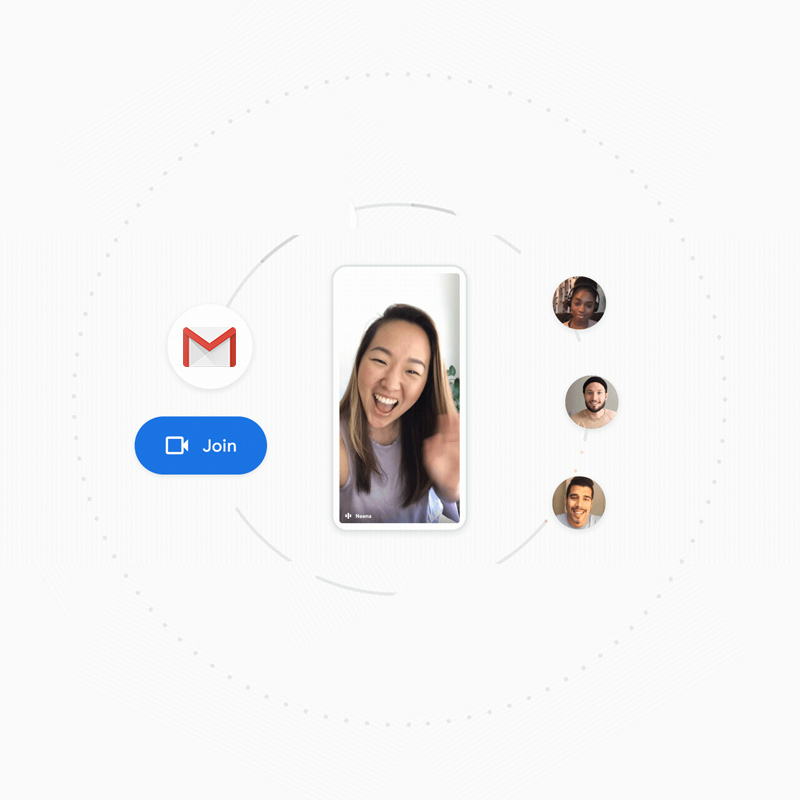 Zoom is the undisputed champion of video-conferencing app, and that is because it had its popularity boosted tremendously amid the 'COVID-19' coronavirus pandemic.
The sudden spike in its popularity led to Zoom in becoming a household name in the span of just a few weeks. Competitors offer similar experiences and features, and they certainly don't want to accept the fact that they lose. Google is one of the them.
The company's consumer video chat application, Duo, has been supporting calls using a link and groups of up to 32 people. And this time, the company is aggressively integrating Google Meet, its business-oriented conferencing tool, into the Gmail mobile app, for users on Android and iOS.
In a blog post, Google said that:
"Today, we're bringing Meet to Gmail on Android and iOS, so that you can easily join video meetings from your inbox."
"In the coming weeks, you'll soon notice a new Meet tab on your phone's Gmail app where you can see upcoming meetings scheduled in Google Calendar, and easily join them with a single tap."
Read: How Google Meet And Google Duo Confront The Almighty Zoom
Google adds the feature in the form of a bar to the Gmail app, purely to include this Meet integration.
To use this Meet-integrated Gmail feature, users can use the tab to tap on the 'New meeting' to start a meeting instantly, get a meeting link to share, or to schedule a meeting in Calendar.
If users tap on the 'Join with a code', they can join meetings shared with them by entering a meeting code.
And if users don't want that obvious Meet tab to appear in the Gmail app, users can access Settings through the hamburger in the top left corner of your inbox, tap on their account, and scroll down to uncheck Meet.
With this feature, Gmail is not altered in any ways. The only change is that the integration allows Gmail to take users right into Meet, but without requiring them to install the dedicated Meet app.
Another way of saying it, Google makes Meet available for everyone, as long as they have Gmail installed.
It's an interesting move, considering that Googleis trying to bring Gmail and Meet so closely together, with an act that literally binds the two services together inside Gmail.
Google clearly wants more people to be aware of Meet, and remove any friction that could keep potential users from using it.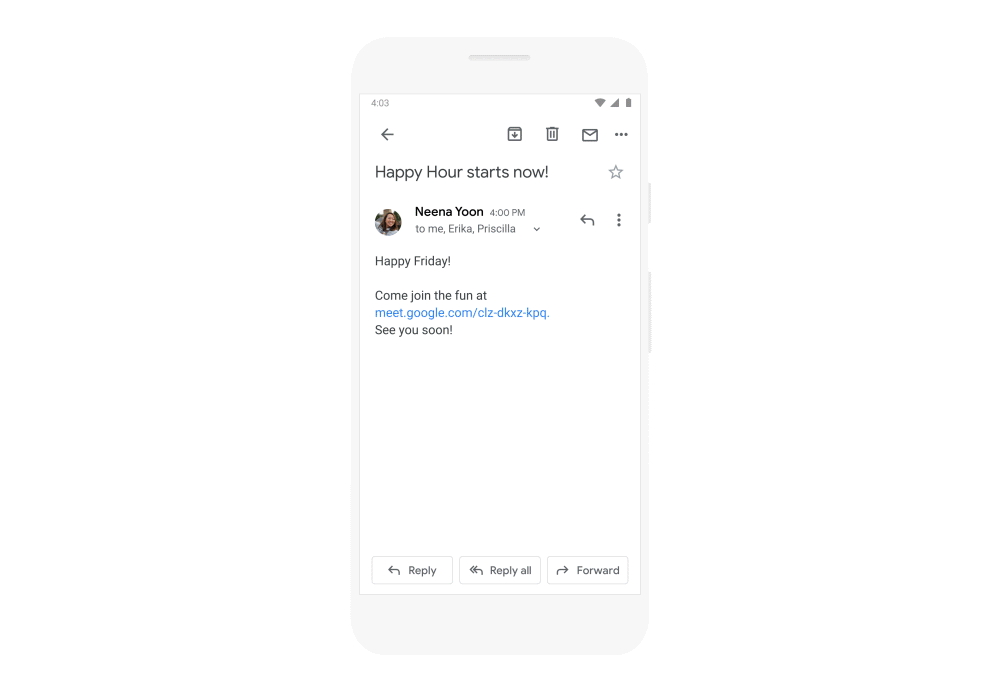 Joining Meet through Gmail (Credit: Google).
The move is part of Google's strategy to expand Meet.
Previously, Google made Meet free to anyone with a Gmail account, and made it easy for users to launch Google Meet via Gmail or Google Calendar on the web. This update should make it just as easy to start or join a meeting when on mobile.
Google has also rolled out a gallery-like tile layout that makes Google Meet better suited for video conferencing.
It should be noted that users who aren't G Suite customers (free users) can use Meet for only a limited 60 minutes. Google however, said that it won't enforce this until after September 30th.
Like all video calling services, Google Meet has seen a rise in the number of users since the pandemic.
In late April, Google said it was adding about three million new users every single day, and its daily meeting participants surpassed 100 million. Also in April, Zoom usage peaked at over 300 million daily participants, and platforms like Facebook, WhatsApp, Microsoft and some others are also racing against one another to improve their video calling options.
Read: Zoom's Stock Is Up 250% In 2020 Alone: One Of The Biggest Coronavirus Winners On The Market