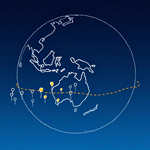 Indonesia is a country with more than 17,000 islands. Connecting all of them to the internet is a huge infrastructure challenge faced by the country. As a solution, Google is hoping to address the issue with its high-altitude Project Loon balloons.
To make that happen, the tech giant is partnering with three Indonesia's ISPs (Internet Service Providers): Telkomsel, Indosat dan XL Axiata to deliver LTE connectivity to places where internet is not yet available.
With Project Loon, Google connect the areas where fixed-line service aren't yet available with clusters of large helium-filled balloons. Working to deliver internet in Indonesia is part of the company's plan to connect some of the billions of people around the world who are still offline.
"Occasionally getting out of communications range is healthy for all of us," said Google co-founder Sergey Brin, "But if it's part of your daily life and you don't have access to the information and the ability to communicate with people important to you that's a real disadvantage."
Connecting More Than 17,000 Islands
"Indonesia is the perfect fit for Project Loon," said Project Loon's Vice President Mike Cassidy.
Indonesia is a country with over than 255 million people living in more than 17,000 islands. As one of the most populated country in Asia, less than 30 percent of them have access to the internet. Those that are already connected, often face slow speed connection due to the country's archipelago, geography and its thinly spread population.
Partnering with three ISPs, Google is spending the next 12 months to test the technology before rolling it out as a commercial product. The mobile operators are the ones who handle customer relationship and support as well as billing, while Google's job is to build the 'floating cell towers' that are made up of an army of balloons hovering 20,000 meters in the stratosphere.
"We'll need many hundreds of balloons to cover Indonesia," said Cassidy.
The project works by ground stations connecting to the local internet infrastructure and beaming signals to the balloons, which are self-powered by solar panels. Hovering twice as high as commercial airliners and barely visible to the ground, the balloons work by communicating with each other to form a mesh of network in the sky so they can provide connectivity to an area of around 40 km.
"To provide a continuous internet service you're talking about a complex choreography where thousands of balloons are steered and programmed in an automated fashion," said Cassidy. "Soon we hope many more millions of people in Indonesia will be able to use the full internet to bring their culture and businesses online and explore the world even without leaving home."
Delivering High Hopes To Everyone Involved
Project Loon itself has undergone several trial and testing outside the U.S.. The first was in June 2013 when Google partnered with Vodaphone in New Zealand with 30 balloons. In June 2014, Loon succeeded in delivering LTE connectivity in Brazil with a partnership with Telefonica. And the last was on November 2014 by partnering with Telstra in Australia.
For the launch of its LTE technology on a massive scale, Google is bringing Loon to Vatican City and Sri Lanka.
In Indonesia, Google has special hopes. Beside being the commercialization of Loon, Google is aiming for a significant result.
Loon is still testing its technology. And by coming to Indonesia, it's faced with the challenge to connect Indonesia's sheer size and geographic sprawl, making this as Loon's most ambitious step yet.
As Sergey Brin described, Google has tested Loon several times. But with the opportunity to partner with those that can give huge result, Google is taking its chances.
Not everyone is happy with Loon's arrival in Indonesia. The country's largest telecommunication company, Telkom, rejected Google's plan, arguing that it would undermine its own investment in fibre optic infrastructure.
"Clearly the project would harm not only Telkom, but also other telecommunication companies. That means Google would bypass us," said Indra Utoyo, Director of Innovation and Strategic Portfolio.
On the other hand, speaking at Google's headquarter, Telkomsel's CEO Ririek Adriansyah was eager to point out that Loon won't mean a reduction in its own cell tower infrastructure. "Loon is focusing on hard-to-reach areas, not those we can reach using traditional methods. Without Loon these areas would probably never be covered by us as they are either too difficult or too costly," he said.
A Race For Connectivity
Internet connectivity is becoming everyone's need, and their providers are racing to get more and more people on board. As with those than holds the technology, providing internet access to the rest of the world is like a game race.
Project Loon that started its life from Google X division is part of the Alphabet conglomerate company. The project is part of the company's effort to connect the rest billions of people without internet access. More internet users will translate to more users for Google and Alphabet's products and services. Not to mention Google Search and Android operating system which are dominant in their respective market.
Google is not the only tech company that have its eye in bringing the entire planet online. Facebook has an initiative on its own with Internet.org. Using a fleet of autonomous and solar-powered planes with each having a wingspan of a Boeing 747, the initiative can deliver internet access for up to 90 days nonstop.
Both Google's and Facebook's approach is similar. But the two commence their strategy differently. With similar goals and reasons, the two giants are competing with one another in a game of race to populate the sky with unmanned inventions flying in the air delivering internet connectivity.
Indonesia is one of the the countries with the most widespread mobile penetration in the world - with about 319 million mobile devices - outnumbering its total population. Google is able to offer people on the ground the online speed of up to 10 megabits/second. But with only 23 percent of those mobile devices in the country are smartphones, even with the available coverage, many consumers are still yet to have the device necessary to access it.