Elon Musk, the billionaire and serial entrepreneur, is still the richest man on Earth.
And this time, he is in charge of Twitter. Just when he was given until the end of October 2022 to complete his $44 billion acquisition of Twitter or face a court battle with the company, Musk is making a grand entrance to Twitter's headquarter.
He even brought a sink, and documented the event on Twitter, saying: "Entering Twitter HQ – let that sink in!"
What he thought was easy, taking over Twitter and becoming its "Chief Twit" is far from easy.
From the rise of users using the N-word and more, the already toxic Twitter becomes even more chaotic.
It all started when Twitter announced that it wanted to have an "official" label next to accounts that are actually verified.
When Musk took over, he later removed that feature altogether, and decided that there will be two verifications; one will belong to those who paid for it, and the other will belong to those who are actually verified.
But since paying a mere $8 allowed even the most unknown and new Twitter user to have the famous blue checkmark, chaos poured in.
Barrages of impersonators register themselves and start tweeting whatever their hearts desire.
From fake Donald Trump to fake Elon Musk, to other politicians and also brands, started tweeting what their legitimate selves wouldn't.
In just a week, Twitter has more or less become a joke.
Twitter which was once the harbinger of free speech of the internet, ended up in a mess.
During this chaotic moment, considering how Twitter Blue launched and allowed everyone in to have access to the Blue Tick, a developer created a very handy browser extension that can find impersonators.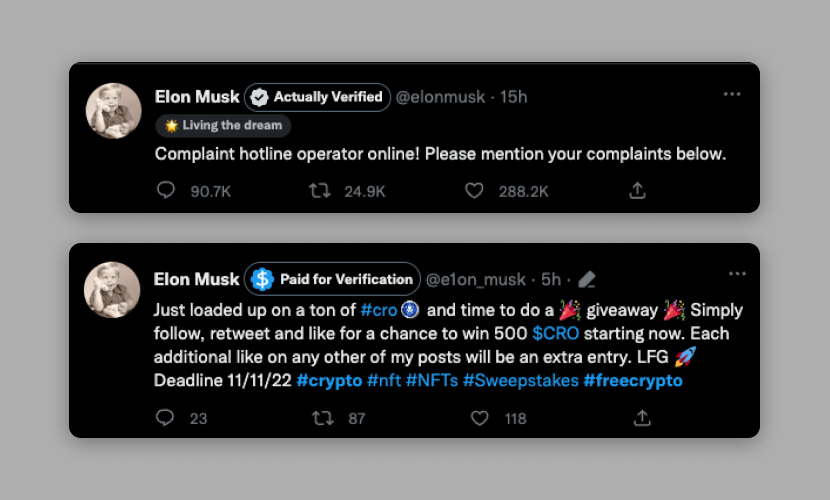 The extension that is called the 'Eight Dollars', is very simple and extremely effective.
When it's installed and enabled, browsing Twitter would reveal whether someone is "actually verified" or "paid for verification". This way, users of the extension can see instantly whether a profile is the real deal, or likely to be a troll or something more sinister.
This should come in handy, especially to those who frequently browse Twitter for information.
While the extension is extremely useful, the only downside of it is the rate Twitter is adding and dropping features.
Eight Dollars may have a short life, but regardless, its purpose which is to reveal hoaxers is certainly noble.
According to its GitHub page, the extension for Google Chrome, Microsoft Edge and Mozilla Firefox was developed by Will Seagar and Walter Lim.