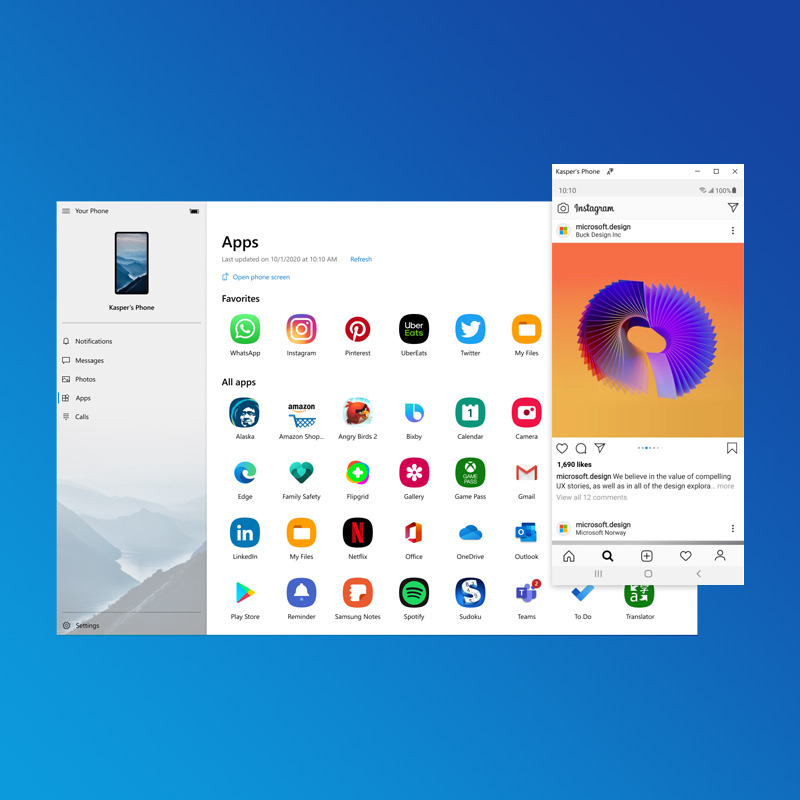 Microsoft is the ruler of PCs, and Samsung is Android's biggest smartphone vendor. The two companies are bringing together the two worlds into one.
Through Microsoft's and Samsung's long-term partnership, Microsoft is allowing Samsung owners to seamlessly access all of their phone apps directly on their Windows 10 PC.
With it, users can launch multiple phone apps, multitask, use social media, connect with friends, order things on the web, and many many more. This is like Microsoft in making Android apps to run somehow natively like Windows apps on Windows 10 operating system.
To make this feature work, users must first link their Galaxy device running Android 9 Pie or higher to their Windows 10 PC through the 'Link to Windows' on the smartphone and through the 'Your Phone' app on the PC.
Also, the Galaxy device must be connected to the same Wi-Fi network as the PC.
Link to Windows was actually announced in 2019 to allow Android phones connect and make calls, send messages, check notifications and more, from their Windows PC.
But with the update, users can interact with all of their mobile apps from their PC.
For convenience, the apps can also be pinned to the Windows 10 taskbar or Start menu.
Credit: Microsoft
According to Microsoft's Yusuf Mehdi in a blog post.
"Whether you are working on a document, keeping up on your social media feed or simply staying connected with family and friends, everything is accessible in one place, so your flow is never broken."
And because the two companies have products that overlap, the partnership also allows auto-syncing between Microsoft productivity apps such as Outlook and OneNote, with Samsung Notes and Samsung Reminders.
Microsoft is also adding Outlook integration to Samsung Galaxy watches.
This feature that is initially introduced to Windows 10 Insider Preview Build 20185, is a server-side change that is slowly rolling out to all users.
It was introduced alongside a bunch of new products during the company's 2020 Unpacked event, which also revealed the long-awaited Galaxy Note 20, Galaxy Z Fold 2, Galaxy Buds Live, and the Galaxy Watch 3.
Microsoft didn't give enough clarity on whether the ability to access phone apps on Windows 10 PC is exclusive to Galaxy devices that support 'Link to Windows'. But the company does list all of the available devices that support the'Link to Windows' here.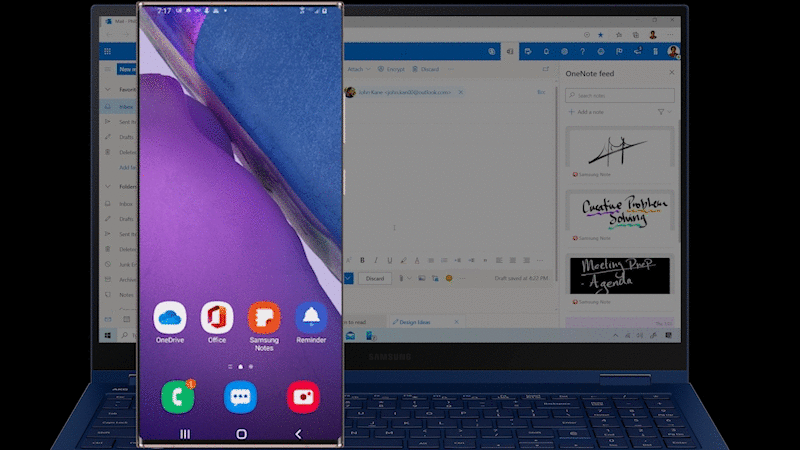 Credit: Microsoft
The partnership here doesn't end there.
The two companies are also extending it to gaming and more.
For example, using Note 20, Microsoft is providing a dedicated Xbox Game Pass app in Samsung's Galaxy Store. This gives gamers the access to exclusive expansion packs and other downloadable content.
The two companies are also offering a Note 20 gaming bundle that includes three months of a Xbox Game Pass Ultimate subscription that is required for Microsoft's cloud game streaming service that debuts in September 15.
That in addition to the Power A MOGA Xp5-X Plus Bluetooth controller.
These offers were built upon the two companies' high-profile partnership that was announced in 2019.
Microsoft and Samsung have partnered in the past to some extent. But with this partnership, the two are becoming closer than ever.
This shows that the two companies are clearly departing from an incident years ago, when Microsoft sued Samsung over Android patent licensing deal.
The partnership that is well-received by analysts and journalists, should help the two companies, given that Microsoft's has had struggling experiences in the smartphone business, and Samsung is also struggling with other tech companies.