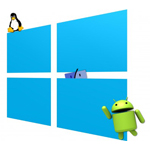 The software giant Microsoft launched the .NET Framework in 13 February 2002, and since then, it has become one of the most important component of the well-known Windows operating system.
.NET that includes the framework for building applications for Microsoft Windows (known as the Common Language Interface), and a virtual machine (called the Common Language Runtime) for software to run on. Since its birth .NET has been a proprietary to Microsoft, but now the company is changing it.
The word "Microsoft" and "open-source" have never been this synonymous. Former CEO Steve Ballmer once described Linux and the GPL (General Public Release) as a "cancer" that "attaches itself… to everything it touches". And co-founder of Microsoft Bill Gates even said that open-source was responsible for the loss of jobs.
By making one its core component open-source, Microsoft is changing its years of tradition in which the company has previously closing its doors tight to open-source environment.
The .NET framework has been the programming model for developers who want to build applications for Windows. By making .NET framework open-sourced, Microsoft is aiming its developers to create cross-platform software in which on November 12th, 2014, the company said it has plans to take the framework to both Mac and Linux. Microsoft is open-sourcing most of the full server-side .NET core stack, but not its client-side .NET, starting the next version.
Microsoft VP of its Developer Division S. "Soma" Somasegar said that 6 million developers are building applications on top of the framework, and Microsoft has been successful with that. The question that rises is: how to move .NET forward?
Microsoft has already open-sourced its .NET compiler earlier this in 2012, and at its Build developer conference earlier in 2014, Microsoft also announced the .NET Foundation. So the news about Microsoft making the .NET framework open-source was somehow predicted.
The efforts to take .NET cross-platform go hand-in-hand with this open-source announcement, argued Somasegar. "I think of this as the next big step for .NET," he said. Somasegar also stated that he believes this will open up a number of new opportunities for Microsoft's partners.
Microsoft uploaded the source code of its .NET framework to GitHub, a popular collaborative code-sharing website, that is a rival to Microsoft's own CodePlex that is not quite as popular.
Microsoft is Becoming Less Arrogant
Under Satya Nadella's leadership, Microsoft is changing quite a lot. Whether people like it or not, the Redmond-based company is not the same as it was a decade ago.
Microsoft was once known to be a company that takes advantages of its resources to itself, enabling it to create things that no others have created. But now, Microsoft has made several moves to prove that the company is different. From Microsoft Research to develop new ideas and try to solve global challenges with the use of technology, not just to improve its products, releasing universal software with levels of backwards compatibility, active in listening to user's feedback, and more.
When Microsoft was the king sitting on the throne, Linux was not yet ready for the mass-market, with Ubuntu still a far from Mark Shuttleworth's dreams. The Cupertino-based company Apple was undergoing the experience growth after years of stagnation and decline.
The lack of the competition power from competitors has made Microsoft an undisputed arrogant king, thanks to the company's monopoly in many fields of computing and software.
But the wheel of life has turned, and things started to change far from Microsoft's expectations. The company was challenged in the field where it was once dominating.
The most significant challenges that Microsoft had to face was the rising dominance of Apple and Google in the mobile space. Microsoft, despite had an early start in the mobile industry, has yet to keep up with those two giants. This has made the company realized that it has to embrace the world where software needs to run on different platform to ensure its power for survival.
Other major change in the tech landscape has been the move to using the cloud and especially non-Windows platforms on the cloud.
Microsoft has made its Office software free on Apple and Android phones and tablets for non-business use. Earlier in 2014, Microsoft even made Windows a free to use operating system on smartphones and small tablets. And by making one of its core framework open-sourced, the company acknowledged that it has to compete with the growing open-source world where the likes of Google's Android is already a popular choice.
All of these moves by Microsoft will cost the company a lot of money, time and other resources. But the company has go mainstream, especially when the world is no longer dominated by Windows-powered PCs, the apparent failure of Windows 8 and the less competitive Microsoft Surface tablets.
To keep the company moving forward, it has to change. And it did. In fact, better than anyone has expected from Microsoft. It seems like the king is not willing to give up its throne that easy.