Living is all about growing up. And in the modern days of tech, all adults should already know that the web is not the safest place to be.
Microsoft is the creator of the Edge browser, which has just experienced a huge boost in number of users following the 'COVID-19' coronavirus pandemic. This time, it has something for its young users.
Calling it the 'Kids Mode', what it does, is ensuring that parents can let their children browse the web without having to worry about the kind of contents they will come across.
Essentially, Microsoft Edge Kids Mode is designed to prevent kids from 12 and under from gaining access to sites and services their parents may find objectionable.
To make kids happy, attracted and occupied, Microsoft went to great length to redesign the interface of Edge for Kids Mode to have unique and customizable home screens, complete with characters from popular Disney (DIS) movies, and news stories from kid-friendly publications like Animal Planet and Time for Kids.
This mode is considered the first of its kind on any major browser.
In a blog post, Microsoft said that:
"Our research tells us that about 50% of U.S. parents are impacted by what we call the 'hand-off scenario.' This is that all too familiar situation of letting your child access the web from a shared device when you're working, making dinner, picking up scattered toys, or doing any of the million things parents do daily. For U.S. parents with children aged 12 and younger, 58% are concerned with the issues their children face when using digital products and services, and while the majority are aware of parental control solutions, only about half are actually using one today. We started digging into this and found that while there are a lot of great solutions in the market today, they often entail a laborious set-up, can require a subscription, and generally don't offer anything for the other users of their service: kids."
To use this Kids Mode, parents need to launch Edge on their PC and Mac like usual, and then select the Kids Mode button from the profile menu in the top right corner of the screen.
Parents have two versions to choose from.
The first Kids Mode, is for kids at age 5 to 8. It has a simplified version of the Edge browser with a unique kid-friendly look.
As for the the second Kids Mode, is for kids from 9 to 12. This version has a similar design, but includes links to age-appropriate news sites.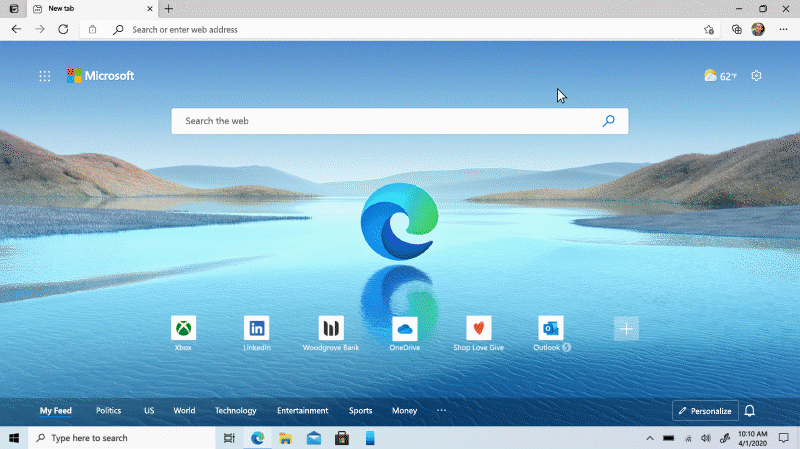 To prevent kids from visiting inappropriate websites, Microsoft Edge Kids Mode (both versions) includes a built-in list of approved sites.
Parents can edit those sites to add additional pages, or limit Microsoft's pre-selected sites.
And in order for kids to leave this Kids Mode and return Edge to its normal state, a passcode can be required if the parents want.
"You need your device password (the same password used to unlock your computer) to exit Kids Mode and resume browsing," Microsoft said on a dedicated support page.
In addition to all the above, Microsoft Edge also enables some privacy features by default when browsing in Kids Mode.
To create a safer browsing space for kids, Edge automatically sets Bing SafeSearch to Strict to help filter out inappropriate content from Bing search results, and set tracking prevention to Strict to block a majority of trackers on sites. Edge also clears browsing data on close to remove cookies and browsing data when Kids Mode closes.
"Kids Mode will not collect data for personalization of the news feed or other Microsoft services. These privacy settings for Kids Mode cannot be changed," added Microsoft.
It should also be noted that the Kids Mode also uses some of the privacy data settings from the profile of the adult who set it up.
Windows Defender SmartScreen will also automatically in blocking websites and content downloads that are reported to be malicious.
Microsoft's Edge Kids Mode comes as more tech companies push tech products to younger users.
Google for example, has YouTube Kids, which is designed for children users. The service limits the kinds of videos available through automated and human content reviews. It also provides parents with parental controls and screen time options.
Facebook also has what it calls the Messenger Kids service that allows kids under 13, the age limit to join Facebook, to send messages to a list of contacts approved by their parents.
And Microsoft Edge' Kids More, is Microsoft's foray into allowing more users using its services, by appealing children through their parents.
This feature may not gain or receive significant traction given that Edge that is the second most popular browser at this time, it is still way behind Chrome.
However, since Edge uses Chromium, which is the same software that powers Chrome, most websites should work flawlessly, or at least as they should, on the browser from Microsoft.
And with privacy features and quirks its competitor doesn't have, Edge can entice users to switch from Chrome.
What this means, more parents can ensure that their kids can enjoy the web as much as they do, but without the adult thingy, by using this Chromium-powered Edge.
As of the moment of announcement, Kids Mode is limited to only U.S. English users on both Windows and MacOS.