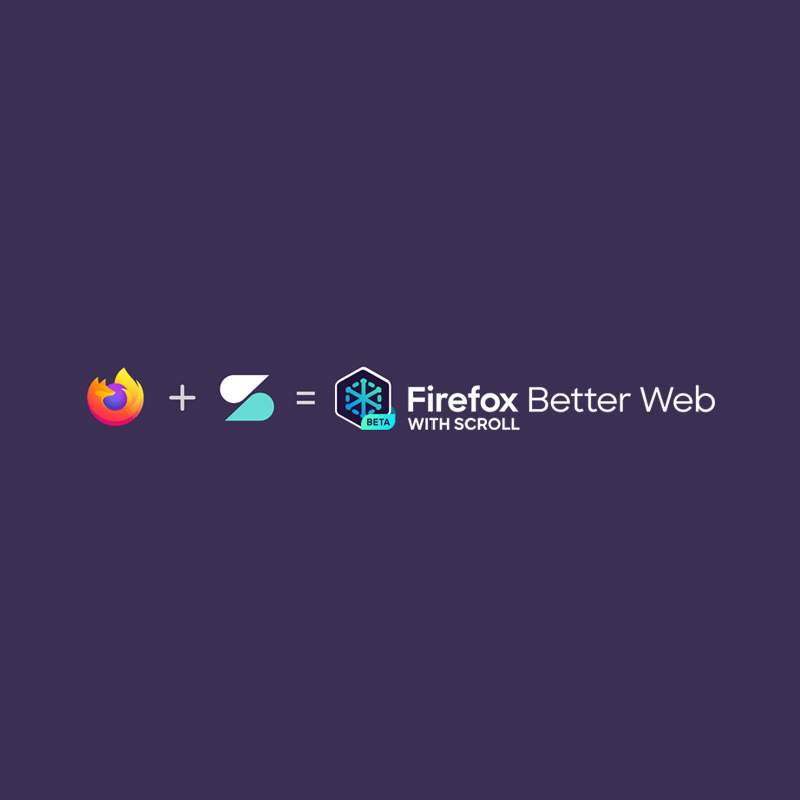 Mozilla is one of the very few popular web browsers that put privacy of users at a priority.
After launching Enhanced Tracking Protection with Firefox 69, the web browser started to block third-party cookies, trackers and cryptocurrency miners by default.
This time, Mozilla also wants to improve experience by introducing 'Firefox Better Web with Scroll'.
What it does, is combining its Firefox tracking protection with the ad-free browsing experience offered by Scroll.
Scroll is a startup that offers a subscription service for users to read popular international news portals without ads to improve experience. But it does that without neglecting the publishers.
Scroll splits its revenue among the publishers whose websites have actually been visited by the users.
In a blog post, Scroll said the results since launch are bringing publishers more money than advertising. As a matter of fact, Scroll said that publishers are seeing an average $30 to $40 RPM (revenue per thousand pageviews) from Scroll visitors.
Previously, Mozilla has been working with Scroll to gather user feedback on this approach from a small number of Firefox users. Here, Mozilla found that:
Users see ads as distracting and say their online experience is "broken".
Users care a great deal about supporting journalism, and many choose not to install ad blockers because of the impact it would have on publishers.
Users want to support Mozilla because the organization works as a non-profit, and also because it is putting its users first with Firefox.
And here, Scroll is bringing its offer in the form of a Firefox extension "to bring joy back to browsing the web".
"The model works, and combined with Firefox's best ever private browsing experience, we can bring a better web to many more," Scroll said.
Without Firefox Better Web extension, publishers will show ads wherever and whenever they see fit
Initially available for anyone in the U.S. with a Firefox account, Scroll's offer for Better Web with Scroll Extension is charging an introductory price of $2.49 per month, with plans to eventually increase to $4.99.
It should be noted that most of the price paid by users will go the the website the users visit the most.
While Scroll isn't exactly an ad blocker, it 'blocks' ads but by letting publishers know that they shouldn't serve its users in the first place.
And because Scroll is splitting 30% of its revenue with the publishers visitors actually visited, publishers shouldn't have much to worry about.
The deal should give Scroll a much larger user, considering how massive Firefox's market is.
With Firefox Better Web extension, ads are blocked, with Scroll's revenue split among the publishers.
As for Firefox, this initiative is in line with Mozilla's ongoing effort to combat tracking on the web.
Mozilla partnership initially built Scroll as a package of tools, offered as a test pilot. The idea is to see how far the browser can block cookies and trackers without having to fully break the web or hurting publishers's revenue.
"If we're going to create a better internet for everyone, we need to figure out how to make it work for publishers," said Mozilla in a blog post.
The Firefox Better Web extension includes Scroll, and also a "customized Enhanced Tracking Protection setting that will block third-party trackers, fingerprinters, and cryptominers," according to Mozilla.
The extension is also meant to work across different desktop browsers, but since this is a partnership by Mozilla, the extension is designed primarily to be used with Firefox.
Both Mozilla and Scroll said that they are welcoming anyone from the competition and the larger ecosystem that are trying to figure out new ways to pay publishers instead of using ads.
Previously, a similar approach was initiated by Brave with its the BAT token.