In the age where people are being tracked online for monetization and other purposes, Mozilla, is ramping up its effort to preserve its users' privacy.
With Firefox 69, Mozilla has enabled tracking protection feature on the popular browser, in an attempt to protect users' privacy from website publishers' tracking methods, as well as advertisers that would like to keep tabs on users' behavior.
Mozilla first enabled this Enhanced Tracking Protection for Firefox users in June, but with Firefox 69, it's on for everyone by default, the nonprofit said.
"Currently over 20% of Firefox users have Enhanced Tracking Protection on. With today's release, we expect to provide protection for 100% of ours users by default."
"Enhanced Tracking Protection works behind-the-scenes to keep a company from forming a profile of you based on their tracking of your browsing behavior across websites — often without your knowledge or consent. Those profiles and the information they contain may then be sold and used for purposes you never knew or intended."
"Enhanced Tracking Protection helps to mitigate this threat and puts you back in control of your online experience."
The shield icon in the address bar indicates that 'Enhanced Tracking Protection' is turned on and working. (Source: Mozilla)
By blocking trackers, Firefox 69 is also blocking cryptominers by default.
This move ensures that third-party websites are unable to use the computational resources of visitors to mine cryptocurrencies without their consent.
Firefox users can also block fingerprinting scripts, which create a snapshot of web visitors' computer configuration using JavaScript. To get protection from fingerprinting scripts, Firefox users can turn on 'Strict Mode.' But in version 69, Mozilla hasn't elected to turn this feature on by default.
In doing this, Mozilla isn't the first, as Opera introduced cryptojacker blocking back in January of 2018. And similarly with Google, the company has started banning extensions that mine cryptocurrencies in the background.
Related: How To Prevent Cryptojacking Script From Running On Your Website
But still, Mozilla's privacy push is arriving at the same time that many others in the tech industry and beyond are taking more active measures to limit how third-parties can collect people's personal information for their own benefits.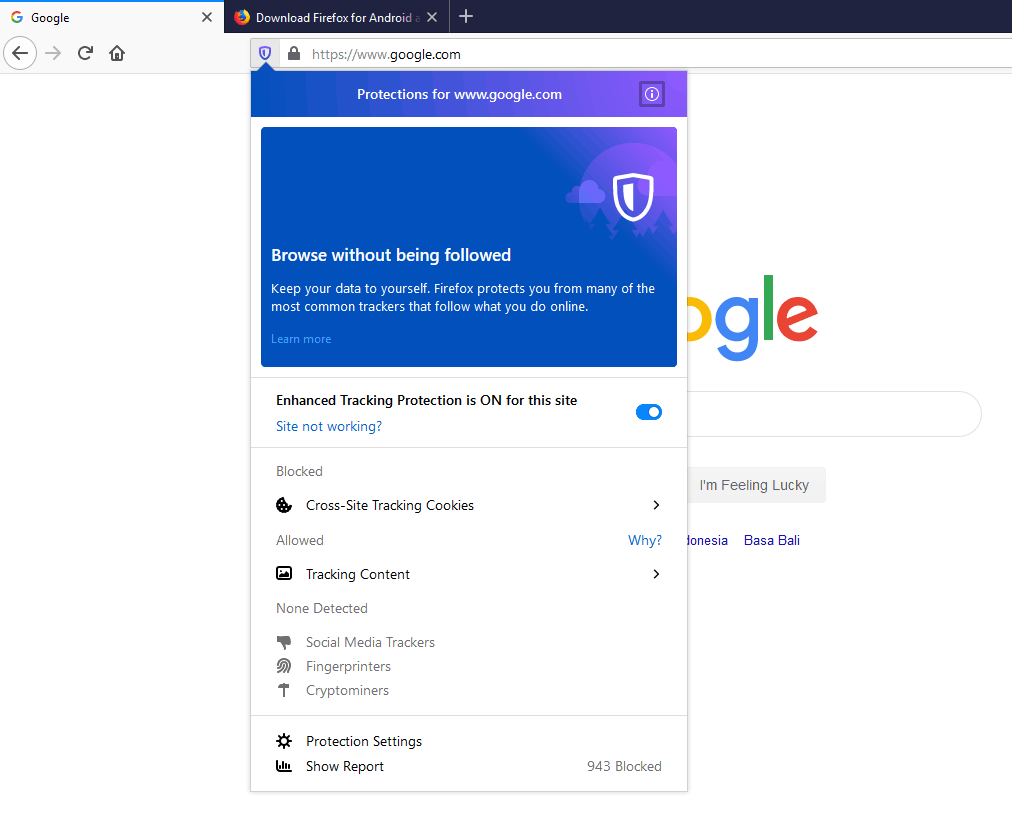 Clicking on the shield icon reveals the Enhanced Tracking Protection's settings
With tracking protection in all the rage among browser makers, Apple's WebKit has announced that it wants to further restrict web trackers. Even Google was forced to introduce its own anti-tracking policy for Chromium-based browsers.
For websites that rely on advertising revenue by targeting ads, this can be a thorny issue because with tracking-prevention systems, trackers that collect users' behavior and other related data for targeting and re-targeting purposes, can be blocked, or fail to work properly.
Firefox is not that popular on smartphones, but conquers much more market on PCs. This is why it continues to pamper its PC users with more benefits with version 69.
Besides the Enhanced Tracking Prevention, Firefox 69 also got some battery and performance improvements.
For Windows users for example, Mozilla is giving the browser a speed boost, by limiting the information it gives to the operating system. So tabs that users are opening, won't be known to Windows. As a result, the operating system by Microsoft can devote more of its processing power to process background data, or other lower-priority tabs.
And on MacOS, Firefox 69 also tries to cut down power usage on higher-end MacOS machines with dual graphics chips by using the more battery-friendly option whenever possible.