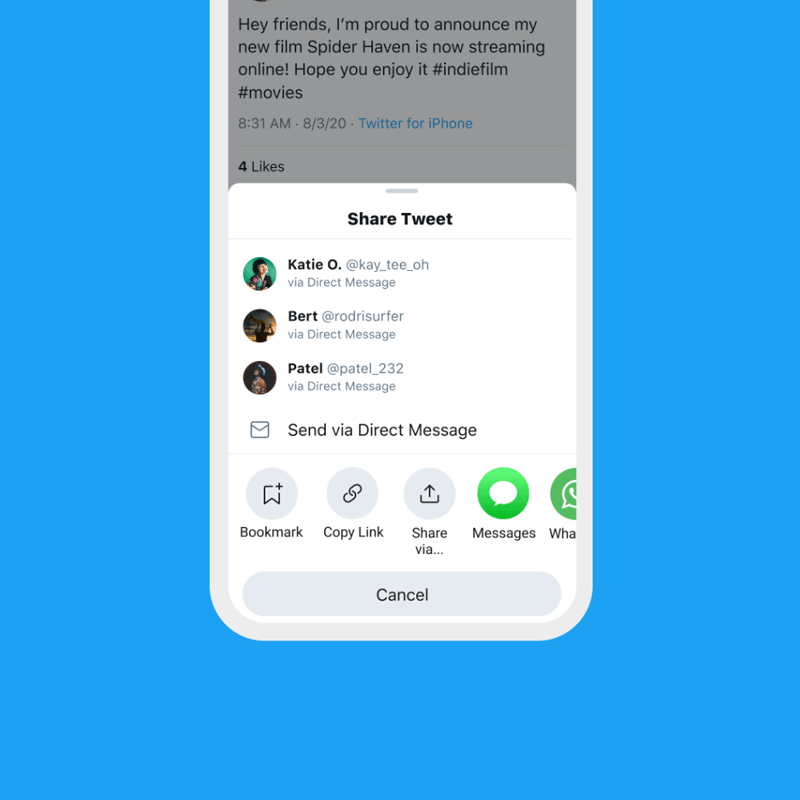 After testing the 'Share Tweet' Feature with a small group of users since August, Twitter is ready for a wider roll out.
The 'Share Tweet' feature comes in the form of a menu makes sharing a tweet with a friend or someone else has become even simpler. What it does, is allowing users to easily access their recent Twitter contacts on DM, as well as shortcuts, to share the tweet to them.
This feature is meant to help users share tweets with lesser efforts, and with fewer taps.
The Share Tweet feature that is initially rolled out only to iOS users, replaces the native iOS Share Sheet, which shows all the apps users have installed with the share option enabled.
Users however, can still access the native Share Sheet in the Twitter app if they want to, by long-pressing the share button.
Or, they can access it by first accessing the Share Tweet menu to then tap on the 'Share via…' option.
The downside is this Share Tweet feature is that, the apps that show up may not be the same as the native iOS Share Sheet.
As a result, users who have customized their Share Sheet may not like this Twitter feature.
For example, contact suggestions from other apps, and with Twitter rearranging the available options. Share Tweet also doesn't offer the same customization options, and also lacks the AirDrop links too.
But still, Twitter users who are actively sharing and tweeting, can find this Share Tweet useful, as it offers a more compact set of options than the native iOS Share Sheet.
To access this feature, Twitter users using the iOS app should update to version 8.37.
The update has also been made available to Twitter app users on Mac.