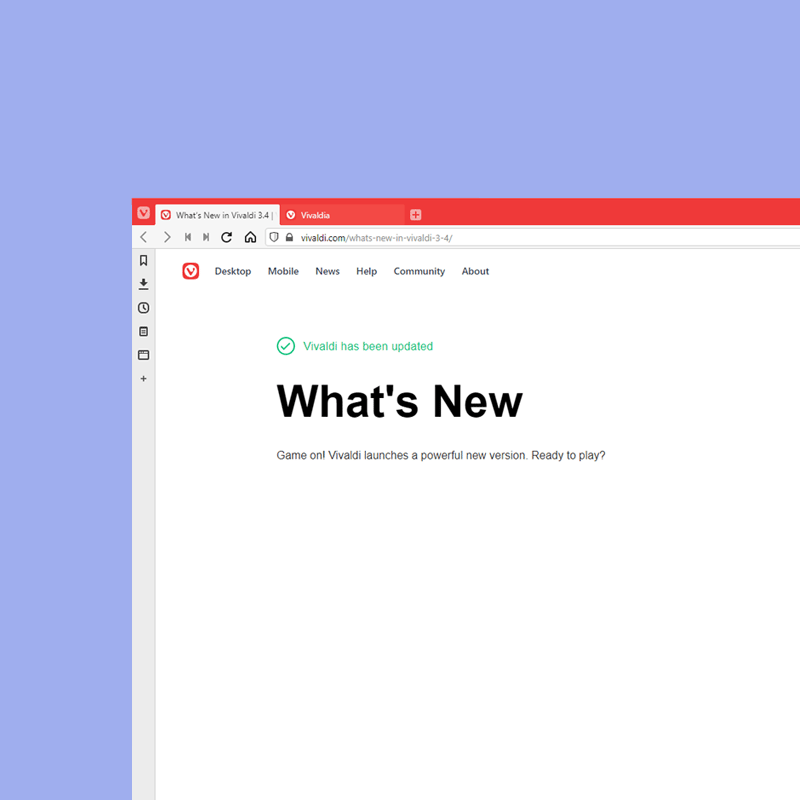 Vivaldi is a Chromium-powered browser that is unique. Despite having far less market share than others, it still shines with its unique approaches.
And with version 3.4 of the browser, VIvaldi introduces some new features and improvements, some of which were highly requested by users of the browser.
That, according to Vivaldi Technologies, the company behind the browser.
One of the biggest changes in Vivaldi 3.4, is the option for users to edit context menus of the browser. Users can also add new commands to the menus, including custom links. Users can even remove entire options or menus if they want to improve their productivity or avoid unwanted clicks.
Vivaldi 3.4 offers customization options that weren't previously available, making the browser capable to suit users' demand for a more personalized browser.
"With the new version, we continue on our path to give you the most versatile internet experience," wrote Vivaldi on the versions' announcement.
The next feature that comes with VIvaldi 3.4, is automatic tab reloading.
To do this, users just need to right-click on a tab on the browser's desktop version, and select the 'Periodic Reload' option.
This will make the browser to load the site within automatically.
This feature can be useful when users visit auction websites, or pages that display new information on refresh, or live tickers that don't update automatically among other things. The feature should also reduce memory usage of demanding sites, making the overall browsing experience faster.
When a tab is reloaded automatically, Vivaldi will tell its users. It will stop the Periodic Reload option once users reload the tab manually, or close the browser.
Other features beside the above, includes the ability to capture screenshots directly to notes to improve the workflow, an improved Speed Dial folder creation process, improved tab tiling when not using tab stacks or selections,, and the option to pick a custom avatar for non-synced profiles.
And for last, Vivaldi 3.4 adds an in-browser hidden game, called Vivaldia.
It is simply an in-browser game that is designed to have a 1980s game experience. The retro side-scrolling game can be played both online and offline across Windows, Max, Linux, and Android.
Vivaldia's gameplay follows a very similar template to the very famous Google Chrome's Dinosaur Game, an Easter egg game in the browser that its developers said can last for almost an eternity.
However, Vivaldia won't automatically appear like Chrome's Dinosaur Game. This is because Vivaldi has a separate game that appears when connection goes out.
The basic jump and "pixel-perfect" 8-bit Vivaldia run game needs to be loaded by typing vivaldi://game in the address bar.
"Riding her cybernetic ninja one-wheeler called the CyclePunk, Vivaldia outruns and outsmarts the big evil machines," wrote the creators in a blog post.
"At times, it looks like an impossible battle to win but through courage and strength, Vivaldia triumphs. The evil is overcome and the humans can claim their city and future back. Vivaldia has won the hearts of the people."
The game, according to its creators, is Inspired by the Future Noir and CyberPunk genres.
Previously, Microsoft Edge browser also followed Chrome by building its own "surfing" in-browser game. And it seems that Vivaldi is following that cue to create Vivaldia.