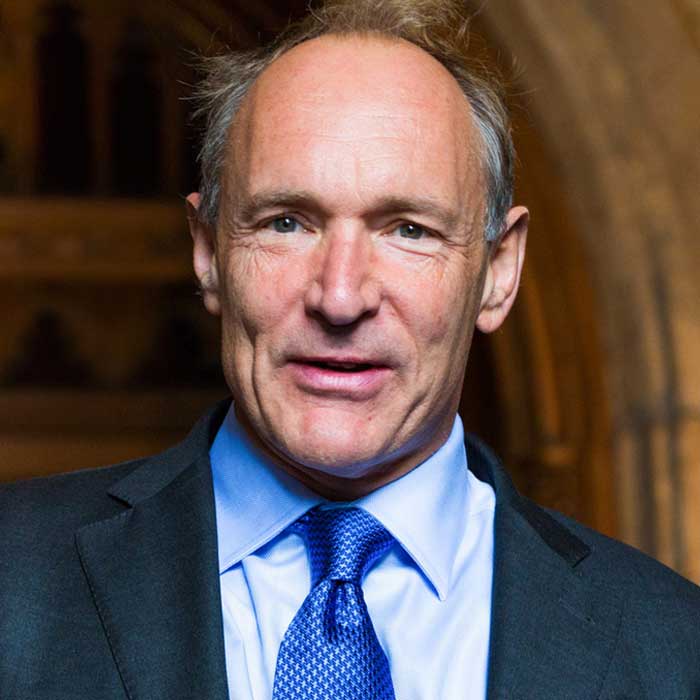 "Data is a precious thing and will last longer than the systems themselves."

- Tim Berners-Lee
The World Wide Web is an information highway that consist of a system that interlinked hypertext documents can be accessed via the internet. It was once started as a proposal written in March 1989 before eventually become the World Wide Web we know today.
Tim Berners-Lee wrote that proposal for an information management system which then made the first successful communication between a Hypertext Transfer Protocol (HTTP) client and server via the internet.
Early Life
Tim Berners-Lee was born in southwest London, England, on June 8th, 1955, the son of Conway Berners-Lee and Mary Lee Woods. His parents worked on the first commercially built computer, the Ferranti Mark 1. Berners Lee attended Sheen Mount Primary School, and then went on to Emanuel School in London, from 1969 to 1973.
Tim Berners-Lee graduated and received a first-class degree in Physics from the Queen's College at Oxford University, England, 1976. Whilst there he built his first computer with a soldering iron, TTL gates, an M6800 processor and an old television.
Career
After graduating, Tim Berners-Lee spent two years with Plessey Telecommunications Ltd (Poole, Dorset, UK) a major UK Telecom equipment manufacturer, working on distributed transaction systems, message relays, and bar code technology.
In 1978, Berners-Lee left Plessey to join D.G Nash Ltd (Ferndown, Dorset, UK), where he wrote among other things typesetting software for intelligent printers, and a multitasking operating system.
While an independent contractor at CERN, the European Particle Physics Laboratory in Geneva, Switzerland from June to December 1980, Berners-Lee proposed a project based on the concept of hypertext, to facilitate sharing and updating information among researchers. While there, he built a prototype system named ENQUIRE.
After leaving CERN in 1980, he went to work at John Poole's Image Computer Systems, Ltd, in Bournemouth, England, from 1981 to 1984, with technical design responsibility. The project he worked on was a real-time remote procedure call which gave him experience in computer networking.
Work here included control firmware, graphics and communications software, and a generic macro language. In 1984, he took up a fellowship at CERN, to work on distributed real-time systems for scientific data acquisition and system control. Among other things, he worked on FASTBUS system software and designed a heterogeneous remote procedure call system. And later in the year 1984 he returned to CERN.
In 1989, CERN was the largest internet node in Europe, and Berners-Lee wrote his initial proposal in March 1989, and in 1990, with the help of Robert Cailliau and a young student at CERN, he produced a revision which was accepted by his manager, Mike Sendall.
He used similar ideas based on the earlier ENQUIRE work to create the World Wide Web. it was designed to allow people to work together by combining their knowledge in a web of hypertext documents, for which he designed and built the first web browser.
This also functioned WorldWideWeb as a what-you-see-is-what-you-get hypertext browser/editor that ran in the NeXTStep environment, and the first web server, CERN HTTPd (Hypertext Transfer Protocol daemon).
This work was started in October 1990, and the program "WorldWideWeb" first made available within CERN in December, and on the internet at large in the summer of 1991. The first website and web server, running on a NeXT computer at CERN was the CERN's own website within the border of France, and was first put online on 6 August 1991.
In 1999, Berners-Lee founded the W3C (World Wide Web Consortium) at MIT comprising various companies that were willing to create standards and recommendations to improve the quality of the web. He also became the first holder of the 3Com Founders chair.
He is the 3COM Founders Professor of Engineering in the School of Engineering, with a joint appointment in the Department of Electrical Engineering and Computer Science at CSAIL where he also heads the Decentralized Information Group (DIG). In December 2004 he was accepted a chair and named a Professor in the Computer Science Department at the University of Southampton, England.
Berners-Lee was co-Director of the Web Science Trust, launched in 2006 as the Web Science Research Initiative, to help create the first multidisciplinary research body to examine the World Wide Web and offer the practical solutions needed to help guide its future use and design.
He is also a Director of the World Wide Web Foundation, started in 2008 to fund and coordinate efforts to further the potential of the web and lead it to its full potential benefiting humanity.
In June 2009 then Prime Minister Gordon Brown announced that Tim Berners-Lee would work with the UK government to help make data more open and accessible on the web, building on the work of the Power of Information Task Force.
Berners-Lee is currently a member of The Public Sector Transparency Board to drive forward the UK government's transparency agenda. Berners-Lee and Professor Nigel Shadbolt are the two key figures behind a UK Government project to open up almost all data acquired for official purposes for free re-use.
In November 2009, Berners-Lee launched the World Wide Web Foundation in order to "Advance the Web to empower humanity by launching transformative programs that build local capacity to leverage the Web as a medium for positive change."
Berners-Lee is one of the pioneer voices in favor of Net Neutrality, and has expressed the view that ISPs should supply "connectivity with no strings attached," and should neither control nor monitor customers' browsing activities without their expressed consent.
Berners-Lee is currently the director of World Wide Web Consortium, a member of the board of advisors at Slate.com, and a co-director of the Open Data Institute. He is also leading the coalition of public and private organization The Alliance for Affordable Internet (A4AI).
Honor And Recognition
Tim Berners-Lee with his achievements, received numerous awards and recognitions. Having the title as one of the most important people in the 20th century, Berners-Lee also received a Lifetime Achievement with his name carved into the Internet Hall of Fame.
Berners-Lee was appointed to the rank of Knight Commander of the Most Excellent Order of the British Empire, knighted by Queen Elizabeth II for his pioneering work. He also hold the honor to use the post-nominals 'O.M.' (The Order of Merit) within the personal bestowal of The Queen.
In 2014, when the web reached its 25th year of age, Berners-Lee received the Queen Elizabeth Prize for Engineering with Bob Kahn, Vint Cerf, Mark Andreessen and Louis Pouzin, and shared a $1 million prize award.
Personal Life
Tim Berners-Lee was married to Nancy Carlson in 1990. The couple had two children before they were divorced in 2011. Three years later in 2014, Berners-Lee married Rosemary Leith, the director of the World Wide Web Foundation and a fellow at Harvard University's Berkman Center.
Berners-Lee practiced Anglicanism. After he became a parent, he turned away from the religion and became a Unitarian Universalist.