At 10AM PDT at Steve Jobs Theater, an auditorium in Cupertino, California, Apple CEO Tim Cook took the stage with the keynote he is introducing.
And for the first time ever, Apple is live streaming the event on YouTube.
This greatly expand the number of people able to view the stream. In 2018, Apple extended its iPhone event stream to Twitter, and the company has been gradually increasing the availability of its stream in recent years.
For example, Windows 10 users started to gain access to the stream since 2015, through Microsoft's Edge browser. Apple's event streams used to be limited to Safari and Edge on the desktop, but Apple also opened them up to Chrome and Firefox in 2018 at WWDC.
By opening its event to more viewers, the move is crucial for Apple as the company reveals its products, hoping that more audience will capture more people's attention for the year ahead.
The main highlights at the event include:
Apple Arcade and Apple TV+
Apple took the opportunity to introduce viewers to some new games for its game subscription service, which aims to be launched later this September.
With a $4.99 monthly fee per family, Apple Arcade provides one-month free trial for everyone, and a whole year free subscription for those who buy the iPhone 11.
iPad 2019
The company replaces its sixth-generation iPad with a 10.2" seventh-generation iPad optimized for the new iPadOS.
Boasting improved brightness, a better viewing angle, and an A10 Fusion chip. The company also adds a Smart Connector plus a new smart keyboard cover. Price starts at $329.
Apple Watch Series 5
The Apple Watch Series 5 features a always-on display that can drop to as low as 1Hz refresh to save power, a built-in compass and optimized faces.
GPS models start at $399 and $499 for cell models. Series 3 stays in the line, but the price has dropped to $199 to start. The company also announced three new health studies: hearing, heart and movement and menstrual-cycle tracking.
iPhone 11, 11 Pro and 11 Pro Max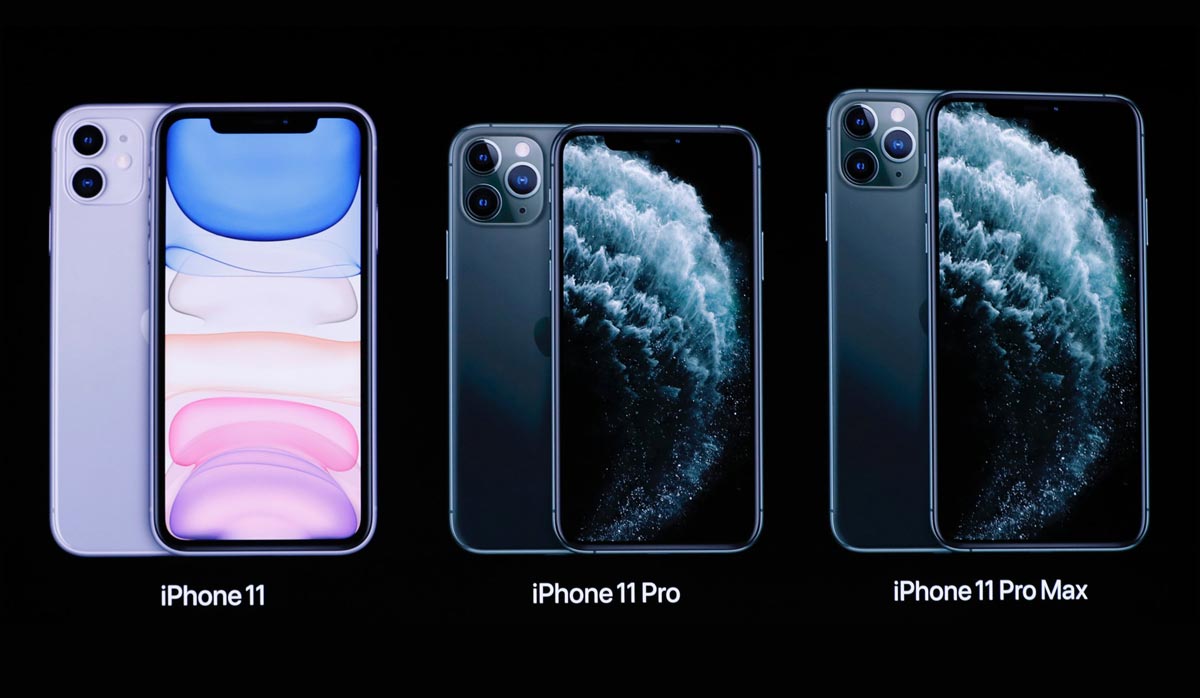 The scene-stealer of the event, would be the introduction of the 2019 iPhones.
The successor of the 2018's iPhone XR, is the iPhone 11, which sports a dual-camera configuration and a new design in six colors. Features include Dolby Atmos audio, Wi-Fi 6, an ultra wide camera lens and enhanced camera features. This LCD-screen iPhone 11 starts at $699.
Its more capable brothers, are the iPhone 11 Pro and 11 Pro Max, the successors of the 2018's iPhone XS and XS Max. The two boast 'Super Retina XDR' OLED displays that are based on the Pro XDR Display that has similar specs, but is not really an OLED.
At the back, the two phones have a tri-camera setup (wide, ultra-wide, telephoto), and a new matte finish.
The 11 Pro and Pro Max starts at $999 and at $1,099, respectively.
According to Phil Schiller, Apple's senior vice president of Worldwide Marketing:
"iPhone 11 Pro and iPhone 11 Pro Max are the most powerful and advanced smartphones we have ever made. They are packed with sophisticated technology that pros can count on to get their work done, and for anyone who wants the very best device made, even if they are not a pro,"
As for the three, they have in common features like:
A13 Bionic chip.
Claimed longer battery life, with fast-charge adapter from the box.
Landscape selfies and videos and slo-mo video, that Apple calls "slofies".
4K video for both front and rear cameras.
Monochrome portrait lighting effect.
Cameras that get Night Mode.
QuickTake to start recording video by holding the shutter button.
True Tone flash that is over 30% brighter.
Deep Fusion, which takes the best result from nine different images that the iPhone automatically takes.
Notches to house the front-facing camera and sensors, with widened angle and faster Face ID.
Haptic Touch instead of 3D Touch.
Wi-Fi 6 support, but no 5G
Audio Zoom for more dynamic sound.
iOS 13 on-board.