On the internet, and social media in particular, there is no single recipe for success.
But what is certain, popularity can come after someone can make use of the situation and create a viral sensation out of it. There are plenty of famous individuals who began as viral sensations, and among the most notable people, is Cardi B.
Before becoming the famous rapper from the U.S., a winner of Grammy Award, Billboard Music Award, American Music Awards and Hip Hop Awards winner and Guinness World Records holder with numerous singles on Billboard Hot 100, Cardi B was a stripper in New York City.
She gained fame after reengineering her Instagram and Vine microcelebrity fame into a reality TV stardom, to then create a successful rap career.
The reinvented her social media presence, and turned herself to become a celebrity, by establishing herself in an industry using her own methods.
"Am I ever gonna grow thick skin? No. I just gotta focus on making money. Cause ain't no going back. I'm gonna be famous forever," she once said.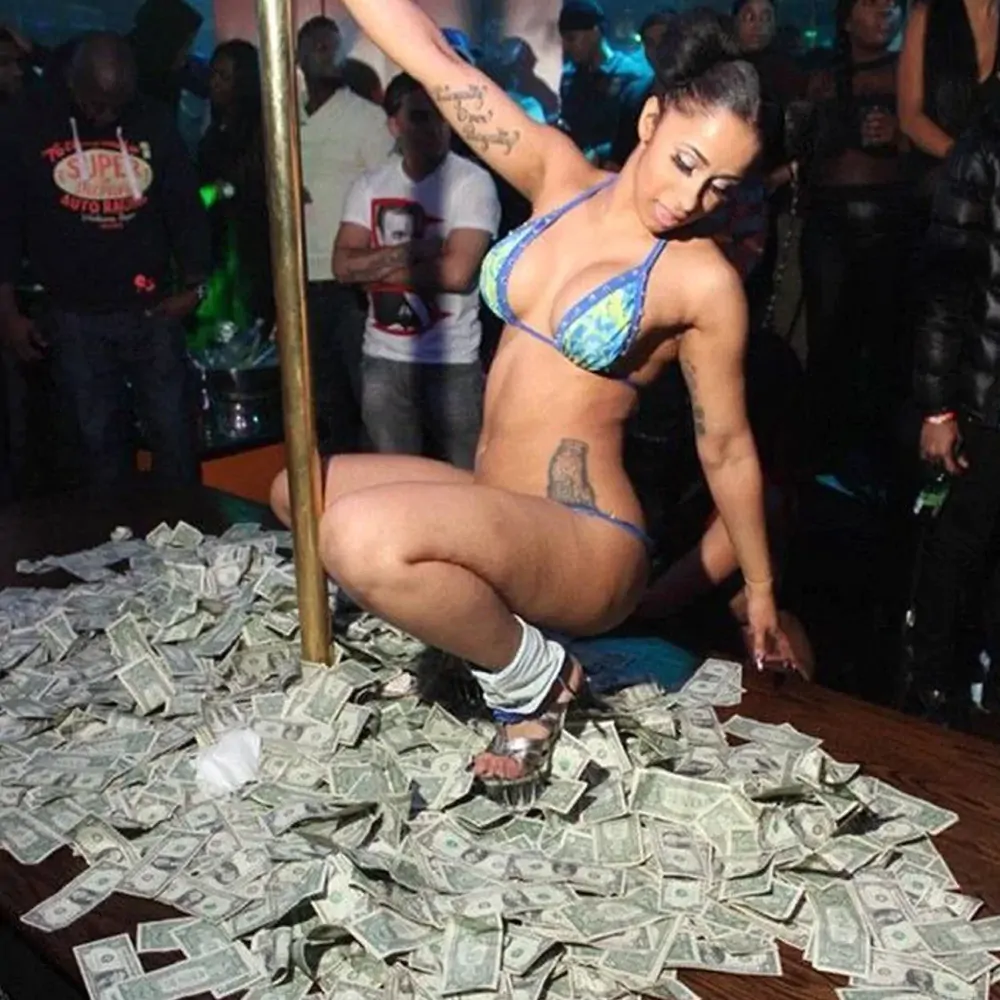 Cardi B, during her days as a stripper in New York City.
Between the many updates that happened on social media, Cardi B's life has been well-documented.
The woman whose real name is Belcalis Marlenis Almánzar has her history traced back to her mother and father who came to the U.S. from Dominican Republic. With her then-complicated relationships with her parents, she enrolled in the Renaissance High School for Musical Theater and Technology. On YouTube, there are videos of her from RHS talent show, the time when she was only 16 years old, performing a Lady Gaga song with the help of a crew of backup dancers.
At 18, she enrolled at a college in downtown Manhattan, but dropped out because she couldn't juggle her classes with her job as a cashier.
Upon being fired, it was her former manager who recommended her to work at a strip club, which was apparently nearby.
"He was like, 'You're so pretty, you got a nice body.' He told me to go across the street to New York Dolls, the strip club."
And this is exactly what she did.
She was 19 at the time she followed her former boss' suggestion to become a stripper.
Cardi B said that she became a stripper to escape poverty and domestic violence, having been in an abusive relationship at the time.
It was during her work as a stripper, that she managed to build fame among her fans, and what follows, was fame on Instagram.
It was in 2014, during the time when Instagram was first becoming the method of communications for many youngsters, Cardi B had a social media following in the hundreds of thousands.
People loved her uniqueness and her wittiness.
She then moved to more lucrative strip clubs around the city; where she learned to be a little more confident giving lap dances in a thong.
"I was always scared to follow my dreams because if I follow my dreams and I fail, I can't dream about it anymore," she says.
"It's easier to settle for less."
This was when Cardi B started rapping, creating a number of freestyle and hopping on a Shaggy remix. She was then invited to Season 6 of Love & Hip Hop, which kickstarted her career.
Cardi B's rise to stardom however, was also hindered by her turbulent relationship with her incarcerated fiancé.
What's more, her online personality was faired much better than her music.
While her style and social media posts were popular, her singles were not.
Cardi B, when she became the first solo female rapper to win a Grammy for the Best Rap Album category.
Cardi B took this as a challenge.
On December 30, 2016, after two seasons, she announced that she would be leaving the show to further pursue a career in music.
She then started promoting her music using her online persona, in which she created catchphrases by following the trends.
"You gotta follow the trends, it is what it is. At the end of the day, you need to be with what sells. Sometimes it kinda crushes me because I wanna do music like how I like, but if it's not selling and it's not gonna work, then I'll change my sound," she said.
"I put out the 'Lick' video and I did [an Instagram] video the same day ranting, and my video ranting went more viral than my actual music video."
"Now it's like I gotta be more of an artist. And to be more of an artist, I gotta be more censored because my personality just overshadows everything."
After managing to pave a clear path towards stardom, Cardi B is later known for her raw and aggressive flow and candid lyrics, which have received critical praise. She is among the highest-certified female rapper of all time on the RIAA's Top Artists (Digital Singles) ranking, also appearing among the ten highest-certified female artists.
She is the female rapper with the most songs with a billion streams on Spotify, where she also has the most-streamed female rap album, and is the first lead artist to top the inaugural Billboard Global 200.