NFT or "non-fungible token," is the hype that caught the world by storm, and gained lots of traction.
After Elon Musk's partner, Grimes, managed to sell some of her artworks for million of dollars by making them NFT items, the NFT craze continued with a bunch of others.
It also gained the attention of Jack Dorsey, Twitter founder and CEO, when he made the first-ever tweet as an NFT item for sale.
And among other NFTs that went up for sale, some cryptocurrency enthusiasts even went as far as burning a real art piece, to make its NFT worth higher, and a hacker was reportedly selling the first NFT for software exploit.
The craze continues, and this time, artist Krista Kim @kristakim has sold a digital house for the equivalent of $500,000.
The house comes in the form of a computer file for 3D imagery, meaning that the homebuyer that goes with the name @artontheinternet, just bought a piece of property that does not exist physically.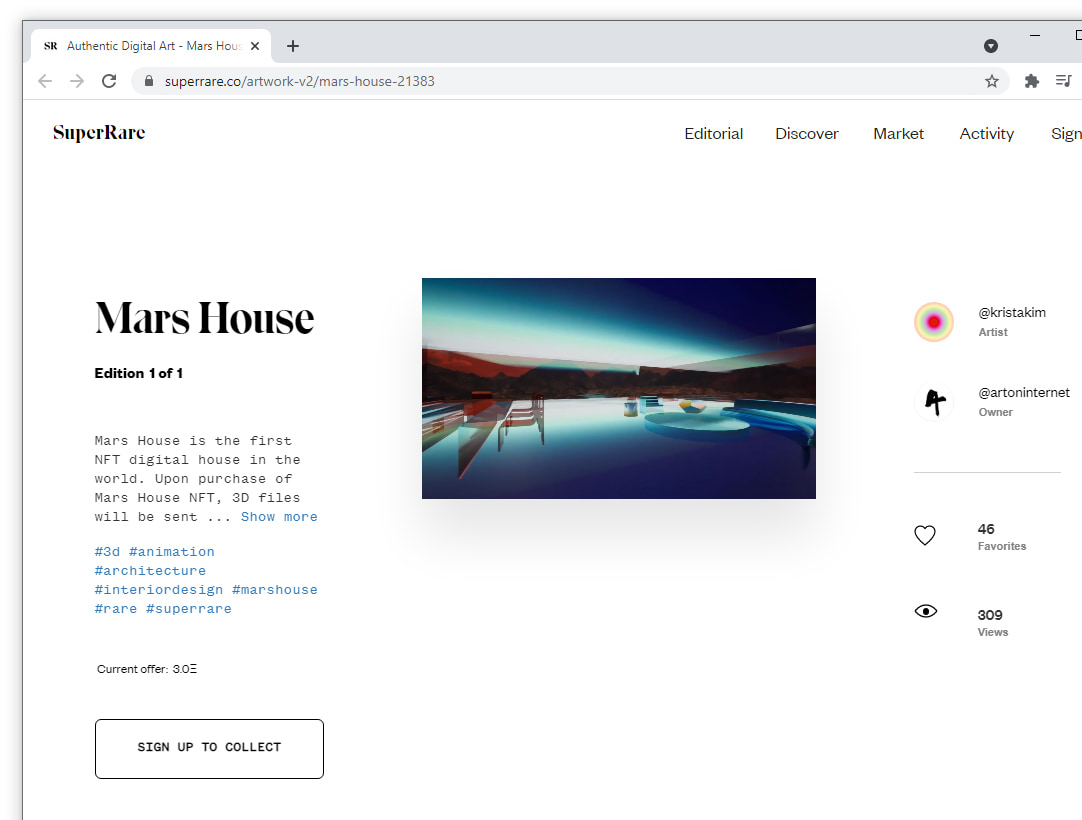 A screenshot of 'Mars House' NFT listing.
The house that allows interactivity using AR (augmented reality), was inspired by ancient Zen gardens from Kyoto, Japan.
The house reportedly does not feature a kitchen, but does have a bathroom.
According to reports, the Canada-based artist said that she was inspired to create the digital house in response to the limited nature of other NFT items, which she said were just digital files of pictures or videos.
Kim started designing the home in 2020, boasting a colorful hued gradients to represent her philosophy of a meditative design, as well as iridescent furniture made in real life by a Italy-based glass furniture maker. To make this project happen, Kim worked with an architect to render the house using Unreal Engine, a software developed by Epic Games, commonly used to create video games.
And to complete the design, she accompanied the digital house with a song produced by Jeff Schroeder from the band The Smashing Pumpkins.
Kim describes the house, which overlooks a moody mountain range and features an open-plan design and floor to ceiling glass walls, as a "light sculpture".
Named Mars House, the digital home was sold as an NFT as the marketplace SuperRare for 288 Ether ($512,000), a cryptocurrency similar to Bitcoin.
Following the successful sale of this NFT, Kim said that she expects humans to be living in AR worlds within "a very short period."
"Soon, we will all live in AR through our real environments using SuperWorld, a new app that has mapped the entire world for AR interface."
"Virtual real estate based on the real world can be purchased on SuperWorld, and in the very near future, this app will allow us to mint 3D NFTs and create a marketplace of digital AR assets."
"Mars House is ready for that future, where it can be transposed onto our real environment and enjoyed with others."
"We can eventually have it on the surface of Mars. It represents a paradigm shift of our definition of art in an augmented reality world."
A preview of 'Mars House'. (Credit:@kristakim/SuperRare)
Based on blockchain technology, NFTs act as digital certificates of ownership of digital assets. NFTs allow digital artworks or designs to be bought, sold and collected.
In this case, the buyer of Mars House receives a digital 3D file of it, with its NFT existing as an authentication certificate stored on a blockchain.
NFTs have opened up a world for digital artists that allows their works to be bought, owned, traded and collected through digital marketplaces. And Kim is only one of the increasing number of artists who are trying to commercialize using this craze.
"I believe that the NFT market supports positive change through the crypto revolution," Kim said. "It is the crypto revolution that will create real political action to support green energy and sustainability."
"With more equitable wealth distribution, democracies also have shifts of power away from corporate hegemony into political representation of the people – and the people want sustainably and change," she added.
"NFTs are part of the solution. There are endless possibilities and it will become the greatest creative renaissance in human history."
"Right now, a lot of the [NFT} art that's currently available on platforms, it's a very limited parameter of how you can present the art." added Kim.
"It's presented, basically, as a digital file, a beautiful drawing or video on your screen. But my intention was to look beyond that."
Earlier, @artontheinternet also purchased $44,000 worth of NFTs from Kim.
On Twitter, Kim said that the "majority of proceeds" would go toward an organization to "support a world tour of healing sound and light installations for mental health and healing."
@ARTofInternet is the new owner of Mars House and we will put the majority of proceeds to our Continuum Foundation, which will support a world tour of healing sound and light installations for mental health and healing. NFTs can do powerful social good by empowering artists. https://t.co/eJ5By9mWJ0

— Krista Kim (@Krista_Kim) March 17, 2021
Further reading: NFT For JPEG Artwork Of Collage Images Was Sold For $69 Million