When the coronavirus pandemic, millions of people are forced to remain at home. And they include programmers, coders and developers.
With this fact, many companies had no choice other than pausing or postponing their projects. Google for example, was forced to work slower on its Chrome releases.
Chrome 81 was delayed, and Chrome 82 is being skipped due to the 81's delay, to make way for Chrome 83.
Microsoft too was forced to delay its Edge release schedule. Having powered by Chromium, the open source project that powers Chrome and Edge, as well as a bunch of other browsers, Edge's release is consistent with Chromium.
But not for Mozilla.
The company has launched Firefox 75 for Windows, Mac, and Linux. With it, Mozilla is making things clear that it isn't like Google or Microsoft:
"We've built empathy into our systems for handling difficult or unexpected circumstances. These strengths are what allow us to continue to make progress where some of our competitors have had to slow down or stop work."
Firefox 75 has an enlarged and simplified address bar. (Credit: Mozilla)
The most notable change in Firefox 75, is its redesigned address bar that can also adjust itself based on users' screen size.
The redesigned address bar has been enlarged for a single view, packs with a larger font, shorter URLs, and with a shortcut for most popular sites to search.
And speaking of search, Firefox has also redesigned the address bar to be smarter in helping users narrow down search results.
For example, it can display additional popular keywords to help users find what they are looking for.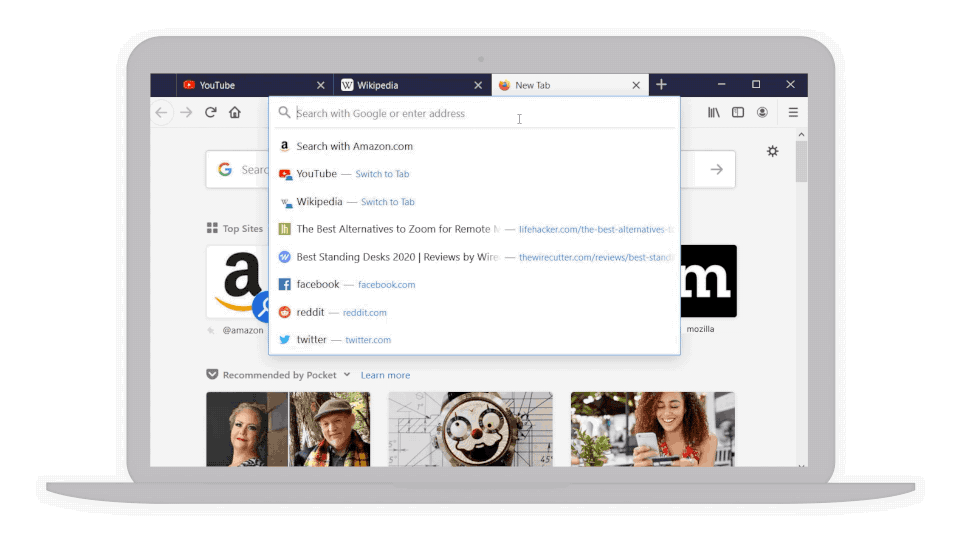 The search feature on Firefox 75 can highlight keywords in blog to help users narrow their search. (Credit: Mozilla)
Firefox 75 also comes with a few performance tweaks, and a handful of developer features.
They include Mozilla in locally caching all trusted Web PKI Certificate Authority certificates known to Mozilla to improve HTTPS compatibility, the integration of Direct Composition, the ability to save bandwidth and reduce browser memory more than it previously could, Instant evaluation for Console expressions, and more.
Starting Firefox 75, Mozilla is making the browser available in Flatpak to appeal Linux users, and is gathering users' default browser settings data using a new scheduled task.
Unlike Google or Microsoft, Mozilla has actually sped up its Firefox releases to a four-week cadence, from the previous six to eight weeks.
Despite the impacts of the COVID-19 pandemic, Mozilla confirmed that its team "can maintain our 2020 Firefox release schedule as we navigate this global crisis together."
Most of Mozilla's staffs and contributors are working remotely. They all collaborate across different timezones to test the browser on different devices and hardware configuration. Mozilla itself monitors the changes, as well as the internal and external feedback that remains "open to making future adjustments."
But to make sure that its new versions of Firefox won't be affected problematic concerns, the company said that it's avoiding changes that might negatively impact user experience, or break existing features, or ruin the appearance of government and health services websites.
The company has also prioritized fixing video conferencing issues specifically.
Mozilla once again didn't release an Android version of Firefox 75, as it's still working on developing Firefox Preview, a version of Firefox for Android powered by GeckoView.
Further reading: Microsoft Edge Web Browser Beats Mozilla Firefox, Second To Only Google Chrome