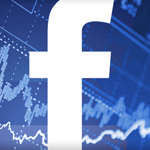 Facebook, the social networking giant has made its first year anniversary for its debut in going public. The social media by Mark Zuckerberg was going to be bigger than many other companies in many industries, all was made possible by friendships, photo sharing and family relationships.
The social networking phenomenon Facebook went public in one of the most highly anticipated initial public offerings of the decade.
Surrounding the day of its IPO, there were looming doubts. Investors wondered whether the social network could increase advertising revenue without alienating users, especially those using smartphones and tablet computers.
The worries intensified just days before the IPO when General Motors said it would stop paying for advertisements on the site. Facebook's market value is $63 billion, about two-thirds of what it was the morning it first began trading. At around $27 per share, the company's stock is down about 30 percent from its IPO price.
Then came the Facebook's IPO on May 18, 2012, and it flopped. Facebook's stock finished its first day of trading just 23 cents higher than its $38 IPO price. And since then, it hasn't been that high.
Investors filed dozens of lawsuits against Facebook, its underwriters, and the NASDAQ. One set of suits alleged that Facebook's IPO documents "were negligently prepared and failed to disclose material information about Facebook's business, operations and prospects." Specifically, the lawsuits charged that Facebook hid the financial impact of challenges to its mobile advertising business - challenges that would have been material information for prospective Facebook investors.
Although Facebook shares are now slowly climbing back to above $30 by January 2013, the momentum stalled and Facebook shares are currently moving around $26 per share, down more than 30 percent since the IPO. For Facebook, the IPO was a major success because it raised over $10 billion for the company. But for investors, Facebook's IPO is widely considered to be one of the most disappointing public stock offerings in U.S. history.
Despite its disappointing stock market performance, the company has delivered strong financial results. Income increased 7 percent to $219 million in the most recent quarter, compared with the previous year, and revenue was up 38 percent to $1.46 billion.
Facebook as the world's biggest online social network, has also kept growing to over a billion users. More than 650 million people log in every day to comment, share photos and play games. The massive fame Facebook has have made millions of people around the world who don't own a computer use its services.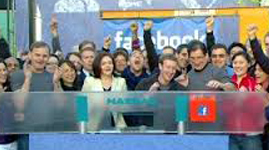 One Year = Many Changes
Much has changed at Facebook in one year. The company's executives and engineers have quietly addressed most to every problems it encountered to make to increase its proce. Facebook began showing mobile advertisements for the first time just after the IPO. It launched a search feature in January and unveiled a branded Facebook smartphone in April. The company also introduced ways for advertisers to gauge the effectiveness of their ads.
Now, Facebook is looking to its next challenge: convincing big brand-name companies that advertisements on a social network are as important, and as effective, as television ads. To achieve those aims, the company has rolled out tools to help advertisers target their messages more precisely than they can in print or on television.
"We aspire to have ads, to show ads that improve the content experience over time," Facebook CEO Mark Zuckerberg told analysts recently. "And if we continue making progress on this, then one day we can get there.
Analytic tools like these weren't available a year ago before its IPO. But at the end of last year, Facebook partnered with several companies that collect and analyze data related to people's online and offline behavior. The services take what Facebook knows about its users and what ads they saw and combine this with the information retailers have about them and what they've purchased through loyalty cards and the like.
Advertisers are also making use of Facebook's partnership with audience measurement firm Nielsen Co.. The company introduced a tool last fall that helps marketers discover "not only who saw their ad online and who saw their ad on TV, but also how these audiences match up," says David Wong, vice president at product leadership at Nielsen.
A recent Nielsen analysis found that consumers are 55 percent more likely to recall "social ads" than traditional online ads.
Support and Skepticism from Advertisers
Facebook's growth has received many supports from advertisers. The massive user it has related to their life has made any information from Facebook valuable to advertisers.
"Anywhere that more than a billion people spend time with their friends each month is extremely valuable to us," says Brad Ruffkess, connection strategist at Coca-Cola.
"We saw almost from the start that social media is the world's largest focus group," says Marc Pritchard, Procter and Gamble global brand building officer.
Both companies are important advertisers on Facebook and members of the company's client council that have met regularly with Facebook executives since 2011 to talk about advertising and marketing on the site. Other members include Unilever, AT&T, Walmart and GroupM North America, a subsidiary of advertising agency giant WPP.
Despite Facebook's large database that could benefit advertisers, some remain skeptical. Ryan Holiday, director of marketing at American Apparel, is critical of Facebook's "sponsored stories." These are messages from marketers that are interwoven into users' news feeds. He says the clothing company spends less than 10 percent of its online advertising budget with Facebook.
Facebook also retrained engineers and rebuilt its mobile application. This is to anticipate the popularity of mobile devices that is currently becoming a phenomenon.
In the first three months of 2013, Facebook generated $375 million in revenue from mobile ads, about 30 percent of its total ad revenue. That's impressive given that Facebook had no mobile ads at all just a year ago. Facebook is expected to capture some 13 percent of the market, a distant second behind Google at nearly 55 percent, according to eMarketer. By 2015, the mobile ad market is expected to hit $16.2 billion.
Facebook's stronger foundation in mobile advertising helped get General Motors as a paying advertisers once more.