People go to Google to find information. And among the many, is to find and read some news.
Typically, users see two stories and a horizontal, scrolling carousel contents taken from AMP pages. Google is changing this, as the company is adding more contents to the scrolling carousel. As a result, Google users who are looking for news are presented with multiple carousels of news stories coming from the same topic.
Furthermore, they will also find additional content types, "such as notable quotes and related opinion pieces."
According to Google on its blog post:
"People come to Search for all types of information to help them form a better understanding of the world and the topics they care about most. We've continued to bring new improvements to Search to help people better orient themselves around a topic and easily explore related ideas, so they can more quickly go from having a question in mind to developing deeper understanding. Now, we're using the latest in machine learning to bring this approach to top stories in Google Search, making it easier for people to dive into the most useful, timely articles available."
The update is meant to put multiple stories related to the users' search query.
Google said that it also organizing the results by stories, so it's easier for them to understand what's most relevant. This is turn should make users more informed about decision on which specific articles to explore.
Within each story, the update puts more more room for high-quality content - beyond just the most recent coverage- as well as more diverse sources, to bring more context and perspective to the day's news.
To make this happen, Google said that it has developed "a new story-understanding technology to map the people, places and things involved in a news story, and then draw connections between them."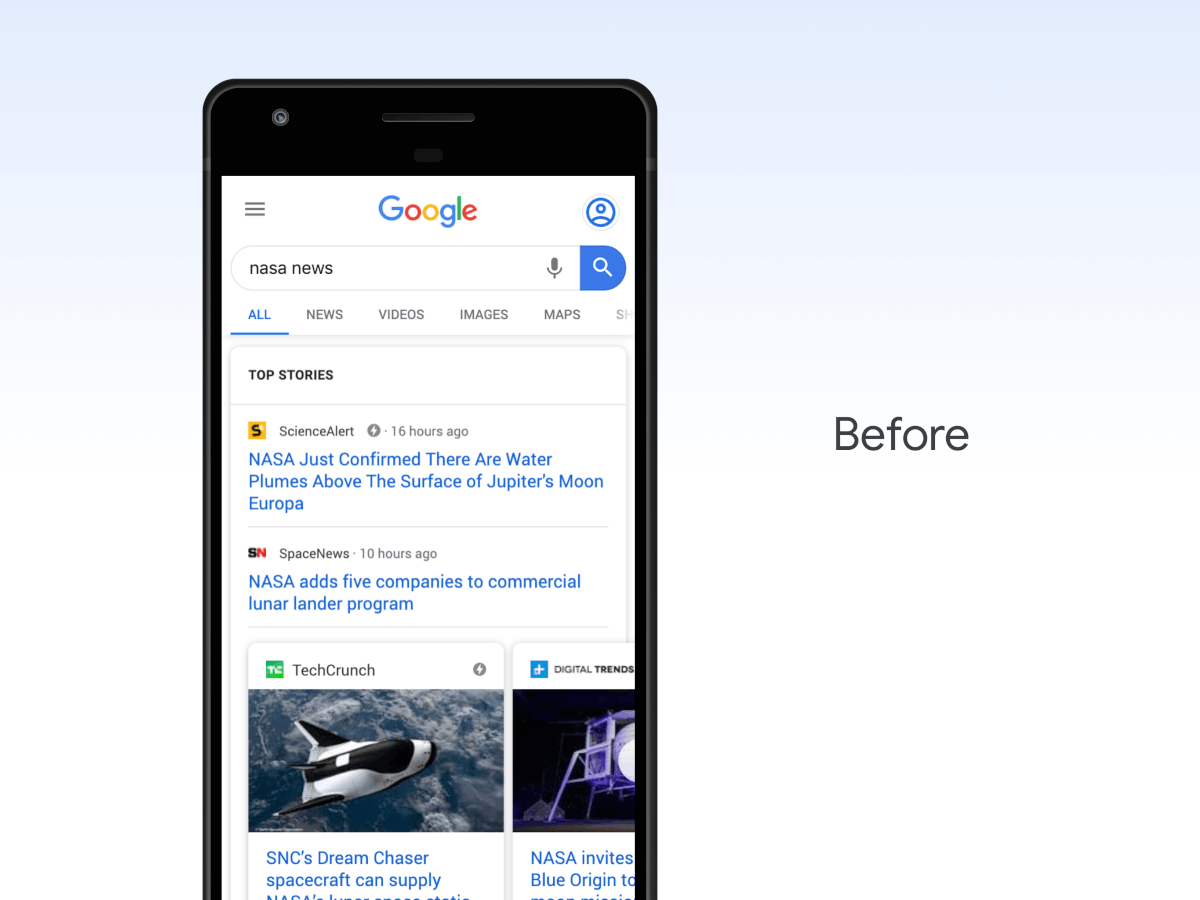 Using this technology, powered by a variety of machine learning techniques, as well as BERT models, Google should be able to create distinct groups of news articles, based on what users are searching for.
By having different sources of content types, users should have a more well-rounded view of a news story. The positive side of this is that, people can get better informed about the news they care, indirectly affecting their ability to curb fake news.
In the world of misinformation and hoaxes, this should help both Google and people stopping fake news from plaguing the internet.
The updates are made available by Google, starting for users on mobile devices, with people using English in the U.S., with plans to expand them to more audience.
This change is part of a longer-term effort to expand the types of journalistic contributions and deeper news content Google has highlighted to users in Search.
Further reading: Behind Bing, Google Search Finally Pushes BERT To Over 70 Languages Worldwide