What's the first thing tech-savvy people do when they want to know something about their favorite artist? Chances are, they'll quickly turn to Google and type in their inquiry.
In an attempt to bring musicians and their fans closer together, Google allows artists to directly post their own responses to Google.
Their posts will then appear with a prominent blue verification check mark that is similar to Twitter's, alongside regular search results on its search engine results pages, besides their YouTube videos and biographical information..
Those that have initially signed to the feature, include Lorde, Steve Aoki, Sia, Son Little, Sofi Tukker, Shakira, and Kygo.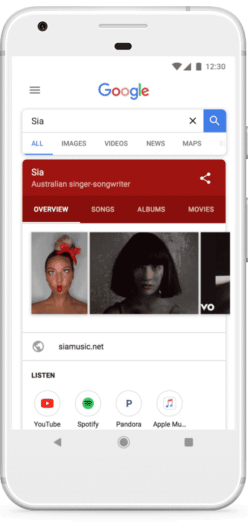 "When you look up one of these musicians, you'll find updates from them in their Search results," said Google's Lauren Clark in a blog post outlining the feature. "There, you can find images, videos, GIFs, and text posted directly by the artist you're searching for."
The musicians' post appear high on top of search results inside the Knowledge Panel, which has already been used to show snippet of information dedicated to a celebrity or business in Google search results.
If the artist has posted multiple times, Google will surface the most recent message first. Scrolling to the right will bring older messages onto the screen.
To leverage engagement, the tweet-like posts can also show more information, created time and share buttons.
To bring even more musicians on board, the web titan is inviting musicians around the world to sign up to the free service so they can easily reach out to the fans via Google Search.
"This feature is live for all musicians who show up on Google worldwide, so put on your headphones and search away," Clark continued.
Related: Google Updates Its Search Engine To Show Answers From Celebrities In Selfie-Style Videos