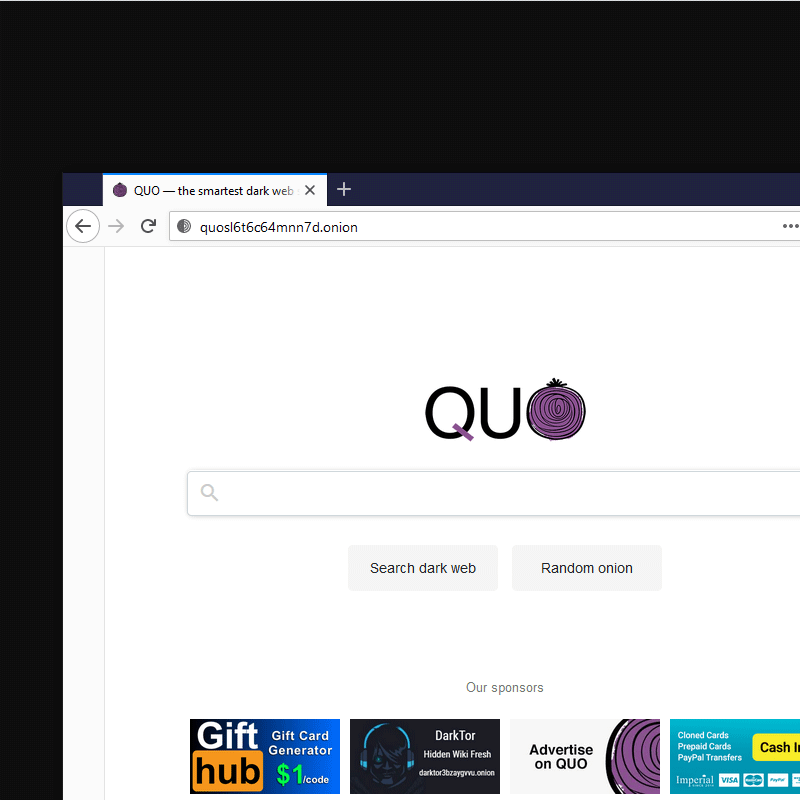 All the websites people browse using browsers like Chrome, Edge, Safari, Firefox and others, are easy to find because they have been indexed by search engines.
But on the dark web, no, search engines don't normally work there because they don't see much benefit from indexing the invisible web.
Among the reasons, these include the fact that websites on the dark web are very disjointed with very few websites linking to each other, limiting crawlers' ability to find new sites and new pages. Many websites there on the dark web are also blocked by portal and gateway sites, making indexing a waste of resources.
With practically no 'traditional' search engines willing to work on the dark web, and based on the fact that the Tor protocol allows users to hide their true identity and location, the dark web hides sinister things.
Just when things on the surface is already crazy enough for many internet wanderers, the dark web is crazier on a whole new level.
And 'QUO' can show that.
According to a blog and research post from Digital Shadows, the researchers at the cybersecurity company have discovered a smart dark web indexing service called QUO.
While there are actually search engines that work on the dark web, they tend to be restricted due to the nature of the dark web.
Kilos and Recon for example, have been offering search engines for the dark web. But QUO here is trying to index as much of the dark web as possible to make it into a useful resource for dark web users, researchers, curious individuals and others.
As a result, QUO has been slowly building a reputation as a one-stop shop for users that also include cybercriminals.
According to the service's about page, QUO is "a dark web, full-text search engine designed to create a continuously updated index of onion pages" in order to provide its users with a way to "explore the dark web quickly and anonymously, without logs, cookies and JavaScript".
At the time of the researchers finding, QUO's index already contains over 200GB of data from indexing about approximately eight million pages from around 20,000 thousand sites including their URLs, titles, metadata, keywords and headings.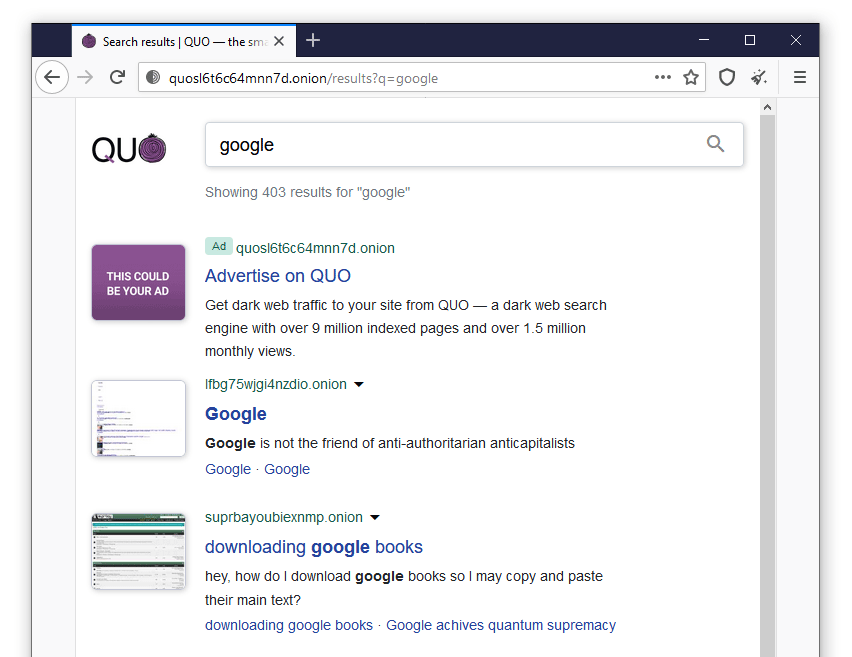 Not so much to show on QUO's search engine results page for the query "Google".
QUO also tries to become a regular search engine like what most people use on the surface web.
For example, QUO is designed to have a dominant white background with black-colored fonts. It can also flag websites it indexed. For example, it can mark an Onion website as online, offline or blacklisted. It also has a feature to enable its users to report websites or domains that contain inappropriate content that may have slipped through its vetting process.
QUO can also deal with duplication.
On the dark web, duplicate contents, duplicate URLs from multiple mirror domains for the same site can be found pretty much frequently. QUO can deal with this on its indexing process, where it can group the sites together and add them to the mirror options list of any given domain to avoid spam.
It even support Robots.txt file and the site: command like Google.
To make it even easier to use, QUO has a list of its own in the form of a database containing a constantly-updated list of Onion domains.
With QUO rising as one of the most prominent dark web search engine, the dark web won't be so "dark" anymore. With "brighter" access to onion sites, venturing to the unknown should be relatively easier.
It should be noted though, that the dark web itself is not illegal. What's illegal is some of the contents and activities that are on the dark web. In this case, cautious is needed when searching or browsing dark web websites.