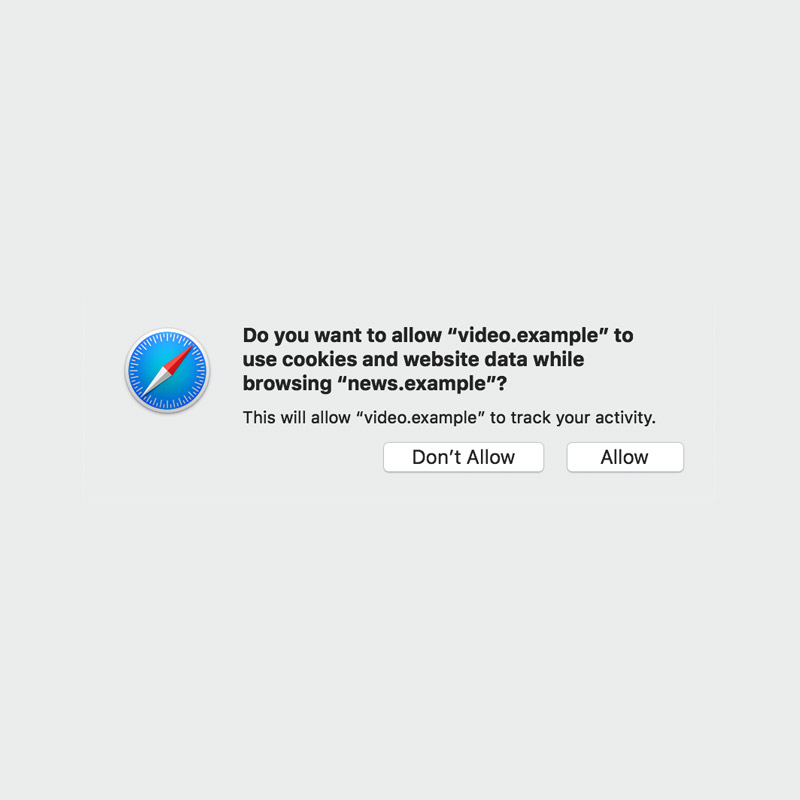 When the main source of income comes from selling products, there is no need to track users. That is what at least Apple is thinking.
The Cupertino-based company has introduced a feature dubbed the 'Intelligent Tracking Prevention' back in 2017. The anti-tracking feature embedded in Apple's Safari browser made it difficult for websites and all of its embedded scripts to track their visitors.
This anti-tracking tool has caused pain among marketers, because it prevented them from calculating their return-on-investment for digital ads.
The first version of ITP provided companies with a 24-hour grace period to target users or capture data. But since companies like Google provided workarounds to circumvent this anti-tracking tool, Apple has since opted to take a more aggressive stance, by removing the grace period altogether
With 'Intelligent Tracking Prevention 2', or 'ITP 2', Apple completely prevents tracking cookies from working in the open web.
When users click on news.example link on the social.example website, the site can unleash trackers even before the users reach the destined site. ITP 2.0 can detect this tracking behavior and purges their website data
The second major iteration of its anti-tracking tool, prevents marketers from targeting Safari users across the web. So for instance, a visitor who visits a website, cannot be targeted with ads from that site or similar, elsewhere on the web after that visitor visits that site.
This is because the ITP 2 prevents tracking scripts on websites from running. The same applies when someone abandons items in their shopping cart. The anti-tracking tool also prevents tracking cookies that may upend things such as multi-touch attribution, which informs marketers how effective their ad spend is across channels.
ITP 2 also controls and limits social plugins such as Like buttons and comment fields.
Apple can do this because Safari sits between its users and the website they're visiting. To display a commenting feature from a third party, for example, the website has to connect with Apple's Storage Access API that controls what information cookies can access. Here, Apple can even stop them from running.
The anti-tracking tool also downgrades the referrer header of a webpage, and some other information to hide users' device's digital fingerprint.
What this means, marketers won't be able to target Safari users, as metrics and conversion rates coming from those users are kept away from them.
ITP 2 can also detect 'tracker collusion' through a collusion graph, and classifies all involved parties as trackers
In 2017 alone, nearly half of the $88 billion spent on digital advertising went toward search.
Google and other companies that rely on ads to thrive, track users when they browse the web. The more these people use the open web, the more these companies gather data about them. This tracking method enables them to show the most relevant ads.
Many brands and websites use statistics for insights. With ITP 2, Apple is getting aggressive in severing those tracking methods.
While Safari is not as popular as Google Chrome, it is still one of the most widely-used web browser in the market. This can be seen in the U.S. for example, where Safari has captured more than 50 percent of the mobile web browser market share.
Clearly, this can disrupt the entire online ad industry, affecting even Google and Facebook, making them weaker.
With no grace period whatsoever, ITP 2 also makes it difficult for advertisers to deploy a practice known as remarketing lists for search ads (RLSA), a practice which allows brands to segment different Google search audiences using their own data.
"Safari works really hard to protect your privacy and this year it's working even harder," said Craig Federighi, Apple's SVP of software engineering during its 2018 keynote.
Apple doesn't really care much about it tracking users, and its stance on privacy has always been pretty aggressive. After all, the company's main source of revenue comes from selling devices. The company's co-founder and former CEO Steve Jobs once said that Apple takes privacy "extremely seriously."
As consumers have become more aware about how social platforms and data brokers track them around the web, Apple acknowledges that tracking methods have eroded its users' privacy.
With Intelligent Tracking Prevention, Apple was ahead of the pack on this issue. With version 2, Apple is again positioning itself at the frontline of defense. But still, this is a race of who can surpass the other, as Google, Facebook and others won't certainly stand still.