Scrolling and scrolling, and notifications after notifications, social media platforms are different, but couldn't be anymore similar.
Instagram, the popular photo- and video-sharing platform owned by Meta, is one of the reasons many people socialize on the internet. With many people to follow and endless stream of eye-catching and alluring posts, Instagram has long become the destination of many online citizens.
The thing is, Instagram is addictive.
For the sake of its users' well-being, Instagram announced what it calls the 'Quiet mode'.
In its announcement, Instagram explained that:
"Teens have told us that they sometimes want to take time for themselves and might be looking for more ways to focus at night, while studying and during school."
Say hi to Quiet Mode

You can now mute notifications and change your activity status to "in quiet mode" for a certain time period (e.g., 11 pm to 7 am) — and when someone DMs you, they'll get an auto-reply. pic.twitter.com/8enMPOWI6a

— Instagram (@instagram) January 19, 2023
Quiet mode does exactly what Instagram said.
The feature helps users focus, and to also "encourage people to set boundaries with their friends and followers."
Once it's enabled, notifications will be turned off.
On top of that, users' profile will also display a note that they're "in quiet mode," and anyone who attempts to message them will receive an automatic reply that they're not available.
According to Instagram, the feature can also prompt teens to use the feature if it notices they're spending a lot of time scrolling through their feed late at night.
Initially, Quiet mode is available to everyone in the U.S., UK, Ireland, Canada, Australia, and New Zealand, with Instagram planning to release the feature to more countries in the near future.
"You can easily customize your Quiet mode hours to fit your schedule and once the feature is turned off, we'll show you a quick summary of notifications so you can catch up on what you missed."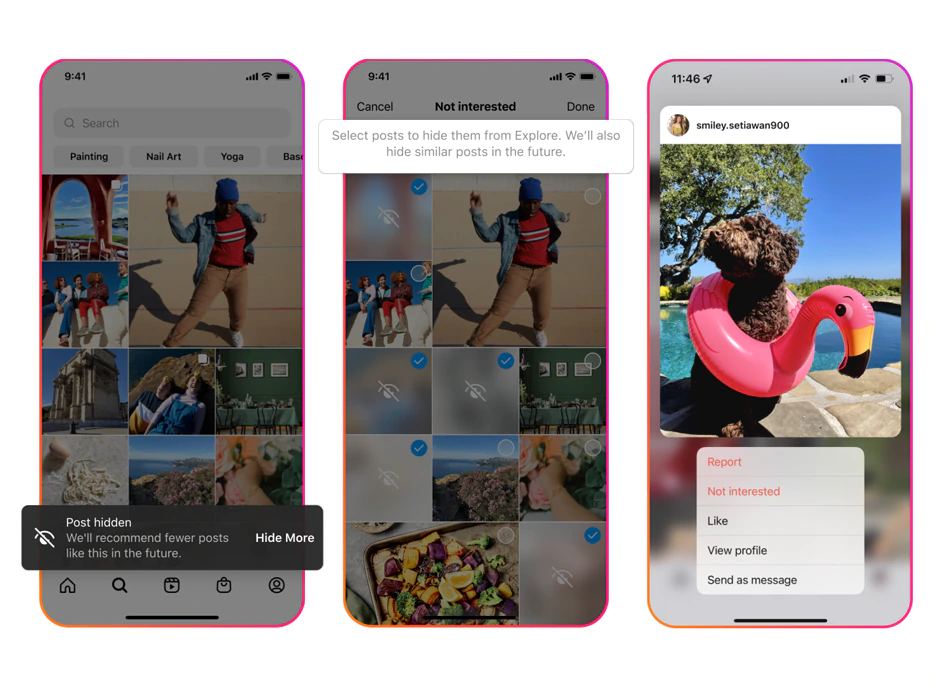 Besides the Quiet mode feature, Instagram also announced more features.
Next, is a way for users to manage their recommendations.
"We want to give people more control over the content they see on Instagram, so we're introducing new features that allow people to tell us what content they don't want recommended to them," Instagram said.
First of, Instagram starts allowing users to choose to hide multiple pieces of content in Explore that you aren't interested in at one time." additionally, when users select 'Not interested' on a post seen in Explore, Instagram will try to avoid showing you this kind of content going forward in other places where it makes recommendations, like Reels, Search and more.
Second, Instagram also announced a way for users to add a word, or a list of words, emojis or hashtags they wish to avoid.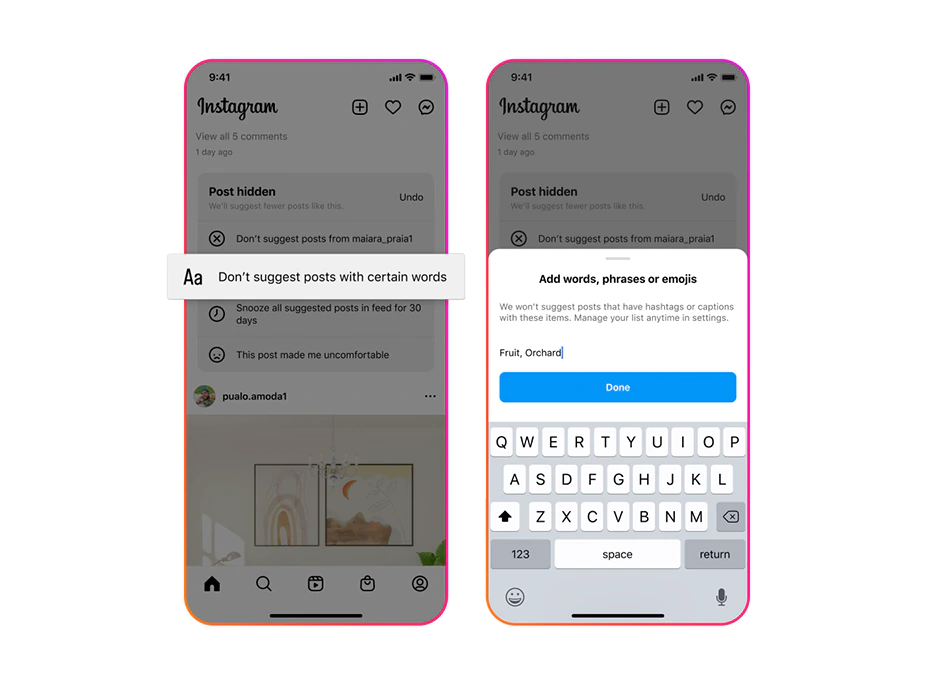 And lastly, Instagram wants to provide parents of its teen users to "be more aware of the choices their teens make, and make it easier for them to have discussions with their teens about their settings through Family Center and supervision tools."
With the feature, if teens update a setting, their parents will receive a notification so they can talk to their teen about the change.
Parents can now also view accounts their teen has blocked.