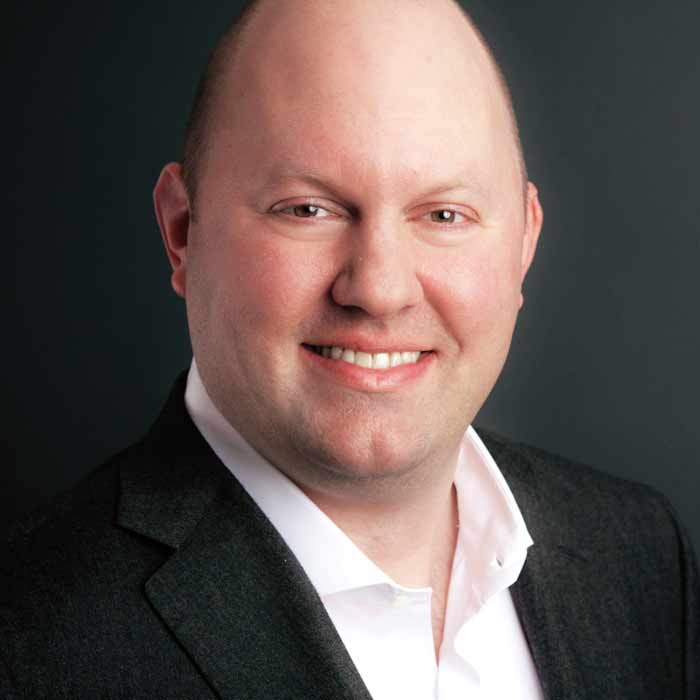 "Any new technology tends to go through a 25-year adoption cycle."

- Marc Andreessen
The phenomenal growth of the World Wide Web could not have occurred without a simple product that helped users find their way through the vast wilderness of the internet. The first of such product, a browser, was invented by a team including software developer and entrepreneur, Marc Andreessen.
With his creation, Andreessen has achieved a kind of celebrity status, and has made the cover of Time magazine as the preeminent "super geek" of his generation. Andreessen is one of only six inductees in the World Wide Web Hall of Fame announced at the first international conference on the World Wide Web in 1994.
Early Life
Marc Lowell Andreessen was born on July 9th, 1971 in Cedar Falls, Iowa, and raised in New Lisbon, Wisconsin. His mother, Patricia, worked for catalogue clothier Lands End, and his father, Lowell Andreessen, who worked as a salesman for a seed company. Andreessen had little interest in athletics. While the sporting teams practiced, Andreessen pursued an interest in computers that began when he was in the fifth grade. Andreessen taught himself BASIC programming at age nine from library books before ever laying hands on a computer which he got bored a few years later.
In the sixth grade, Andreessen used one of the school's computers to write a program with which he could do his math homework, but the program was wiped out during a powerout. A year later his parents made what must be considered one of the great investments in business history when they bought Marc his own computer, a Commodore 64. Andreessen then began his programming career writing games.
By the time Andreessen was attending high school, he had run out of things to do with the primitive personal computers available in the mid-1980s. Andreessen was recognized for his superior and creative intellect.
Andreessen received his bachelor's degree in computer science from the University of Illinois at Urbana-Champaign. Andreessen was not doing well in electrical engineering in which he later claimed that the frequently skipped class or dozed off.
The Creation of the Mosaic Web Browser
While working in a physics lab at college, Andreessen noticed scientists sharing their work with other universities via the internet in the early 1990s, reviving his interest in computers. As an undergraduate, he interned one summer at IBM in Austin, Texas, United States. He also worked at the university's National Center for Supercomputing Applications (NCSA), where he became familiar with Tim Berners-Lee's open standards for the World Wide Web.
Andreessen recruited a team of programmers to create a better way to explore the internet. After two months in the computer lab, Andreessen and a full-time salaried co-worker Eric Bina, created a user-friendly browser that works on a wide range of computers called Mosaic, which used graphics and mouse clicks to navigate through information available on the web. The Mosaic browser was distributed free, and before long, two million people were using it.
The Mosaic web browser was famous enough to draw the attention of recently retired Jim Clark, founder of Silicon Graphics Inc., who was seeking new challenges. Jim Clark was a successful veteran of corporate struggle. Clark sent an email to Andreessen soon after he graduated from college, inviting the young man to discuss business possibilities. Although Clark had been interested in television and media business opportunities, Andreessen convinced him that the internet was the key to the future.
Netscape
After his graduation from the university in 1993, Andreessen moved to California to work at Enterprise Integration Technologies. The Mosaic web browser was enough to catch the attention of recently retired James Clark, founder of Silicon Graphics Inc., who was seeking new challenges. Clark sent an email to Andreessen soon after he graduated from college, inviting him to discuss business possibilities. Clark believed that the Mosaic browser had great commercial possibilities and suggested starting an internet software company after Andreessen convinced him that the internet was the key to the future. Soon Mosaic Communications Corporation was in business in Mountain View, California, with Andreessen as co-founder and Vice President of Technology.
Mosaic Communications changed its name to Netscape Communications, because the University of Illinois was unhappy with the company's use of the Mosaic name. Netscape Communications later announced its flagship web browser: the Netscape Navigator.
In the year between the formation of the company and its IPO, Andreessen engaged in extensive public outreach on behalf of his vision of the web browser's potential, something he had in fact done continuously since making the decision to distribute Mosaic for free via the internet.
Netscape's IPO in 1995 propelled Andreessen into the public's imagination. He was featured on the cover of Time magazine and other publications. Andreessen became the generation inside the internet bubble that worth millions of dollars practically overnight.
Netscape's success attracted the attention of Microsoft, which recognized the massive potential of the web. Microsoft which had been focused primarily on its operating system and software for personal computers (PCs) until late 1995, began to realize the value of internet browser software and announced that it intended to work in that area and put itself ahead of the internet revolution.
Microsoft licensed the Mosaic source code from Spyglass, Inc., an offshoot of the University of Illinois, and turned it into Internet Explorer. In August 1995, Microsoft released the Internet Explorer 1.0 with its Windows 95 operating system. Later versions of Internet Explorer were given away for free and by December 1997, Netscape's lead in the browser market was down to 60%. In January 1998, Netscape decided to give its browser away for free. Andreessen's challenge was to get Netscape back to profitability. He no longer wrote software programs himself, but as the head of product development, envisioned new solutions for emerging technologies. With Netscape CEO Jim Barksdale, Andreessen shifted the company's focus away from the browser market and toward innovations for intranets (corporate networks) and electronic commerce. He also began developing Netscape's website into an internet gateway similar to that of America Online (AOL). The battle between the two companies became known as the "Browser Wars".
Netscape was acquired in 1999 for $4.2 billion by AOL, which made Andreessen its Chief Technology Officer. The same year, he was named to the MIT Technology Review TR100 as one of the top 100 innovators in the world under the age of 35.
Andreessen resigned his position and became a part-time strategic adviser to the company, spending the balance of his time working with other start-up companies.
LoudCloud
Marc Andreessen left Netscape to form LoudCloud with Jim Clark, a services-based web hosting company. The company was founded on September 9, 1999 as a managed services provider. The company was one of the first to offer Software-as-a-Service computing with an Infrastructure as a Service model.
LoudCloud made an IPO in 2001. LoudCloud sold its hosting business to EDS, changed its name to Opsware in 2003, and went to market as a technology company, offering the software that had been developed internally to support customer systems via automated server life-cycle management, where Andreessen served as chairman. In July 2006 Opsware acquired CreekPath for its Data Center Automation (DCA) product offering to add provisioning of storage components. In April 2007 Opsware acquired Seattle-based iConclude and its run-book automation software in order to integrate datacenter management from end-to-end.
In September 2007, HP announced that it had agreed to acquire Opsware for $1.6 billion in cash ($14.25 per share)). The acquisition closed on September 21, 2007.
Other Ventures
Marc Andreessen is currently an investor in social news website Digg and several other early-stage technology startups. His latest project is the RockMelt browser launched in 2010. Andreessen also co-founded Ning.
Andreessen serves on the board of Facebook, eBay, Kno, Hewlett-Packard, Bump, TinyCo, and Mixed Media Labs. Andreessen has recently joined the board of directors of the internet start-up ventures CollabNet, MobShop, CacheFlow, and Octopus.com. He was on the board of Open Media Network, a combined Kontiki (VeriSign) client and media player, launched in 2005.
On July 5, 2009, Andreessen announced the formation of their venture capital firm, Andreessen Horowitz, along with his longtime business partner Ben Horowitz, aimed purely at investing in the best new entrepreneurs, products, and companies in the information technology industry. On September 1, 2009, an investor group including Andreessen Horowitz acquired a majority stake in Skype Limited.
Personal Life and Wealth
Marc Andreessen married Laura Arrillaga in 2006. She is the founder of the Silicon Valley Social Venture Fund and the daughter of Silicon Valley real estate billionaire. Andreessen still pursues a range of seemingly "ungeekish" interests, including classical music, history, philosophy, the media, and business. Notable on his shelf are books about the origins of electricity, railroads and telephones, as well as a variety of trade magazines and books about business strategy. In spite of a seemingly casual lifestyle, it would seem that Marc Andreessen continues to apply the bulk of his energies to the task of out-guessing, out-innovating and out-strategizing Netscape's competition. The results of his thinking will very possibly continue to be found on computers that carry the lifeblood of tomorrow's global society.
Forbes have estimated his net worth at $600 million as of 2015. As of May 2012, he owns 6,607,131 shares of Facebook, Inc., worth $231 million. As an early Facebook investor and board member since 2008, in November 2015, Andreessen sold 73 percent of his Facebook shares (more than 1.5 million shares) in two weeks time for a value of roughly $160 million, and 90 percent of his class A shares.
In 2014, Andreessen was awarded the Queen Elizabeth Prize for Engineering with Tim Berners-Lee, Vint Cerf, Bob Kahn and Louis Pouzin.
Facebook board member Marc Andreessen is padding his wallet ahead of the holiday shopping season.