Vitalik Buterin was named a billionaire in May 2021 by Forbes, thanks to his creation: the cryptocurrency Ethereum.
On its report, Forbes named Buterin as the youngest cryptocurrency billionaire at the age of 27, because his public cryptocurrency wallet had 333,500 Ether.
The Russian-Canadian programmer Buterin created Ethereum back in 2013, when he was only 19 years old.
The cryptocurrency was then launched to the public in 2015.
One of the motivations in creating and launching a cryptocurrency of his own, was because Buterin was chosen to be part of the Thiel Fellowship, a two-year program created by billionaire Peter Thiel, that "gives $100,000 to young people who want to build new things instead of sitting in a classroom."
As a young and skinny guy, Buterin kept his life subtle and away from the spotlight, despite his portfolio is at this time, is worth around $376 billion.
This makes Ethereum the second most popular cryptocurrency of all time, coming only after Satoshi Nakamoto's Bitcoin, which is worth more than $1 trillion.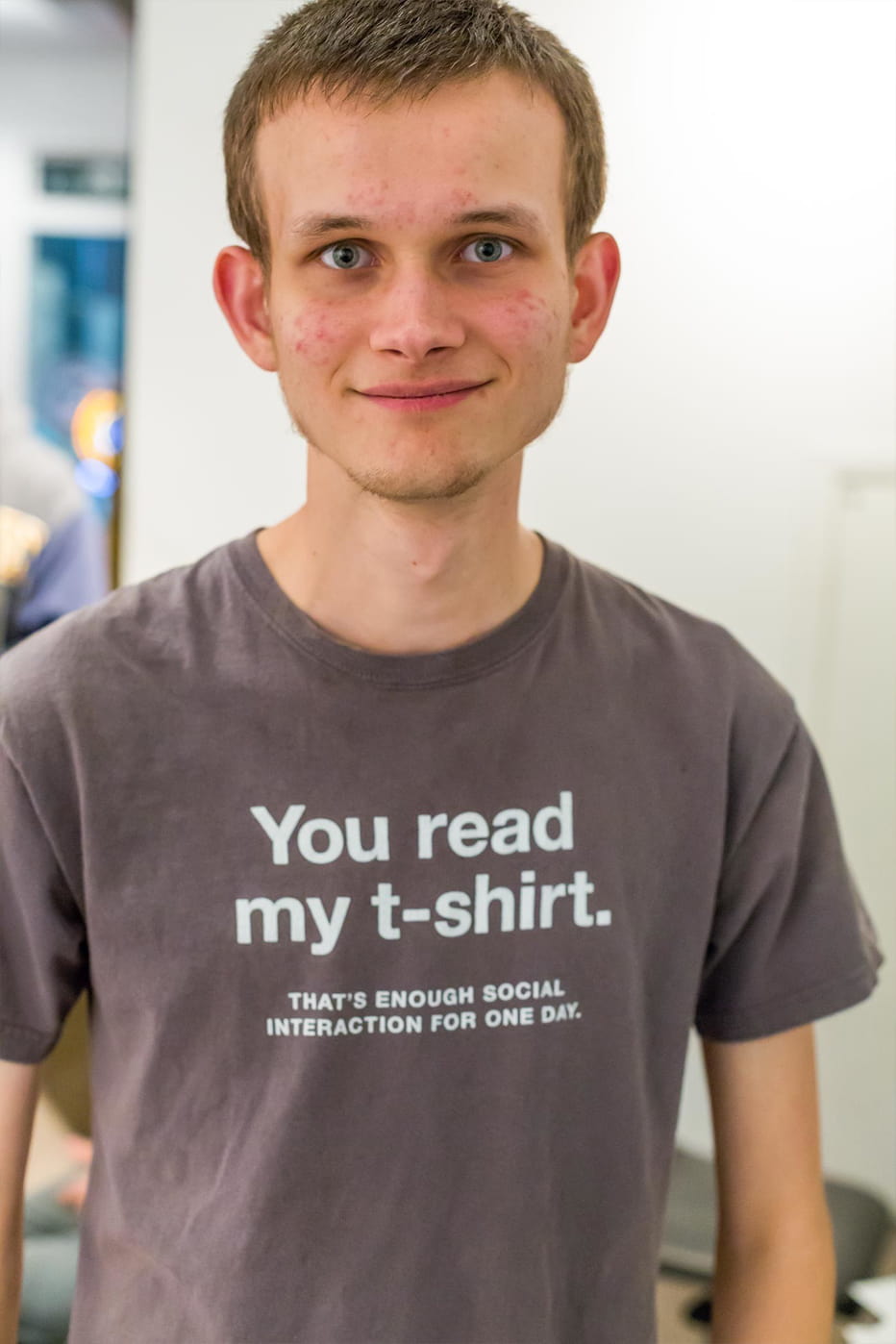 Buterin was born in 1994 in the small town of Kolomna, which is around 100 km from Russia's capital Moscow.
He then moved with his family to Canada at the age of six.
When he was young, Buterin was obsessed with his studies. He recalls his parents wanted him to also learn the piano and skiing. However, Buterin was more interested in programming, and at the age of ten, he began coding.
"I started coding when I was five or six years old. But, I only got serious about it at the age of ten or twelve. I started writing different kinds of games. I had an old Windows 95 computer and a book about programming in C++ with Allegro [...]. That's where it all started," Buterin said.
"When I was in grade five or six, I just remember quite a lot of people were always talking about me like I was some kind of math genius. And there were just so many moments when I realized, like, okay, why can't I just be like some normal person and go have a 75% average like everyone else."
This was when Buterin learned about Bitcoin from his father, Dmitry, who was a computer scientist.
"Dad told me about this interesting currency that no government or no central bank could control. My first thought was: 'How can such a system exist when it's just numbers in a computer? How much value can they have?' Three weeks later, I came across Bitcoin online and decided to explore the topic in more depth," Vitalik said.
It was in 2013 that Buterin devised the concept of the Ethereum blockchain platform and cryptocurrency.
To focus on the project, Buterin dropped out from the University of Waterloo in Canada.
"In 2012, I dropped out of college and traveled to different places where Bitcoin projects were happening. I ended up in Israel. Many people there were focused on blockchain technology for things other than coins. Developers were talking about separate protocols for each blockchain deployment, special types of transactions. I quickly saw how limiting this was," Vitalik said.
Buterin crowdfunded the young Ethereum, and people were sending him Bitcoins in exchange of Ethers.
"The interest was something real. It wasn't people just saying stuff. That gave me a feeling of both pride and responsibility." he said.
Following that, big companies started to work with Ethereum, pushing its market capitalization to go way beyond $1 billion.
While he is seeing an increase in his wealth, due to his net worth being tied to cryptocurrencies, the billionaire is expecting a collapse in the industry.
Buterin said that cryptocurrencies in general are "in a bubble," but it is difficult to predict when it will burst.
"It could be over by now ... It could be over in months ," Buterin said.
"We've had at least three of these big crypto bubbles so far (...) And quite often, the reason the bubbles end up stopping is because some event happens that just makes it clear that the technology isn't there yet," said the founder of Ethereum.
The abrupt collapse of cryptocurrencies can be explained by two crucial events that occurred this week. First, Elon Musk stated on Twitter that Tesla would no longer accept Bitcoin as payment, and second, the announcement that China would prohibit transactions with cryptocurrencies to the country's financial institutions.
At this time, Ethereum is the second currency by market capitalization, only behind Bitcoin.
One of the reasons for Ethereum massive growth and increasing popularity, is because it is used in NFT (Non-Fungible Token) transactions, which is at this time, a sensation.
The price of Ethereum is volatile, and Vitalik Buterin's net worth is tied to his portfolio.. (Credit: CoinDesk)
While Buterin prefers to keep whatever he is doing away from the media, he has envisioned the future of cryptocurrencies, and with his wealth, he has also become a philanthropist.
On May 14, 2021, he donated $1.14 billion to India's 'COVID-19' coronavirus relief fund, mostly in the form of 50 trillion 'Shibu Inu' meme coins (SHIB).
Buterin's donations was set up by Sandeep Nailwal, a cryptocurreny entrepreneur and the co-founder of the Ethereum scaling platform Polygon.
"We plan to do a thoughtful liquidation to ensure we meet our Covid relief goals," the fund said on Twitter. "We have decided to convert the donation slowly over a period of time."
Nailwal pledged to SHIB investors that "we will not do anything which hurts any community [e]specially the retail community involved with $SHIB."
Buterin also donated around $400 million in cryptocurrency to the Methuselah Foundation, which researches tissue engineering and regenerative medicine, as well as Givewell, which oversees charitable foundations worldwide.
In his view, blockchain is the future. He has a vision, that the technology will improve the quality of life in many countries.
"At the same time, I see cryptocurrency as a kind of moral project. If the only concern is capitalization and creating an expensive token to get rich, the project will not succeed in the long run. There are many projects that have raised hundreds of millions of dollars from venture capital funds. But hundreds of millions of dollars won't buy you a soul," said Buterin.
Forbes reported that Buterin also donated millions of dollars in Ether to the GiveWell, a nonprofit charity evaluator, as well as to SENS Research Foundation, an anti-aging organization that works to extend human lifespan, and also an institute that develops safe AI technologies.
Beside Buterin, there are a number of other individuals, including the Winklevoss twins, who are officially billionaires thanks to their cryptocurrency holdings.