With the internet, people can travel the world, without having to leave the comfort of their home.
Amid the novel 'COVID-19' pandemic that forces millions to stay indoors and practice social distancing, traveling may not be on anyone's priority list. As a result, the tourism sector is suffering, and those who work in the industry are trying to do their best to keep businesses running.
One of which, is Herrenberg in Germany.
Herrenberg is a city in the middle of Baden-Württemberg, is the fourth largest city in the district of Böblingen. Located on the western edge of the Schönbuch forest within the Gäu region, the city which has a population of around 31,000 relies heavily on tourism.
And Herrenberg here is developing virtual tourism using virtual reality (VR) with the help of High-Performance Computing Center Stuttgart (HLRS).
With that, tourists are expected to soon explore Herrenberg's picturesque cross-timbered houses with historic architectures, including the traditional church Stiftskirche, all in VR.
Researchers at HLRS have been using data and 3D modelling to create digital twins of the city of Herrenberg. (Credit: Nozzle)
According to an interview with Nicolai Reith, Head of the Control and Communication department and advisor to the Mayor of Herrenberg:
"You don't have to make a decision and then see [what happens]; you can see before you make the decision what the effect will be via the digital twin. This makes it easier to make the right decision for our city council, politicians, and citizens."
"We have a very beautiful city center so tourists can explore it in a digital way with VR glasses before they come to Herrenberg, which is an interesting benefit for the future."
Incorporating emerging technology is nothing new for Herrenberg, as the city is already using the digital twin, which incorporates super-computing and technologies typically deployed in advanced aerospace, to visualize the city's data and citizens' emotional responses to inform better decision-making.
And to make this VP project happen, HLRS developed Herrenberg's digital twin with the Fraunhofer Institute, the University of Stuttgart, and Kommunikationsbüro Ulmer, starting with a concept they called "space syntax".
"Just as the human skeleton provides a scaffolding for all of the other systems and functions of the human body, space syntax produces a 2D outline of physical grids in a city, offering a framework for performing spatial analysis, such as predicting the likely paths that car or pedestrian traffic might take to move from one point to another," said Fabian Dembski of HLRS.
With the grids in place, the team then added Herrenberg geographic information system (GIS) data and traffic control systems data to incorporate topography, road geometry, and detailed traffic.
Then, the team uses the open-source fluid dynamics code for modeling to create realistic models for the wind and emissions movement throughout the city.
And to finish everything, the HLRS team developed an app to invite Herrenberg residents to share feedback.
"Citizens could see the area in a digital way, even before it was finished, and that brings a higher [level of] acceptance. This is a really interesting thing for us," Reith said.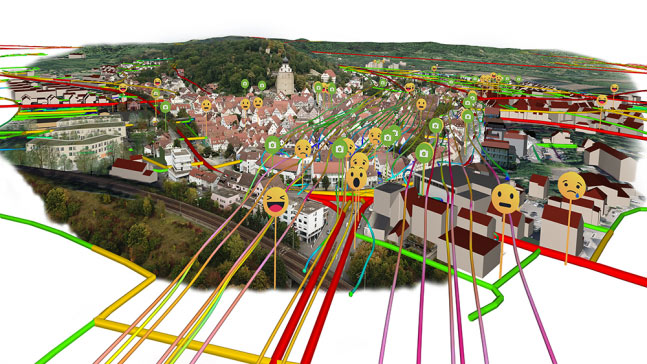 Feedback from Herrenberg residents about how they experience their city were integrated with other data in a 3D visualisation. (Credit: HLRS)
Dembski's team also plans to explore how artificial intelligence (AI) to be better represent the wide range of factors that affect how residents emotionally experience their city.
"We would like to start including larger-scale, more dynamic phenomena in our model."
"This could include factors like regional migration, the effects of gentrification, and the growth, shrinkage, settlement patterns, and overall social and economic resilience of cities. Considering the complex data sets needed to quantify such activities, we will need even more computational support, and we think that artificial intelligence applications could also help."
According to Dembski, this kind of attempt of using digital twins by cities is "only at the beginning" but is progressing quickly, especially in Asia.
"Cities are not machines," he commented to suggest that people shouldn't overestimate the technology.
"A digital twin can be a great help in reducing complexity for cities, assessing measures at an early stage, and explaining interrelationships. But there are many aspects that are deeply human and cannot be reproduced in digital copies, such as culture, interpersonal relationships, joy, and happiness. A digital twin is a tool, not a solution."
"I also think it is important for cities to retain control over data and models," added Dembski.