Starlink is a satellite internet constellation being constructed by SpaceX.
What began in 2015, Starlink constellation that is being built, uses thousands of small satellites orbiting low Earth orbit, working together with ground transceivers.
The multi-billion dollar project is meant to create satellite internet access for people below, initially to people in Northern U.S. and Canada.
And here, Microsoft is partnering with SpaceX, to put its Azure cloud computing network, into the growing Starlink constellation offered by the Elon Musk's company.
According to SpaceX president and COO Gwynne Shotwell:
"The collaboration that we're announcing today will allow us to work together to deliver new offerings for both the public and the private sector to deliver connectivity through Starlink for use on Azure. Where it makes sense, we will work with [Microsoft]: co-selling to our mutual customers, co-selling to new enterprise and future customers."
Illustration of Microsoft's Azure Modular Datacenter, built to as a portable data center the size of a shipping container. (Credit: Microsoft)
The partnership essentially connects Starlink's network to Microsoft datacenters, including the new "Azure Modular Datacenter", a mobile unit product that is about the size of a semi-trailer.
In Microsoft words, the datacenter is designed "for customers who need cloud computing capabilities in hybrid or challenging environments, including remote areas."
By partnering with Starlink due to its global coverage. Microsoft can utilize its network of satellites to widen its Azure Modular Datacenters' reach.
"SpaceX is of course the name that people immediately think of when they think of innovation and the evolution that's occurring to bring space technology into the 21st century," Tom Keane, Microsoft's corporate vice president of Azure Global, said in a company video.
Microsoft said that some Azure Modular Datacenters are "in early use with defense and private sector organizations," with the company seeing the product as a solution for military needs, humanitarian efforts, mobile command centers, mining and more.
Besides this, Microsoft has also announced Azure Space, which is a "cloud-powered innovation on and off the planet" that is built on the Azure Orbital launch.
"The space community is growing rapidly, and innovation is lowering the barriers of access for public and private sector organizations," Keane said. "What used to solely be the bastion of governments, the innovation developed by private space companies has democratized access to space, and the use of space to create new scenarios and opportunities to meet the needs of both the public and private sector space has been powering the world for a long time."
"We intend to make Azure the platform and ecosystem of choice for the mission needs of the space community," added Keane.
At this time, SpaceX has launched about 800 Starlink satellites. They are still a fraction of the total needed for a global internet coverage, but is considered enough to start providing internet access to some regions.
The partnership comes as Microsoft expands its business into the space industry, with the company unveiling a new service called Azure Orbital to connect satellites directly to the cloud.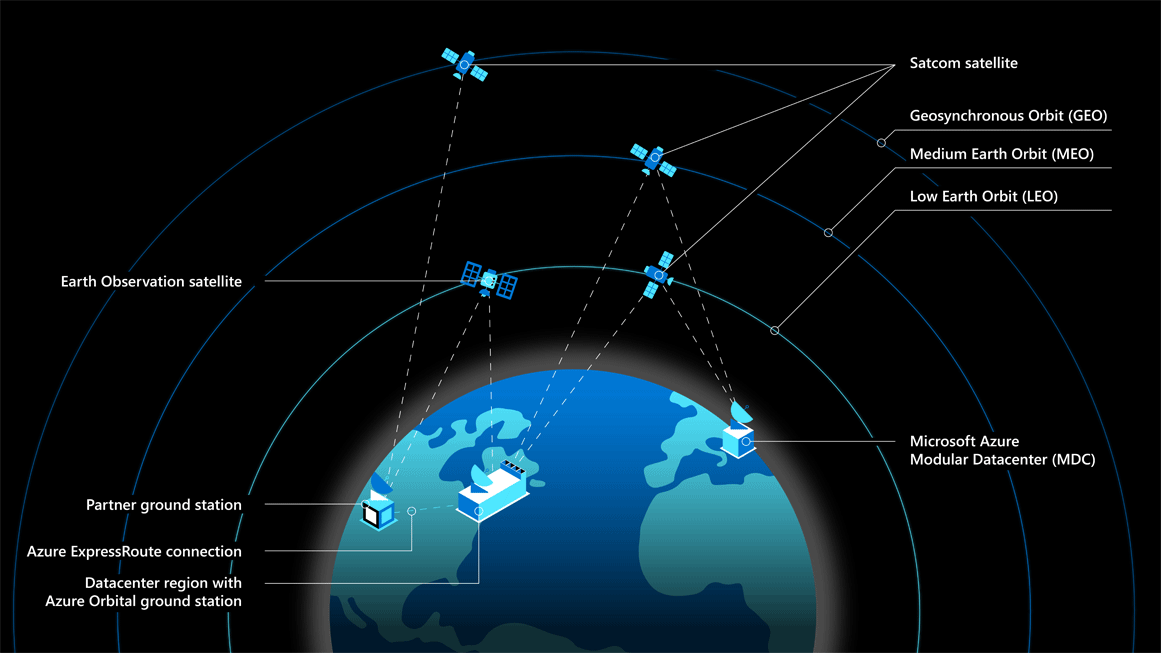 Microsoft Azure's satellite diagram. (Credit: WhoisXML API / CircleID)
This makes Microsoft and SpaceX to compete directly with Jeff Bezos' businesses.
The Amazon founder has a space project called the Blue Origin. And Bezos is also putting his AWS cloud computing to space through Kuiper, a Starlink competitor.
In addition to its SpaceX partnership, Microsoft is also building a partnership with Luxembourg satellite operator SES.
"In the last 12-18 months, our focus has been to accelerate our customers' cloud adoption plans. We are pleased to have found an ideal partner in Microsoft with its new Azure Orbital system," said JP Hemingway, CEO of SES Networks.
"In addition to building and managing EOS gateways for Microsoft, we are also thrilled that we will be co-locating, deploying and operating our next-generation O3b mPOWER gateways alongside Microsoft's data centres. This one-hop connectivity to the cloud from remote sites will enable our MEO customers to enhance their cloud application performance, optimise business operations with much flexibility and agility needed to expand new markets."
Previously, Microsoft has successfully placed its data center underwater, with Project Natick.