A puzzle alternate reality game called 'Satoshi's Treasure', involves a million-dollar scavenger hunt for Bitcoin.
To play the game, players must find hidden keys hidden in numerous real-world locations across the globe.
With clues distributed periodically through a newsletter, players are supposed to discover QR codes hidden in locations, like San Francisco, London, Uganda, China, and Australia.
This forces players to work together, collaborate and improvise.
The game itself is the brainchild of Primitive Ventures, a cryptocurrency investment firm that was inspired by the plot of Ready Player One, the science fiction action adventure by Steven Spielberg. It features leaderboards to show which teams are closest to collecting the prize.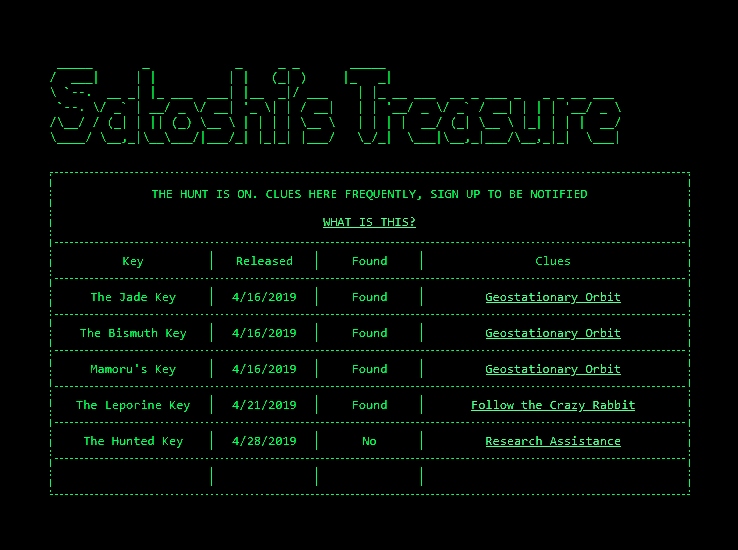 The first three keys for the Satoshi's Treasure hunt game
The grand price of $1 million is stored inside a Bitcoin wallet, and the keys to this wallet were divided into a total of 1,000 fragments.
Players are required to have a minimum of 400 key fragments to move the funds.
Players can collect and unravel clues in any way they want. They may even sell leads if they want to.
The game itself has no rules.
The clues involve logic puzzles and math problems, scattered across the internet, and sometimes printed and pasted in the real-world as well. Solving the puzzle will numerically yield a key fragment.
The first clue, for example, pointed users into the Blockstream satellite, which broadcasts data related to Bitcoin.
This kind of game, according to one of the players, offers a friendly way for people to learn about cryptocurrency. With a such a huge grand prize, people would be tempted to learn and play.
It also make people to collaborate with others around the world.
Dovey Wan, one of Primitive Ventures' founders, said that the game's difficulty increases as treasure hunters get closer and closer to unlocking the treasure. Wan also revealed that the hunt can have smaller "side quests," some of which will have their own prizes
The rules of the Satoshi's Treasure hunt game
According to Eric Meltzer, the game's co-creator:
"People showed up to the 10 spots we indicated around the world where keys would appear en masse—some drove over 3 hours to get to a spot. Others figured out how to brute force the encryption we used and solved the clues without having to travel (something which we hoped would happen, but thought would take weeks—in reality it took 30 minutes..)"
"People are forming teams, talking strategy, speculating on the value of keys and where the next clues will show up… and our hypothesis that Bitcoin and cryptography enable a new type of online/offline game experience seems to be getting validated. Subreddits are being created. Telegram groups are forming. Our poor mongoDB is getting hammered with signups. We're all a bit exhausted after this first day, but we're also incredibly excited to see what people do with the next set of clues."
Eric Meltzer, said that he's confident treasure hunters will find the keys, adding that it would require players a combined knowledge of math, humanities, cryptography and exploration skills.
Meltzer enlisted the help of zcash co-creator Ian Miers and 18 other contributors so that no single person knows the schedule or location of all the clues or keys.
One day one, there were more than 6,000 people subscribed to the game's mailing list (https://satoshistreasure.xyz/), and competing to solve the game's series of puzzles and clues.
Most of these people are teenagers from around the world.