Located in the northern Caribbean where the Caribbean Sea, Gulf of Mexico and Atlantic Ocean meet, Cuba is a country that consists of several minor archipelago.
Having financially isolated for years under a United States trade embargo, which cuts the country off from conventional international payment systems and financial markets, the economy in the country, as well as technology, have been way behind global progress.
By 1963, Cuba was moving towards a full-fledged Communist system modeled on the USSR, and started establishing a communist rule under the leadership of Fidel Castro.
In September 12th, things started to change, for at least a bit, as the advent of mobile internet in the country allows Cubans to increasingly use cryptocurrencies to make online transactions, as well as to invest and trade.
And here, enthusiasts have multiplied as the digital currency helps overcome obstacles created by U.S. sanctions.
Cubans rely more on cash because many merchants in the country use outdated technology that cannot accept credit cards
Since most Cubans don't own credit cards, many of them have to ask relatives abroad to purchase them their first cryptocurrency, or buy within the community on social media channels like CubaCripto.
Alex Sobrino, founder of the Telegram channel CubaCripto where Cubans can trade their digital currencies, said that some 10,000 Cubans were using them.
"We are using cryptocurrencies to top up our cellphones, to make purchases online, and there are even people reserving hotel rooms with (it)," said Sobrino, who trades cryptocurrency as a side income to his family's baking business.
One example of Cubans benefiting from cryptocurrency, was Jason Sanchez. He was able to start buying spare parts online from Chinese store for his cellphone repair shop in Havana, the capital city of Cuba.
"This is really opening new doors for us," said Sanchez, who uses Bitcoin, the most well known cryptocurrency.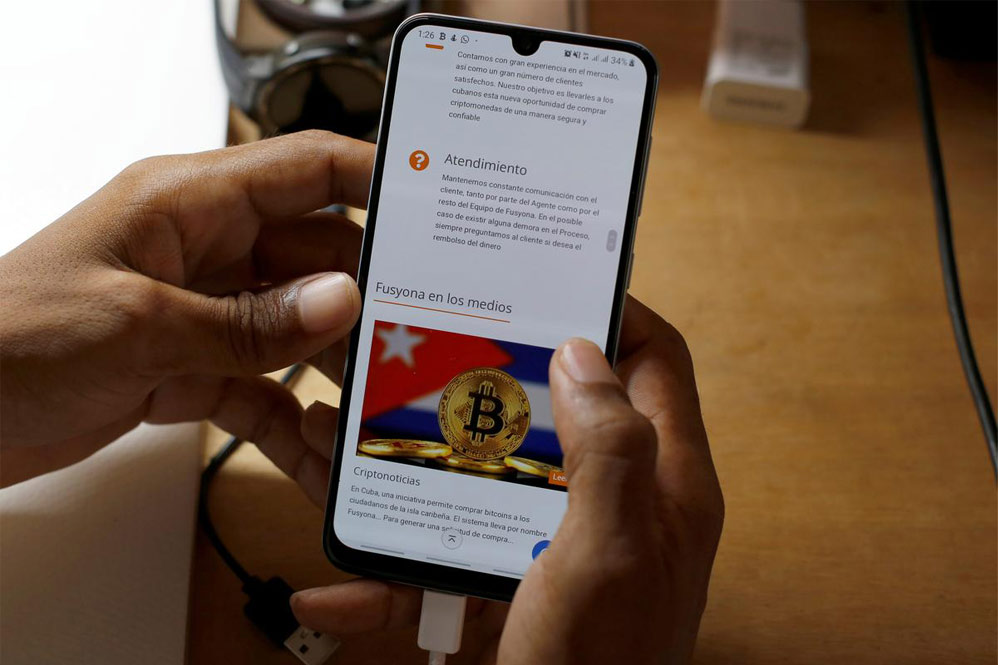 Jason Sanchez shows the startup Fusyona on his mobile phone. (Credit: REUTERS/Stringer)
Fusyona, which claims to be Cuba's first cryptocurrency exchange, uses the hard currency of people abroad who want to send remittances to Cuba to invest in any of nine major cryptocurrencies via a larger exchange.
Exchanges are mostly conducted with hard cash, swapped for Bitcoin in person, using a mobile or laptop to carry out the transaction. Services are charged at a fee of up to 10%, according to Fusyona founder Adrian C. Leon.
Fusyona then uses the Cuban Pesos to invest at least the equivalent of $150 in cryptocurrency to pay the remittances. As of this date, the service has some 1,300 Cuban users.
While cryptocurrency is gaining usage traction in many places, including Cuba, Sobrino noted that uncertainty and fear remain over how the government might react to the cryptocurrency trend.
Fusyona is registered in Brazil but has started talks with central bank officials to investigate whether the platform could seal a formal approval.
"We worry the government will restrict us, prohibit things, start to say this is illicit enrichment," he said.
Acknowledging the trend, Cuban central bank reportedly revealed that it was indeed exploring the benefits and risks of digital currencies for its 11.3 million inhabitants.
This was highlighted by Cuba's economy minister Alejandro Gil Fernandez, when he said that the government was consulting with academics to study the potential use of cryptocurrency for its national and international commercial transactions.