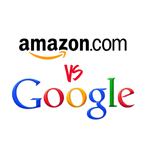 Google, to many people, is almost synonymous to the internet. There are many people that start their internet session by typing google.com, or setting their browser's home page with it. As a technology giant that mainly moves around searches on the internet, many people think that Google's main competitors are Yahoo! and Bing. But the truth is, Amazon is Google's Search main rival.
Google's executive Eric Schmidt explained the situation, and said that Google is not all powerful and faces more competition that some might assume.
Amazon is moving in a different industry because people aren't seeing Amazon as search. But if someone is looking for something to buy, they're more often to go straight to Amazon, rather than using Google. Search.
The time when Google can make money from Search is when people use it to search for products they would like to buy on the internet, and Search shows ads for those products. However, people are going straight to Amazon to search for products. Skipping Google in the process.
"They are obviously more focused on the commerce side of the equation, but, at their roots, they are answering users' questions and searches, just as we are," said Schmidt.
Google may have a strong grip in many industries. But there is one place when Google doesn't have a good value in the market share. This is e-commerce. Many people will go to Amazon, when they seek to buy something. Google has tried to compete in the past, but failed.
To continue competing with with the growing threat the giant online store is giving, Google announced a major expansion of its same-day shopping delivery service. Google also worked to make its search engine more shopping-friendly to users by adding product listings and consumer reviews. The company has doubled shipments and even invested in drone deliveries, as Amazon has.
Both Amazon and Google want to be the top online destination for people searching for items to buy. They want to have as much control as they can in delivering experience around that particular search, by owning the devices shop with and in some cases controlling the fulfillment process.
Amazon's core service is focusing on that right from the start. But the company should invest in new areas to keep up with tech trends that are more controlled by other companies. Google, on the other hand, has come to recognize shopping as a key user search activity and one that marketers are intensely focused on when placing ads.
The main competition between the two is not only for directing advertising dollars, but for people going directly to Amazon, skipping the process of using Google Search. This has come to even more of an issue for Google in the current mobile-first world.
As the head-to-head competition is growing, and Google is trying to deliver its best, it's still hard to see that Amazon will lose ground to the inferior Google in the immediate future.
Friends and Enemies Inside One Blanket
Despite Google and Amazon are actively competing in many areas, other than just online searches. The two companies also depend on each other to some extent.
Google's budding rivalry with Amazon is like comparing the likes of Google with Apple: they compete against each other for smartphone and tablet market share, but many of the top apps on iOS are from Google and Google generates significant revenue through ads delivered on Apple products.
Amazon reportedly spends more than any other company on Google's U.S. search ads. Amazon also uses Google's Android operating system for some of its hardware, though it offers a separate app store.
"As a competitor they certainly keep us on our toes, but as a partner they advertise on Google for a variety of their products and we work collectively to grow the pie and build the industry as opposed to fight over smaller portions," said Jonathan Rosenberg, a former Google product manager, in an interview.
Google is believed to have the advantage in a fight against Amazon, simply based on it having a much broader reach globally and tremendous financial resources, but both companies have work to do.
Google has a broader range than Amazon thanks to its powerful grip on the internet. But its wider distribution does not make people get things faster and cheaper, or easier. On the other hand, Amazon goes deeper into physical lives, but takes more time to scale.
At the current level, both Amazon and Google want to be the top online destination for people when they are searching for things to buy. And on the meantime, none of them want to come second.