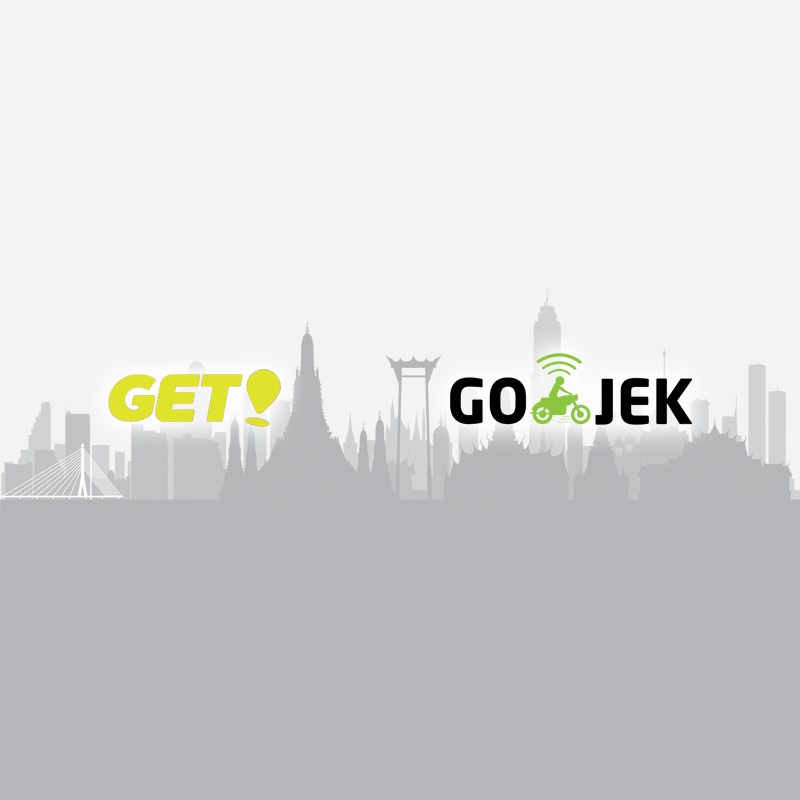 GO-JEK is Indonesia's homegrown startup, that is also one of the unicorns of ride-hailing apps.
The company has been pursuing expansion beyond Indonesia's borders into the broader Southeast Asia. This time, it finally arrives in Thailand under the brand name 'GET'.
GET's management team is composed of former Uber employees, while CEO Pinya Nittayakasetwat was recruited from chat app LINE's food delivery business.
The move is similar to GO-JEK's first expansion beyond Indonesia, which was in Vietnam in 2018, in which it goes with the name 'Go-Viet'.
"We were impressed with how GO-JEK influenced the lives of Indonesian people, so we want to bring the same impact to Thailand," said Pinya during GET's launch in Bangkok.
He said that GO-JEK supports GET's funding and technology, while his company provides GO-JEK with the local knowledge necessary for growth.
Founder and CEO of GO-JEK Nadiem Makarim said that the expansion into Thailand was a great opportunity for the unicorn, as both Indonesia and Thailand share similar characteristics.
"Thais use motorcycles to get around just like we do in Indonesia," he said. "We also share a similar passion for food, so we think [expanding into] Thailand is a great opportunity for us."
Initially launched as beta on December 2018, GO-JEK's GET has been available since November 2018 for both Android and iOS users. At that time, the company claimed that the application has been downloaded by 1,000 people in Bangkok.
Here, the app initially has three distinct services for its Thai users:
Motorcycle taxis.
Food delivery.
Instant courier services.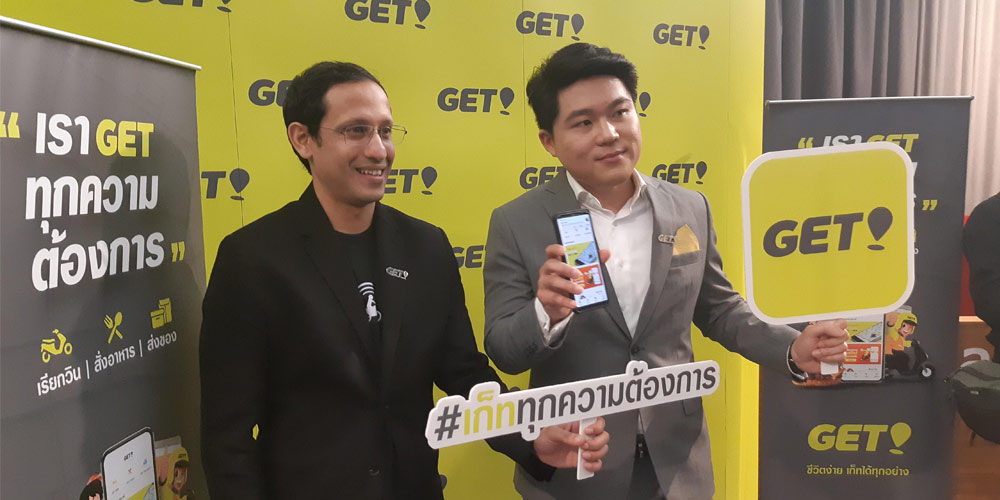 Nadiem Makarim and Pinya Nittayakasetwat (image: detik.com)
The presence of GO-JEK in Thailand puts it head-to-head with Grab that has already entered the market prior to GO-JEK's arrival.
This is where its approach is a little different: while GO-JEK is known for its bright green color, which is very identical to Grab's brand color, GO-JEK with GET in Thailand, adopts yellow as its coloring. This makes it more distinct.
The color yellow and the name 'GET', is the result of GO-JEK's international expansion.
The company said that operations in new markets will be run by local founding teams. While GO-JEK itself would provide technological support and expertise to the local companies, it's these local companies that are free to "determine their own brands and identities to ensure good traction in each new market."
According to Makarim, the company he founded would "put a lot of trust in the autonomy of the local teams and have them make autonomous and critical strategic decisions about where to go."
While this is considered a safer approach to ease GO-JEK in hitting the foreign roads, this "autonomous" approach could dilute or damage the GO-JEK brand if anything were to go awry in its new markets, that according to analysts.
As of the announcement, the company has completed its first 2 million transactions with its over 10,000 licensed drivers in 41 districts in Bangkok.
GO-JEK in entering Thailand, marks the company's fourth country expansion after entering a number of ASEAN countries including; Singapore, Philippines, and Vietnam.
While GO-JEK retains its brand name in Singapore, in Philippines, the Indonesian company faces obstacles to its rollout, as the local transport regulator placed a moratorium on accrediting new ride-hailing firms.