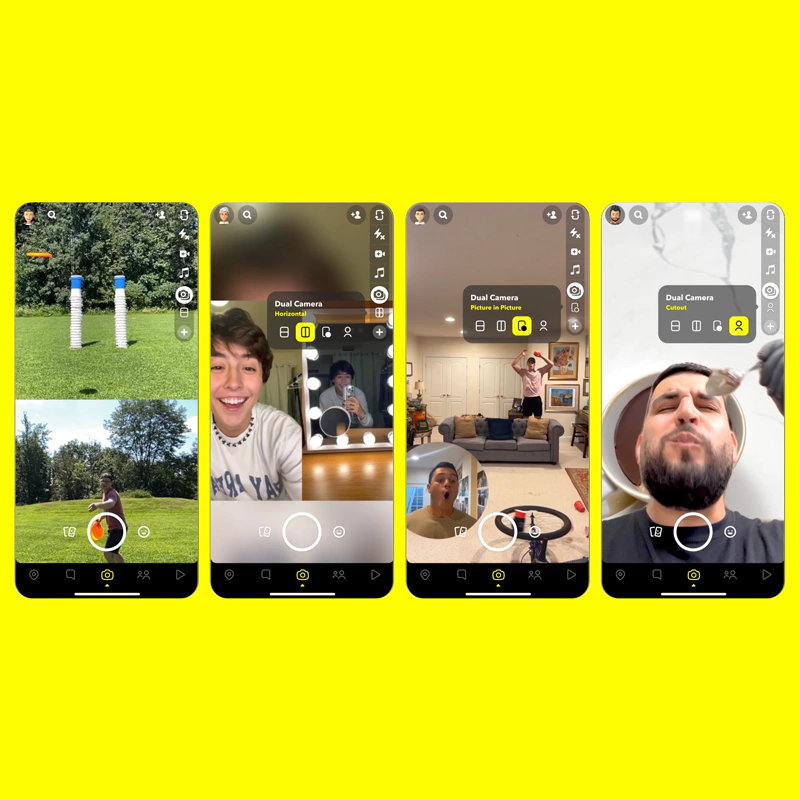 Since the first smartphone with a camera was introduced, up until the modern days of internet and social media, people have taken pictures of everything imaginable.
Snapchat is among the few places where media content thrive more than anything else. And this time, it's adding a feature to its main camera, in which it allows users to capture photo and video using the front- and back-facing cameras on their phones at the same time.
Snapchat calls is the 'Dual Camera' feature.
In an announcement:
"Today, we're introducing Dual Camera, a new way for Snapchatters to capture multiple perspectives at the same time – so everyone can be part of the moment, as it happens."
"Open your Snapchat and you'll see a new icon in the camera toolbar. With one simple tap, you can start creating Snaps and Stories, or more polished Spotlight videos, with double the perspective."
The Dual Camera feature was initially announced back in April as part of Snapchat's to-be-released Director Mode, which is meant to give users access to a wider range of creative tools.
With Dual Camera, users can choose from several different layout options, including windows stacked vertically, side-by-side, picture-in-picture, and cutout.
Snap said that users will be able to add lenses, stickers, and also music to their content captured using this Dual Camera setting.
Initially, the Dual Camera feature is made available to all Snapchatters on iOS.
It's worth noting that Snapchat's Dual Camera feature is introduced just when a platform like BeReal like Filmic received tremendous traction.
The two platforms allows users to capture moments using the front and rear cameras, simultaneously.
"We here at Snap design for our community and we've been working on this feature for several years now," said Jane Meng, Camera Product Manager at Snap.
"What we think makes it really special and will hopefully resonate with Snapchatters is both the creative layouts we have as well as the ability to add creative tools after the fact, such as post-capture AR Lenses, or stickers and captions. Snap is a place where young people are already communicating and chatting with their best friends, so we think it just makes a lot of sense for our community."