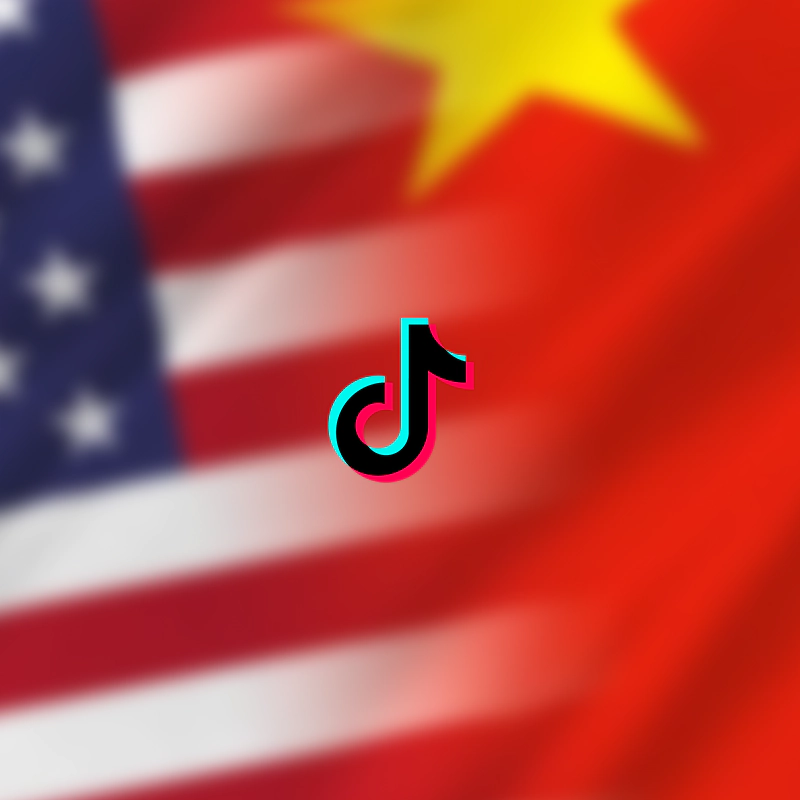 To online companies that provide their services for free, user data is the most crucial.
TikTok is the Chinese social media platform. And for users in the U.S., the company has updated its privacy policy, to introduce a section that says the social media app "may collect biometric identifiers and biometric information" from its users' content.
And this includes things like "faceprints and voiceprints," the policy explained.
In the updated U.S. privacy policy, TikTok added a section called the 'Image and Audio Information," where the policy in question can be found under the heading 'Information we collect automatically.'
This is the part of TikTok's privacy policy that lists the types of data the social media may gather from users, which was already fairly extensive.
"Where required by law, we will seek any required permissions from you prior to any such collection," TikTok said.
For privacy concerned individuals, this can be a bad thing.
First, TikTok has plenty of data on its users, their content and their devices, even before collecting biometric data.
For example, TikTok policy already stated that it automatically collects information about users' devices, including location data based on your SIM card and IP addresses and GPS. TikTok also collect users' usage data, and from all the content users created or uploaded, as well as data users sent in messages using its app.
Second, there is also metadata from contents, the app and file names on your device, battery state and even keystroke patterns and rhythms, among other things.
Third, all the above is in addition to the "Information you choose to provide," which comes from when users register, contact TikTok or upload content.
In this case, TikTok also collects registration information that include username, age, language, and so forth, profile information that include name, photo and social media accounts, payment information, and lots more
This shows that while TikTok is yet to be considered as invasive as Facebook, it does have some creepy trackers and tracking methods.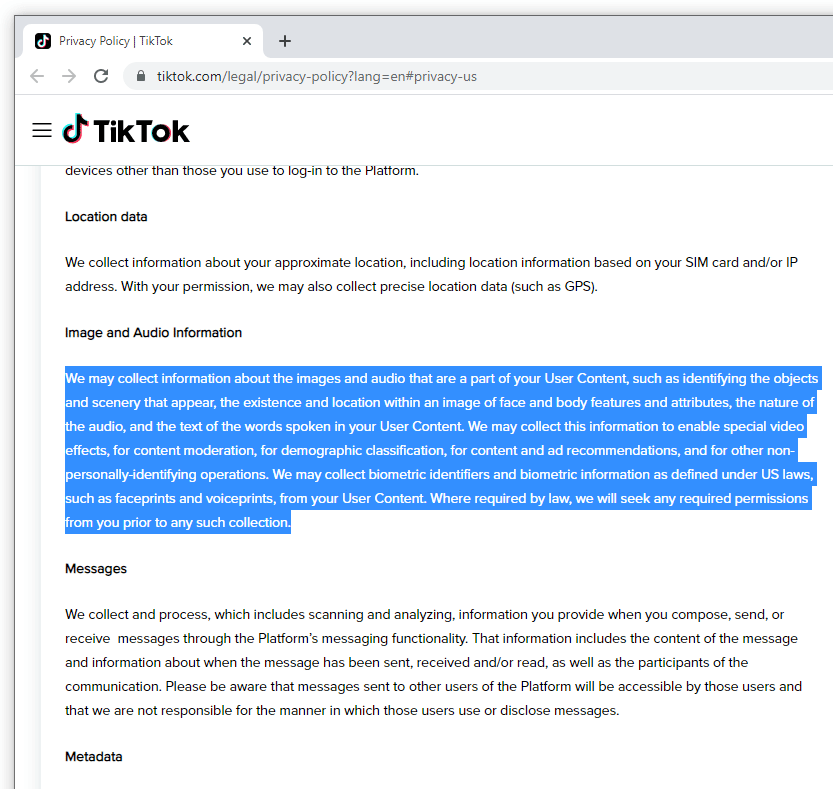 TikTok's updated privacy policy for users in the U.S..
While social media companies may update their privacy policy whenever they see fit or needed, in this TikTok case, the company does not provide detailed information beyond this.
It doesn't explain why it needs biometric data.
TikTok doesn't define the terms "faceprints" or "voiceprints," nor does it explain how it would go about seeking the "required permissions" from users, or if it would look to either state or federal laws to guide that process of gaining consent.
For users in the U.S., this can be a problem, since only a number of U.S. states have biometric privacy laws. So if TikTok only requested consent, "where required by law," it could mean users in states that have no biometric laws would allow data collection without consent.
The biometric disclosure comes at a time when TikTok has been working to regain the trust of some U.S. users.
And besides biometric data, TikTok also said that it may collect information about the images and audio that are in users' content, "such as identifying the objects and scenery that appear, the existence and location within an image of face and body features and attributes, the nature of the audio, and the text of the words spoken in your User Content."
However, it should be noted that other social media networks do this too, in order to utilize their object-recognition AI on images users have uploaded to power some accessibility features, and among others, also for ad targeting purposes.
In TikTok's case, the platform said that it is collecting this information to "enable special video effects, for content moderation, for demographic classification, for content and ad recommendations, and for other non-personally-identifying operations."