Designs grow old. The only way to keep things fresh, is to keep on redesigning.
Previously, Twitter had redesigned its Twitter.com website with less cluttered appearance. This time, the social media goes one step further.
Its updated look makes the design to suit better with its mobile apps, and in line with the 'decluttering' Twitter strategy.
There are changes to functionalities, too. They include:
The 'Explore' tab is made available on desktop, making it easier to find live video and local moments based on users' location.
Bookmarks, lists, and user profile are easier to access with their own place in the side navigation menu.
Direct Messages feature has a larger view, allowing users to respond to messages and see various conversations on the same screen.
The sidebar menu makes it easier to switch between accounts.
Users have two Dark Mode options, as well as various themes and color options.
According to Twitter on its blog post:
"Today, we are starting to roll out a new Twitter.com – a refreshed and updated website that is faster, easier to navigate and more personalized. The site has an updated look and feel that is more consistent with the Twitter you see on other devices, making it easier to access some of your favorite features, and with more options to make it your own. "
The goal is to make Twitter's website a faster and more efficient platform. And at the same time, ensuring that users visiting its website have the same access and ability as when using Twitter on its mobile app.
For example, Twitter.com will only load features as users you need them. And for tablet users, they can use the same keyboard shortcuts as desktop users.
To make this possible, Twitter rebuilt Twitter.com from scratch. The changes were made after the company revamped Twitter's backend architecture.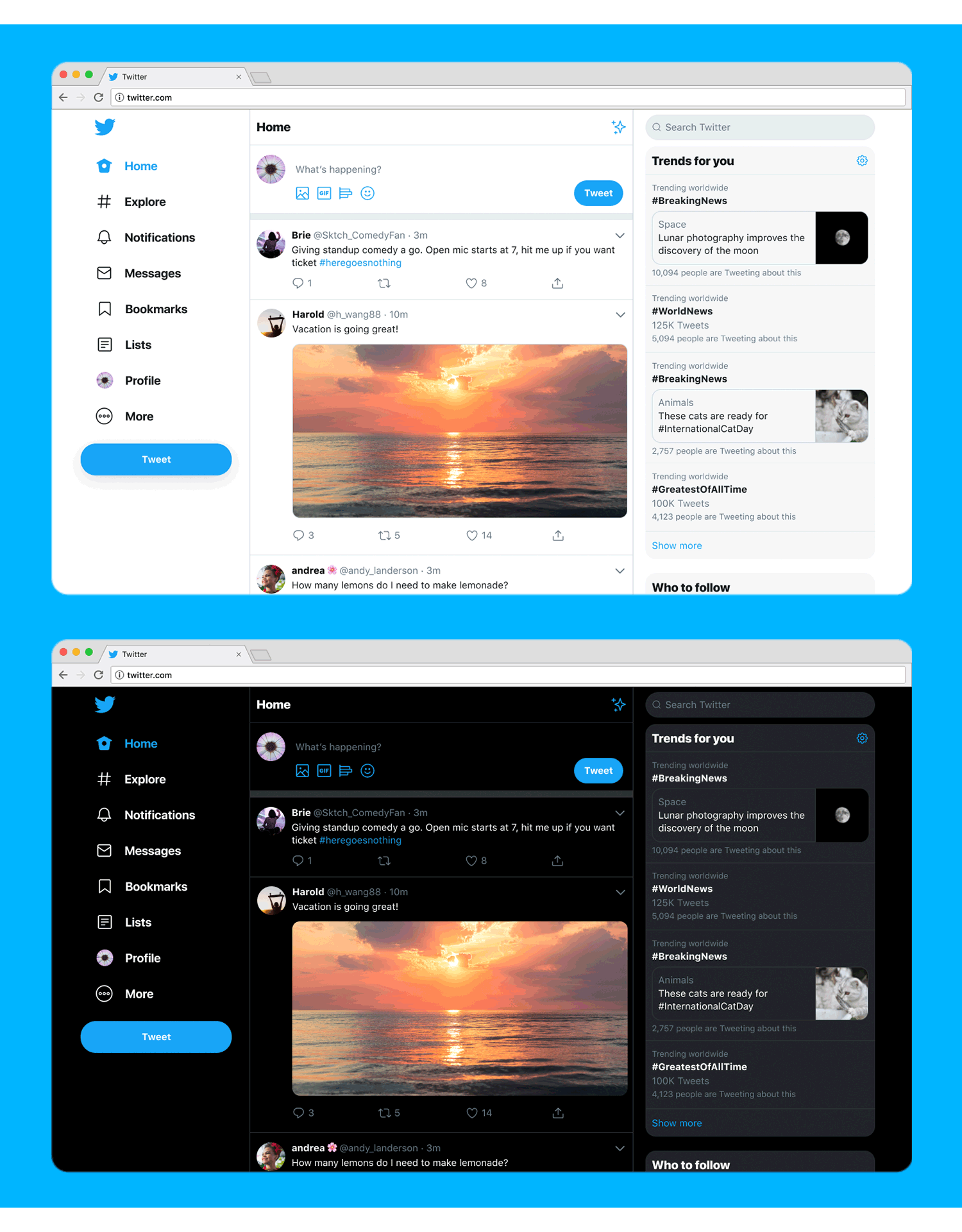 "Today is a big step as we continue building Twitter to best serve the people who use it every day. This update also gives us a much stronger foundation to build on so we can continue to bring you updated features faster than before."
Twitter said that it received "hundreds of thousands of responses" during its test period. The feedback was received to improve the final design.
"We've been testing aspects of this for a while so we could make sure the new site reflected how you use Twitter. Thanks to hundreds of thousands of responses we received during those tests," said Twitter.
The design is rolling out gradually to all Twitter users. For those who are willing to try the updated design before Twitter pushed it to them, they can access it by clicking on their avatar and selecting "Try the new Twitter."
Once the update is activated or delivered, users cannot revert to the old design.