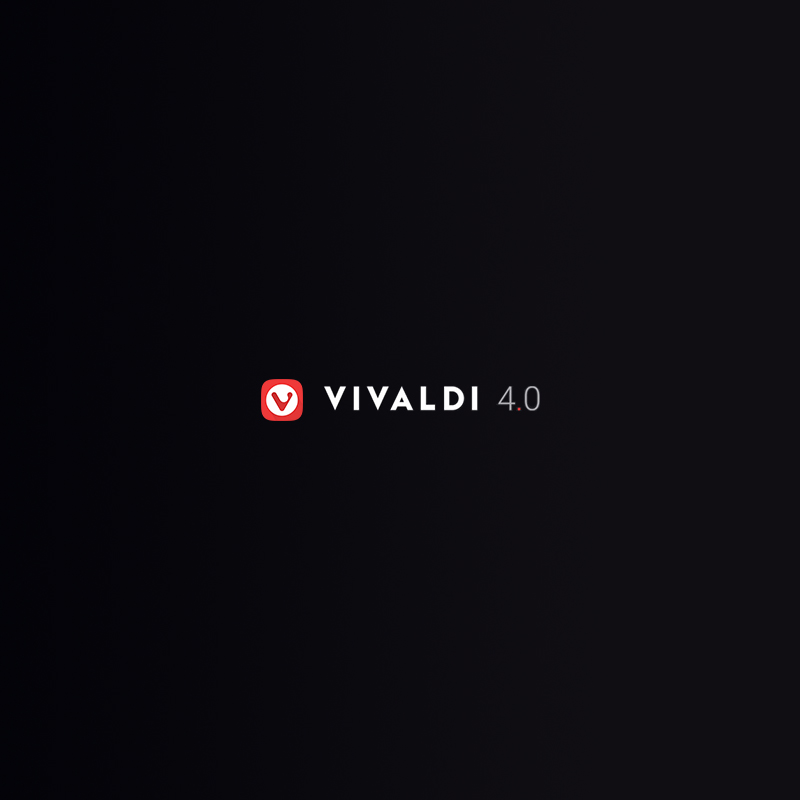 In what it calls its "biggest launch of the year," Vivaldo browser aims to give users a "real alternative to Big Tech."
In an update, the browser maker said that it has expanded its integrated tools in the browser by adding some major additions: Vivaldi Translate and and betas of Vivaldi Mail, Calendar and Feed Reader. The cross-platform browser dubbed the update as Vivaldi 4.0.
With it, the browser maker promises to make it easier for users to "break away from the locked ecosystems of the huge corporations and creepy, surveillance-driven practices."
"Simply put, the era of blindly trusting Big Tech is over," Vivaldi said.
In a blog post:
"A growing movement of people worldwide is looking for reliable, functional alternatives to the tools offered by the tech giants. We are building Vivaldi to meet that need – and more – with an expanded set of integrated features that give you more control of your data and your workflow."
"On desktop and Android, we offer Vivaldi Translate, a built-in, privacy-friendly translation feature, powered by Lingvanex and hosted by Vivaldi, keeping translations out of the reach of companies like Google or Microsoft."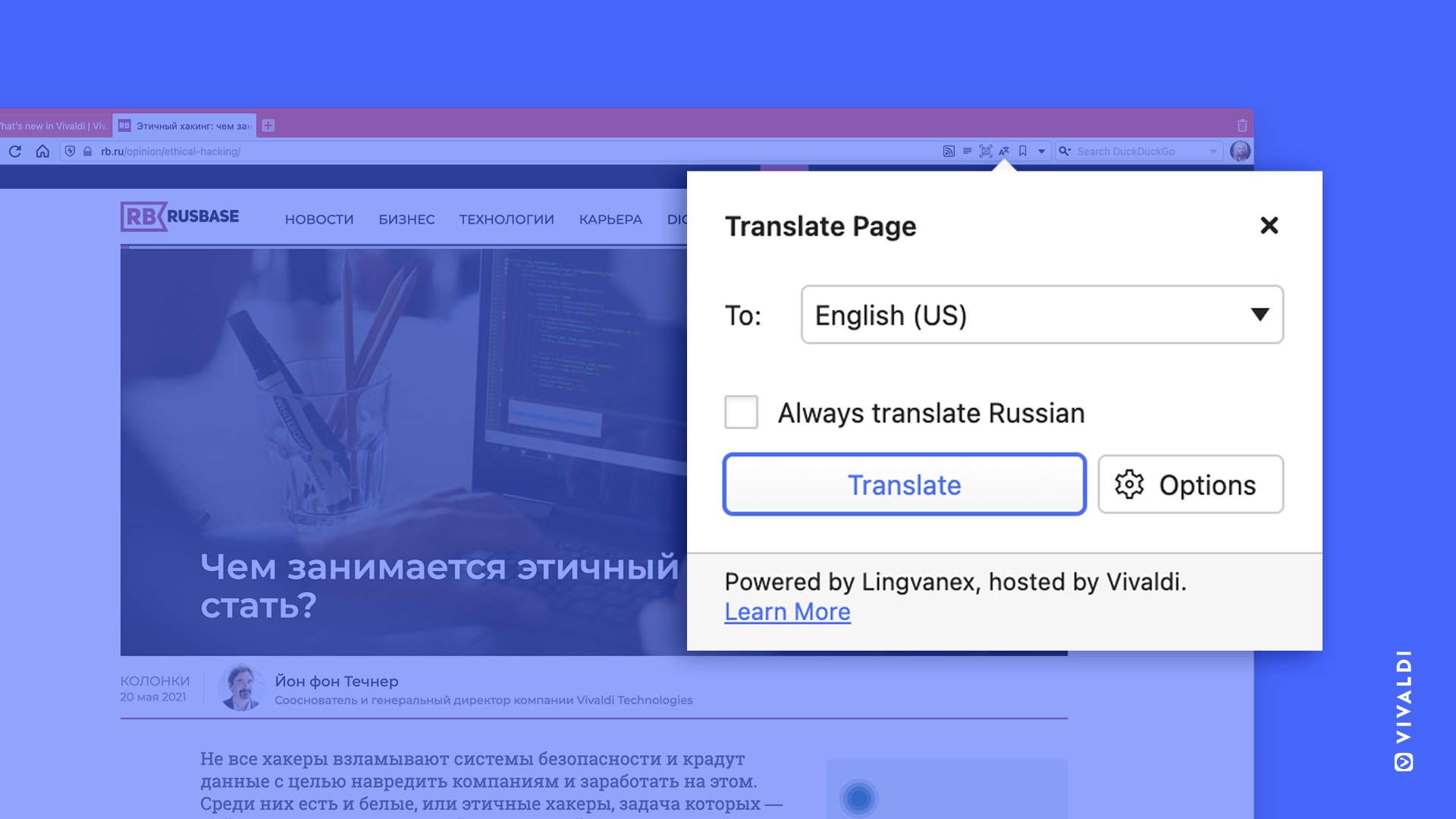 Vivaldi Translate. (Credit: Vivaldi)
First on its list, is Vivaldi Translate
Powered by Lingvanex, Vivaldi said that the tool won't track or collect data from users. It uses Vivaldi's end-to-end encrypted Sync keeps browsing data safe. And with its built-in Ad and Tracker Blocker, the tool can work without the necessary tracking.
"Ever wondered what happens when you translate web pages or text using services like Google Translate? You may have thought they were 'confidential', but when you close that tab, your translations don't just vanish. Google has access to every piece of text that you've translated. And they could get away with it since users don't have many reliable options," Vivaldi explained.
To ensure privacy, Vivaldi said that its servers are located in Iceland, meaning that there are no third-party servers involved.
By default, the Translate icon appears in the right corner of Vivaldi desktop browser's Address Field.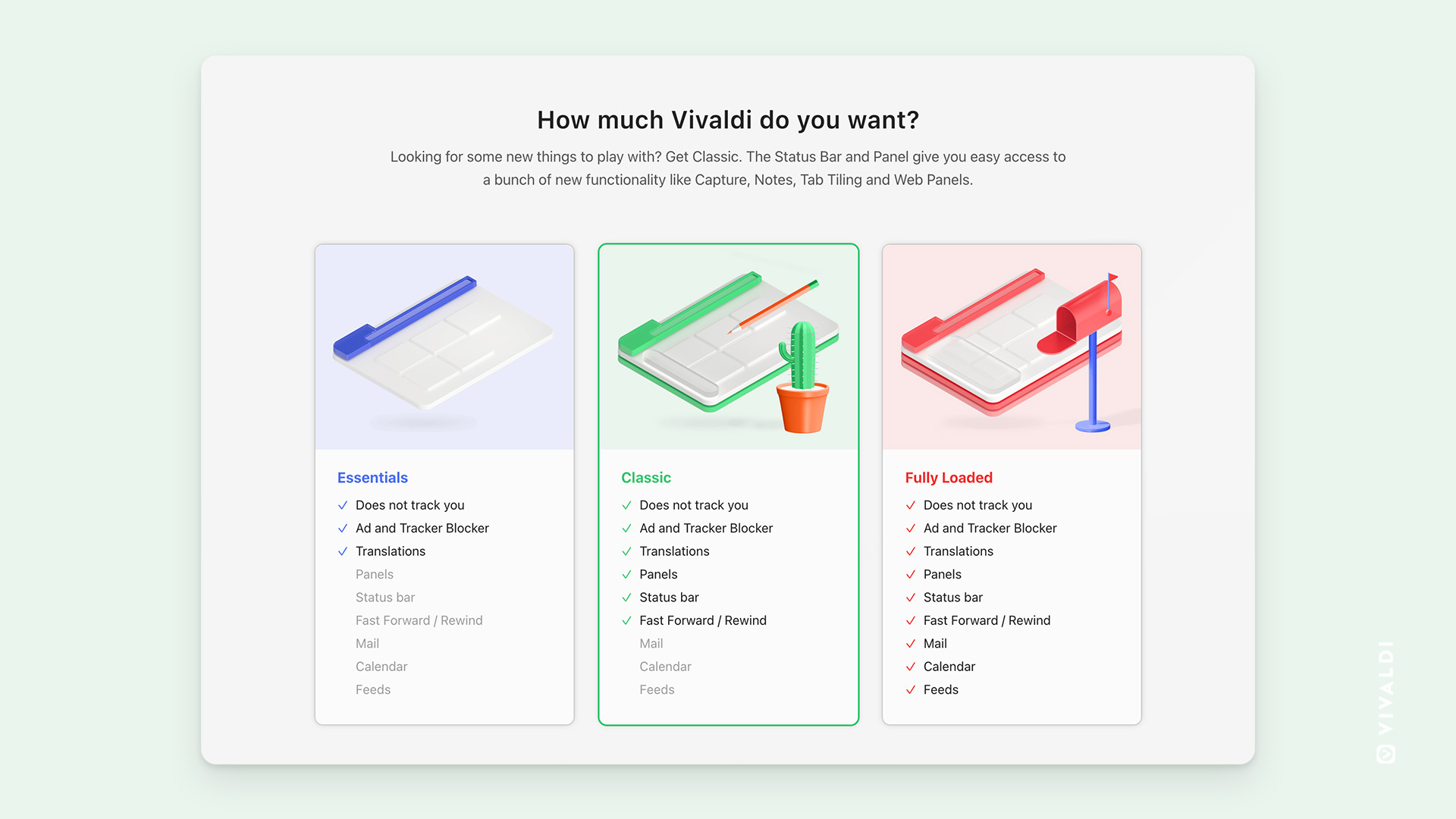 Vivaldi with three different layouts. (Credit: Vivaldi)
Vivaldi then continues by saying that version 4 of the browser also introduces three different default layouts:
Essentials, which boasts a simple layout; Classic, which adds Panels and the Status bar; and Fully Loaded, which brings everything Vivaldi has to the table.
"All Vivaldi functionality remains under the hood and available for you any time, no matter which layout you choose. But the layouts offer you different levels of access to features directly from the interface," Vivaldi said.
After that, there is the Vivaldi Mail Beta.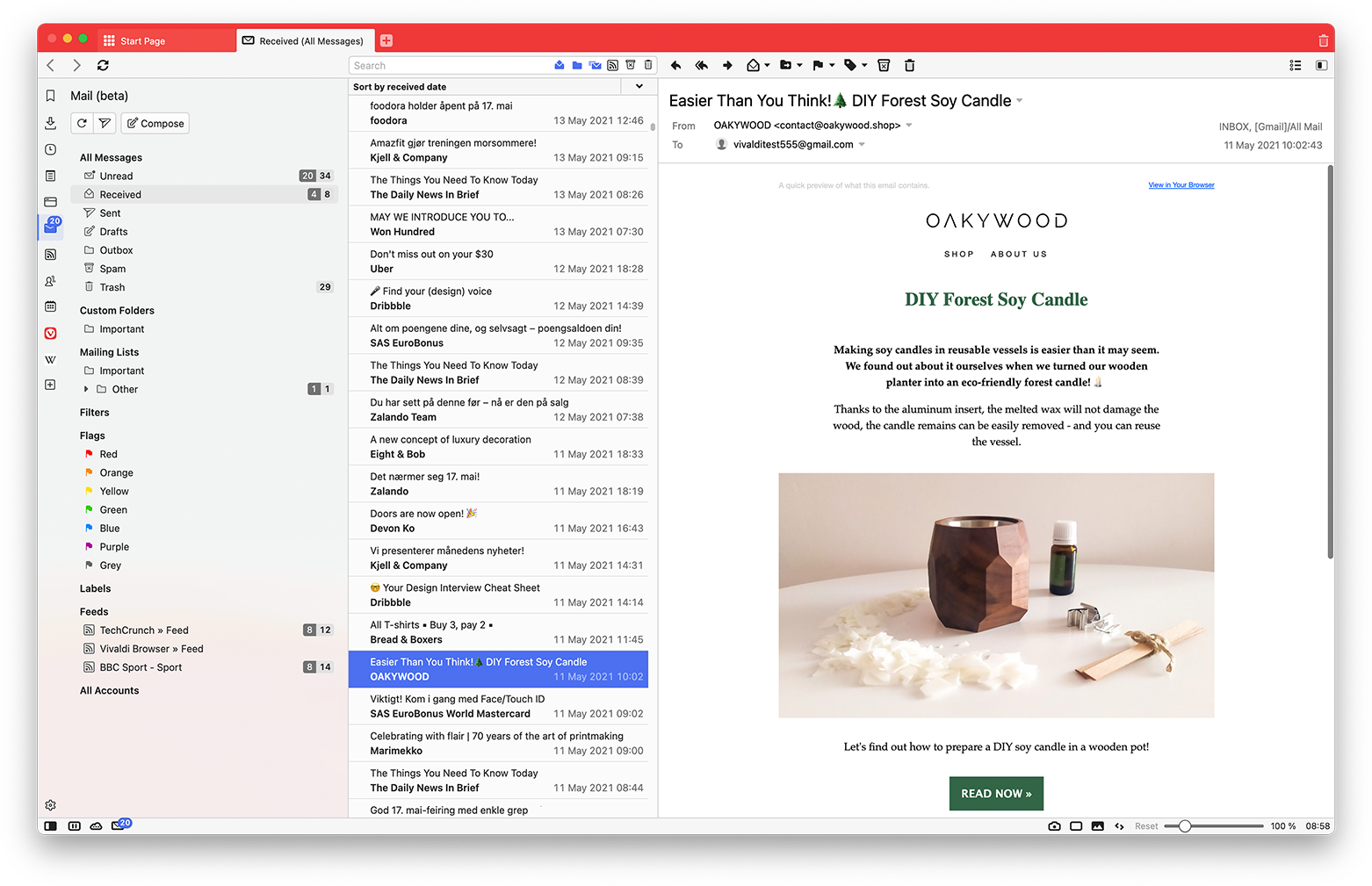 Vivaldi Mail Beta. (Credit: Vivaldi)
"Most mail clients keep all of your different types of mail bundled together, forcing you to manually untangle email from mailing lists, conversations and work-related email into folders. At the same time, they often separate out all of your personal mail accounts so that you have to keep jumping around to see all of your mail at once," Vivaldi explained.
This Vivaldi email client can automatically detect mailing lists and mail threads, and automatically categorizing email to make it easy to find. It also has a search feature.
"And the best thing? It does all this on your own computer, rather than on a remotely operated webmail server, which ties you to a specific service provider and forces you to trade access to the contents of all your mail in exchange for the use of their search features," Vivaldi continued.
Next, is Vivaldi Feed Reader Beta.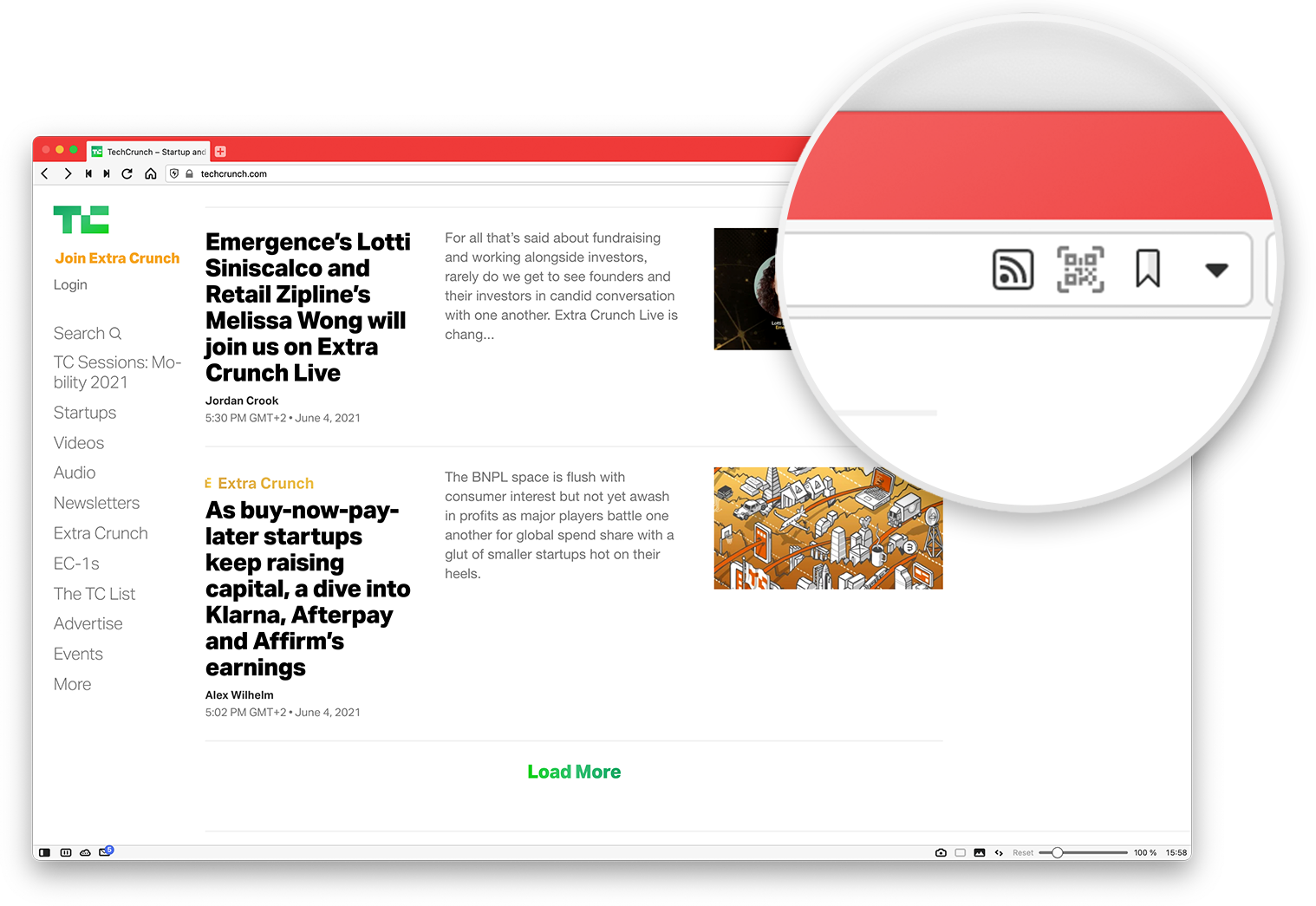 Vivaldi Feed Beta. (Credit: Vivaldi)
As an aggregator, the Feed Reader gathers users' reading materials into one place, but without the trackers.
"In a world where what we read online is being monitored, stored and sold to advertisers, Vivaldi Feed Reader is a breath of fresh air," adding that users can experience customized feed, but "with no fluff, no 'promoted content' – and no spying."
Lastly, is Vivaldi Calendar Beta.
This tool is integrated to the browser, allowing users to provide the one single and simple, but powerful calendar. where users can "fine-tune your schedules, so you never miss a thing."
And just like other tools it introduced, Vivaldi Calendar boasts privacy.
"We believe you shouldn't need to share the details of your events and tasks with a company just so you can keep them organized. But our ambition goes beyond providing an alternative to data-collecting calendars. We want to give you a better one with unique functionality," Vivaldi explained.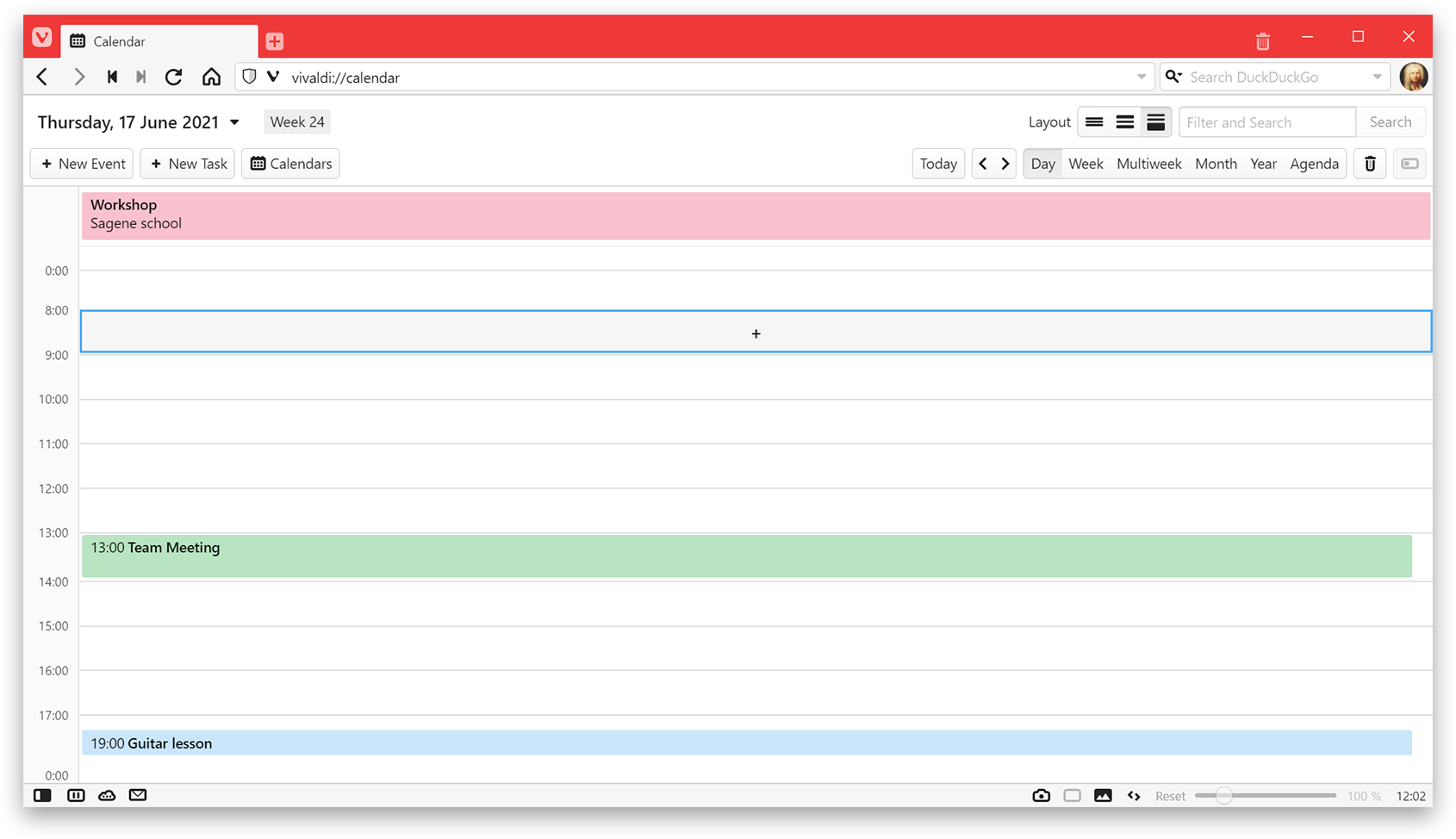 Vivaldi Calendar Beta. (Credit: Google)
Vivaldi is a cross-platform web browser developed by Vivaldi Technologies, a company founded by Tatsuki Tomita and Jon Stephenson von Tetzchner, who was the co-founder and CEO of Opera Software.
Vivaldi was officially launched on April 6, 2016.
The browser targets all audience of the web, but is tailored more specifically to fit the uses of users who are more technically-inclined users. Vivaldi browser also brings some of features that were removed from the old Opera browser.
Being powered by Chromium, the engine that powers Google Chrome and others, Vivaldi made a number of modifications in order to make Chromium fits its requirements.
And by knowing that it cannot fight the likes of Chrome, Mozilla's Firefox, and Microsoft's Edge heads on, Vivaldi takes a more subtle approach, but more focused on privacy.
Vivaldi can blocks sites and ads from tracking its users around the web, so that they can browse privately and securely.
What's more, it promises that its products won't track its users.