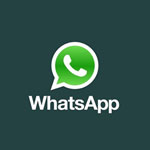 The instant messaging WhatsApp has come a long way. What began as a simple idea, the service has proven itself to be popular. And for that apparent reason, on Monday, February 1st, 2016, it was announced for having a billion users and increasing.
"WhatsApp began as a simple idea: ensuring that anyone could stay in touch with family and friends anywhere on the planet, without costs or gimmicks standing in the way," said WhatsApp when it announces the milestone.
By getting to the checkpoint, the Facebook-acquired messaging service is searching for ways to monetize its service after its decision to eliminate its $1 annual fee.
With one billion users, WhatsApp is having roughly twice the users it had when it was acquired by Facebook in 2014 for a staggering $19 billion. This means WhatsApp has increased its base users up to around 100 million users since September 2015 when it last gave an update.
In its two years under Facebook, the instant messaging service has become one of the most widely-used communication platforms in the world.
What makes the messaging service popular is its high usage in both developed and developing worlds. With availability in almost every platform and comes pre-installed on many phones, WhatsApp has a great start on places where smartphone penetration is still low.
A billion users is a lot, and WhatsApp realized that. "That's nearly one-in-seven people on Earth who use WhatsApp each month to stay in touch with their loved ones, their friends and their family," said WhatsApp in its blog post. "From sharing vital information during natural disasters or health emergencies, finding a date, growing a small business, buying an engagement ring, or seeking a better life," WhatApp has come a long way.
The achievement by the WhatsApp was first announced by Facebook's founder Mark Zuckerberg when he congratulated the co-founders of the app Jan Koum and Brian Acton.
After buying WhatsApp, one of the most significant move was making the service completely free. The next step, according to Zuckerberg, is to make it easier to use the service to communicate with businesses.
Recent media reports have indicated that Facebook is working behind the scenes to integrate WhatsApp more into Facebook by providing the ability to share information between the services.
When Facebook first acquired WhatsApp, Mark Zuckerberg said "WhatsApp is on a path to connect 1 billion people. The services that reach that milestone are all incredibly valuable."
Seeing The Numbers
As of 2015, the world has around 7.4 billion people. Across the globe, there are about 3.2 billion people with internet connection. According to Google, there are about 1.4 billion active Android users per month, excluding smartphones with Android not by Google.
As a comparison, there were 1.5 billion Windows users in 2014 according to Microsoft, and on 2016, there are about 1.2 billion users that use Microsoft Office.
On the same day of WhatsApp announcement, Google also said that its Gmail service is having over one billion monthly users.
WhatsApp in reaching one billion user milestone has made it enter the exclusive club in which only populated by Google's product and Facebook. WhatsApp has a relatively tiny team working behind its back, but it's responsible for delivering more than 42 billion messages a day.
What makes it phenomenal is the time it takes to get there: a billion users in 7 years, if compared to Gmail that need 11 years to grow its user base to the same size. Facebook Messenger took 8 years to get to its 800 million monthly users.
There Is No Time To Celebrate
In its statement, WhatsApp said "We are proud of this milestone, and we're humbled by the extraordinary ways all of you have used WhatsApp. Whether it's sharing vital information during natural disasters or health emergencies, finding a date, growing a small business, buying an engagement ring, or seeking a better life - we're honored to be a small part of what people are doing to make their lives and the lives of those around them better."
But it's still isn't time to celebrate just yet. For WhatsApp, "...it's back to work - because we still have another 6 billion people to get on WhatsApp, and a long way left to go."
The company is still finding ways how to monetize such huge user base. With Facebook behind its back, the two are trying to make a sum of money while keeping the service as it is: simple and without gimmicks.