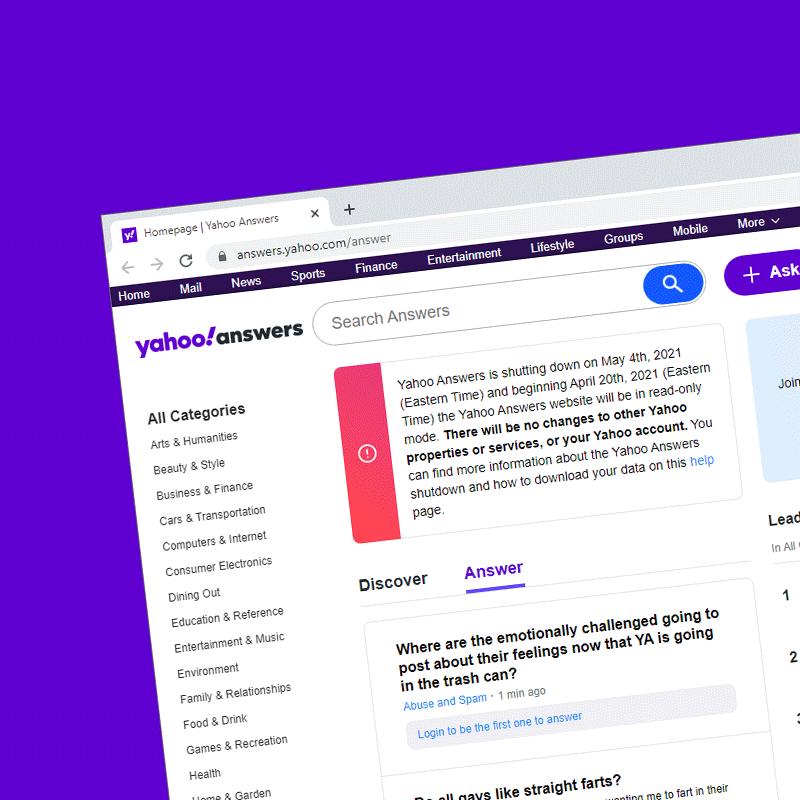 It was in a not-so-distant past that Yahoo! conquered the internet.
It was the directory most people visited to browse the World Wide Web. And because of its extreme popularity, Yahoo! was a successful company, and managed to create many other products, including the once-was-popular Yahoo! Answers.
Yahoo! Answers is a community-driven Q&A website, or knowledge market. Through it, users could submit questions to be answered by others in the community. Users can also answer questions from other users, and upvote both questions and answers to increase their visibility. For better viewing, questions are put into sub-categories, which include topics like: beauty, business, finance, cars, electronics, entertainment, games and more.
More or less, Yahoo! Answers was the predecessor that influenced the rise of Reddit, Quora, Stack Exchange, Stack Overflow, and others similar.
But gone are those days.
With Yahoo! continues its plummet, the company announced that it would shut down Yahoo! Answers on May 4, 2021.
Yahoo! itself was founded by Jerry Yang and David Filo, initially with the name "Jerry and Dave's Guide to the World Wide Web"
It was then incorporated on March 1995 using the name "Yahoo!".
When Yahoo! became an immensely popular search directory for various websites, the platform soon grew into an established Internet resource.
And Yahoo! Answers was launched on June 28, 2005, initially meant for some Yahoo! employees. But later, on December that year, Yahoo! Answers was launched to the general public. The platform was then made available to everyone starting May 15, 2006, designed to be a replacement of Ask Yahoo!, which was Yahoo!'s former Q&A platform that was discontinued in March 2006.
Yahoo! Answers quickly picked Yahoo!'s track and traction. It gained momentum rapidly that Yahoo! had to create it in 12 different languages, with some Asian Yahoo! Answers developed to support non-Latin characters.
They had the names like Yahoo! Chiebukuro (Yahoo!知恵袋) in Japan, Yahoo! Knowledge in Korea, Taiwan, China, and Hong Kong. An Arabic version of Yahoo! Answers called Seen Jeem was accessible through Yahoo!'s subsidiary Maktoob.
While Yahoo! Answers was a place where many people asked questions, the platform was mocked and ridiculed for hosting too many poor questions and inaccurate answers.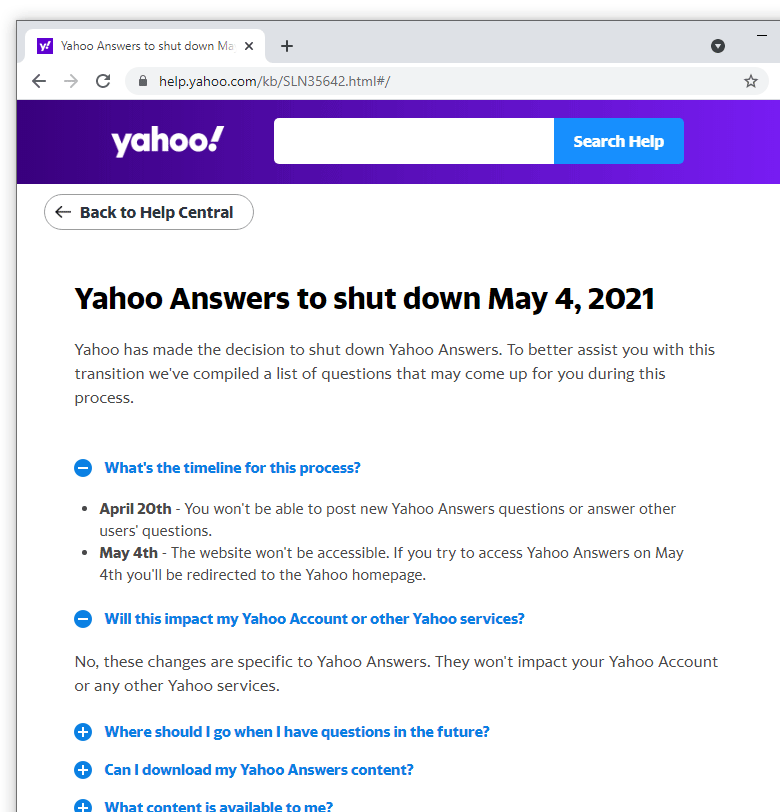 While Yahoo! Answers offered points to limit spam, badges and more, people have used too many "internet language," incorrect spelling and improper grammar. This stained Yahoo! Answers' reputation.
Rather than becoming a relevant source of information, Yahoo! Answers quickly turned into a source of entertainment.
In a 2008 study, it was found that Yahoo! Answers is "not optimal" for questions requiring factual answers and that the quality decreases as the number of users increases.
Things were made worse because the site doesn't have a proper filtering system to prevent spam from being posted, or people from posting incorrect answers. Yahoo!'s staff didn't do much in moderation, and at one time, moderation was relied on the community's voting.
Things went south quickly following the rise of Google and social media networks in general.
Soon, Yahoo! Answers became a home for far-right conspiracies, cyberbullies and hate groups.
The company said that starting April 20, 2021, Yahoo! Answers will switch to read-only, and users won't be able to ask questions or answer questions. Then, Yahoo! Answers will have all questions and answers "securely deleted" after June 30, 2021.
Users who wish to download their data on Yahoo! Answers, can do so before that date.
Yahoo! said it needs to shut down Yahoo! Answers because "it has become less popular over the years".