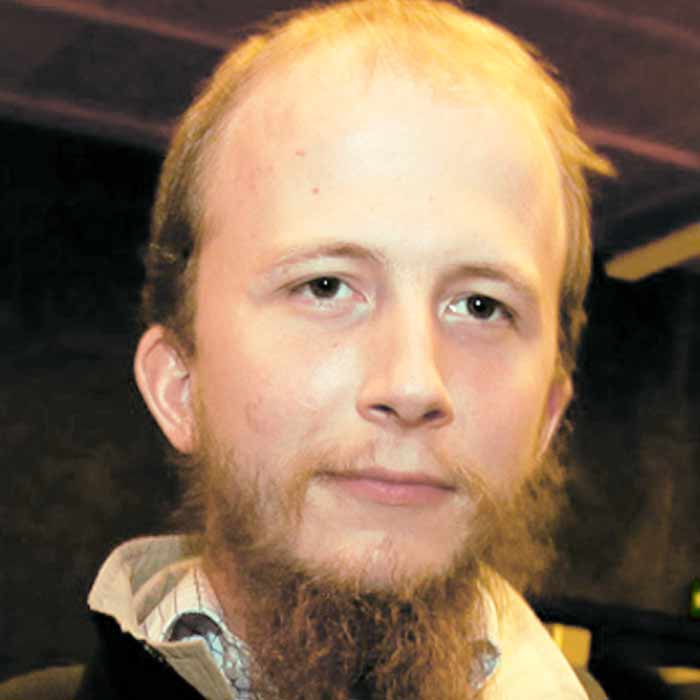 "Nobody is going to pay anything – there is no money to pay. Nobody is interested in just giving money away to big corporations that are just greedy and stupid."

- Peter Sunde
Copyright is known as the owner's right for copies to be only made by the owner or with his/her authorization in form of a license. Peter Sunde has entered the world where the distribution of copyrighted materials grew to as an opposing force with the "one of the world's largest facilitators of illegal downloading" and "the most visible member of a burgeoning international anti-copyright or pro-piracy movement" peer-to-peer file sharing protocol.
Popular among users, The Pirate Bay has been the synonym for the piracy of the internet.
Early Life
Peter Sunde Kolmisoppi (brokep) was born on September 13th, 1978 in Uddevalla, Sweden. He is Finnish/Norwegian heritage who grew up with Amiga (a family of personal computers marketed by Commodore in the 1980s and 1990s). In his early life, Sunde works mostly with projects that can change society and he has done so for a several years.
He was working for a large German medical company before founding The Pirate Bay. In 2003 he became a member of Sweden's Piratbyrån (The Pirate Bureau). A few months later, Sunde, Fredrik Neij and Gottfrid Svartholm started The Pirate Bay with Sunde as the spokesperson.
The Pirate Bay is a Swedish file-sharing website that claims itself as "the world's most resilient BitTorrent site". The Pirate Bay uses the BitTorrent protocol that was first designed and introduced by Bram Cohen, an American computer programmer, in April 2001.
The Pirate Bay
The Pirate Bay was established in the year 2003 by the Swedish anti-copyright organization Piratbyrån, and was first run by Gottfrid "anakata" Svartholm and Fredrik "TiAMO" Neij.
Since its early years, The Pirate Bay has been involved in a number of lawsuits. On 31 May 2006, the website's servers in Stockholm were raided at twelve locations in Sweden and taken away by Swedish police, leading to three days of downtime. On 31 January 2008, Peter Sunde, with 3 other operators that includes the CEO of The Pirate Bay's former ISP were charged with "assisting [others in] copyright infringement". The trial began on 16 February 2009.
On 17 April 2009, Sunde and his co-defendants were found to be guilty of "assisting in making copyright content available" in the Stockholm district court. Each defendant was sentenced to one year in prison and ordered to pay damages of 30 million SEK (approximately $3,620,000) to be apportioned between the four defendants after a trial of nine days.
A total of 113,338 people signed the demand to grant Peter Sunde pardon, after reading his story in his submitted plea about corruption and a national system defending itself against upstart challenges. In late summer, the petition was presented to the Swedish Minister of Justice, Beatrice Ask.
The prison terms was later decreased and the fine was increased when Swedish appeals court upheld the verdict in 26 November 2010.
Sunde hired Peter Althin, a lawyer, as his rights to have an attorney present. Sunde pled not guilty since he was convicted of aiding and abetting a crime that had not been proven to have taken place. Sunde had a debt of 100 million SEK, supposed to "compensate" for aiding and abetting the assistance of a theoretically possible crime he is supposed to have done by doing things that didn't happen.
In May 2012, as part of Google's newly inaugurated "Transparency Report", the company reported over 6,000 formal requests to remove Pirate Bay links from the Google Search index; those requests covered over 80,500 URLs,
After the verdict a press conference was held where Sunde held up a handwritten IOU statement claiming that is all the damages he will pay, also adding "Even if I had any money I would rather burn everything I own and not even give them the ashes. They could have the job of picking them up. That's how much I hate the media industry."
Sunde stated that The Pirate Bay has been one of the most important movements in Sweden for freedom of speech, working against corruption and censorship.
Segments of an interview with Sunde talking about copyright, the internet, and culture are featured in the 2007 documentary Steal This Film.
Sunde that speaks Swedish, Norwegian, English, Finnish and German, remained as The Pirate Bay's spokesperson until late 2009. In August 2011 Sunde and, fellow Pirate Bay co-founder, Fredrik Neij launched file-sharing site Bayfiles, that aims to "legally" share.
Despite the controversies and the Swedish court case, The Pirate Bay website continues to function - although the site notes that it's run by an organization, rather than individuals, and is registered in the Seychelles.
Flattr
In March 2010, Peter Sunde and Linus Olsson started a microdonation system project called Flattr. At first, it has an invite-only basis. This was changed and was then opened to the public on the same year in August.
Flattr is a system made to encourage people to share money as well as content. The system works by evenly spreading the money the members pay each month among the buttons they click in a month. Flattr itself takes a 10 percent fee from the user's monthly flat rate.
Hemlis
On July 10th, 2013, Peter Sunde with Leif Högberg and Linus Olsson announced a new project called Hemlis, a free and private messaging platform.
The application is meant to provide end-to-end encryption which enables private messaging where only the people chatting can read the messages. The name "Hemlis" is slang for the Swedish word "hemlighet" ("secret").
Sunde has worked with a small group of developers to raise money for a the app. Sunde and his team aren't planning on a traditional ad revenue model and use crowdfunding campaign for the app where users can pay in cash or Bitcoin for added features,
Kopimashin
Peter Sunde introduced a device called Kopimashin on December 2015. It's a machine made with Raspberry Pi console for hardware and Python as software. It has an LCD display and produces 100 copies per second of the song "Crazy" by Gnarls Barkley to then store the them inside a repository.
The machine is able to create more than 8 million copies a day.
Sunde then released a full description detail about the device and the project at Konsthack.
He described Kopimashin as a device to "...show the absurdity on the process of putting a value to a copy..." and that "...putting a price to a copy is futile." He also noted that it's just a mere act against the record industry that claimed millions of dollars in losses in the music industry, caused by The Pirate Bay.
Personal Life
In his spare time, Peter Sunde plays house/techno music, learns new languages and goes traveling. Due to all legal issues he encountered, Sunde that held the title 'Share Angel' among the few stated that he hardly found any time to do his day job and grew more and more active in the political aspects.
Om May 31st, 2014, Sunde has been arrested in Southern Sweden after several years on the run following an earlier conviction for Pirate Bay-related copyright violations - although he has remained visible and active within the tech world over this period. Sunde serves the eight-month jail sentence handed down in 2010 for breaching copyright law, and fined 46 million SEK (about $7 million) at the time.
Sunde was released five months later after serving two-thirds of his eight-month sentence.