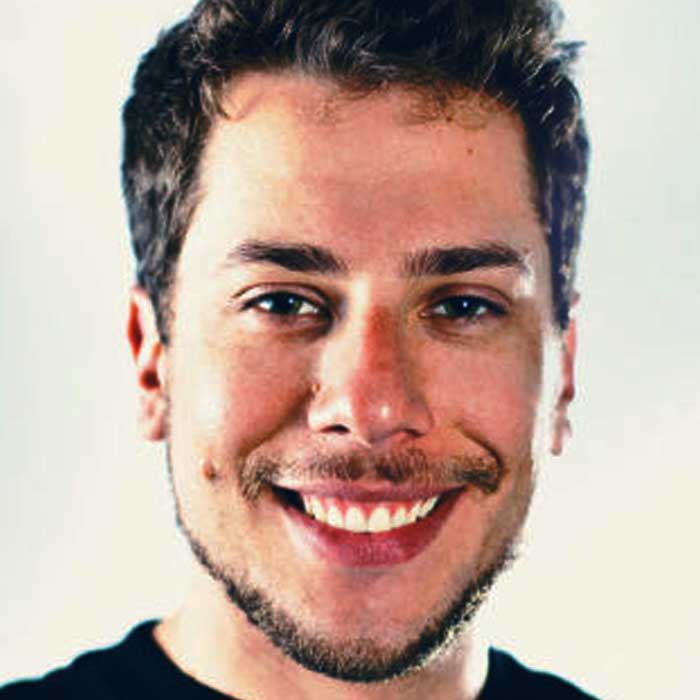 Look to the defining moments and challenges of your life and reexamine those lessons to recognize your passion and your skills.

- Angelo Sotira
From music to art, Angelo Sotira has put something in between: a community. Derived from the influence that powers connectivity and communications, especially on the internet where people are connected, he co-founded DeviantArt, an online community showcasing various forms of user-made artwork.
His talents and dedications that have started at a tender age, has led DeviantArt to become the world's largest online community for artists and art enthusiasts.
Early Life
Angelo Sotira was born in February 14th, 1981, in Greece. After he moved to Fairfax when he was still a child, he began showing an interest on the internet when he leveraged the power of online communities by helping The Netherworld, a local bulletin board system, to become the number one video game BBS in northern Virginia. At that time he was 12.
"I was designing maps for the game, and because I listened and built what people wanted, I became pretty popular," said Sotira. He used that popularity to write blogs about other players that meant to make players logged in constantly see their names in the news.
After his early age popularity, Sotira's interests switched from online communities to Dimension Music, a site he started when MP3 was format widely available. He dedicated the site for dependent musicians and fans so they can upload and trade their musics. In 1999, the company was acquired by Michael Ovitz, who turns out to brought Sotira out of high school to became the face of the company and at Ovitz's Artist Management Group & Lynx Technology Group. Sotira blogged daily, running community outreach to customizing graphics for Winamp Media player skins.
Starting DeviantArt
His usual blogging and online habits made him stumbled across a JPEG of a random painting in a chat room. It was because Sotira's love of art, as well as his work that went around customized graphics for media players, this attracted his attention.
"It was maybe two megapixels, but it was amazing," said Sotira. "It riveted all of us, and, to me, it was a clear sign that if we made a community that allowed for skins, wallpapers, paintings and digital drawings, it would be extremely successful."
When Ovitz's company folded, at the age of 19, Sotira co-founded DeviantArt with Scott Jarkoff, Matthew Stephens, Angelo Sotira and others. Since the three shared backgrounds in the application skinning community, DeviantArt was made initially for this as well.
Sotira put his first $15,000 on the first iteration of the project, and as a part of Dimension Music, DeviantArt's website goes public in August 7th, 2000. DeviantArt was officially incorporated in 2001 about eight months after the launch.
"In 2000 I noticed that skinning your computer was becoming popular and there were artists moving in behind that development offering their skills," explained Sotira. "These artists were interested in posting on Winamp Facelift, but they needed their own platform to publish their other art. So DeviantArt began by allowing these artists to publish original art and news content to the web, collaborate with each other, comment on each other's artwork, build a fan base, and connect with third-party social networks to further promote the art."
It was until Matt Stephens contributed by suggesting them to take DeviantArt further than skinning and towards an "art community". Stephens was one of the individuals who were involved in the initial development and promotion of DeviantArt, and they still hold positions with the project.
DeviantArt ran without any additional investment for 7 years. It has used several different monetization strategies before growing having its own cash flow. It was when DeviantArt accepted a $3.5 million investment from video-viewing software developer DivX. The investment further opened the gates to multiple revenue streams.
When the online advertisements became widely used, DeviantArt's largest source of revenue sank. Sotira shifted the company's strategy to eventually increased its subscription by more than 25 percent, and releasing virtual goods and its own currency system.
While the side businesses are helping in increasing its revenue, the main reason DeviantArt is thriving is because of its unique user experience. "We want to make how you interact in DeviantArt's platform better, so we commit code that goes live three times a day, and we're constantly adapting to the edge," said Sotira.
Because of that, DeviantArt successfully created its own community. And that active community made DeviantArt passed the 100 millionth submission, or "Deviation" milestone, in just 10 years of existance.
DeviantART thrives because of its solid and super-engaged community that buys into the deviant lifestyle with subscriptions, toys, clothes and even llama accessories. Using his community-building skills he learned back in his childhood, Sotira has created a place where millions of independent artists around the world can feel deeply connected to one another.
"The future of art is a big part of our story," said Sotira that sets his goal to expose people to art in a more engaging setting than traditional museum and gallery visits. "There was a time when every single one of us was drawing or coloring. But we just stopped, and that part was never developed. DeviantArt can be a bridge back to the art world."
As of 2011, DeviantArt became the largest online art community.
Sotira is also serving as an advisor for FileFront, Expa, Trendabl and Madefire.
On February 2017, the cloud-based web development platform Wix acquired DeviantArt for $36 million. Sotira and the rest of DeviantArt's employees are joining Wix's management team.
Personal Life
Angelo Sotira favorite childhood moments were online games as well as Doom, Quake, Hexen, Heretic. He was attracted to the communities and the environments available where people can connect and talk.
Sotira's primary art passion is photography, which he takes great care in producing. Sotira that loves Los Angeles because it reminds him of his hometown of Athens in Greece, normally takes pictures of street portraits; many of which are in simple blacks and whites. Photography is simply his past time activity and hobby which he do apart from his work at DeviantArt.
Living in Hollywood, California, Sotira that has the nickname "Spyed", goes with the looks of unshaven facial hair. But his jeans attribute that he wears often made him look younger than he is. He dated actress Janina Gavankar for 5 years.