Bali is often referred to as the "paradise" on Earth.
As a province of Indonesia, Bali is an island located at the westernmost of the Lesser Sunda Islands. Bali is Indonesia's main tourist destination, with tourism-related business making up to 80% of its economy.
But during 'COVID-19' coronavirus pandemic, things are experiencing a downturn.
With restrictions in place, travelling has become difficult, in and out of Indonesia, including to this island of Bali. And that is by intention in order to help prevent the spread of the contagious virus.
And Kristen Antoinette Gray, an American citizen who has been living in the resort island for more than a year, has been summoned, to then deported after allegedly misusing her visa, and because of her viral tweets that detailed how she and her friend could enjoy an "elevated lifestyle at a much lower cost of living" during their stay.
She was accused for overstaying and also she recommended ways for her followers to live in Bali cheaply and comfortably as a Black LGBT.
Kristen Gray, and the first of her Twitter thread that started the commotion.
"It's a guide breaking down how we did it and how you can do it too," Gray wrote in the now-deleted tweet. "We include direct links to our visa agents and how to go about getting Indonesia during COVID," the 16 January tweet reads.
She also shared tips on avoiding penalties for health protocol rules and how to circumvent visa overstay in Indonesia.
Gray who was living in the Karangasem District, tweeted a long Twitter thread, saying that she and her friend booked one-way flights to Bali in December 2019 with an initial plan of staying for six months to "stack some bread and elevate our lifestyle."
"I was broke, struggling to find work the entire year of 2019 and I wanted to take a stab at entrepreneurship," she wrote.
According to her tweet, she immediately found an elevated lifestyle in the island, in which she compared two photographs, one from her apartment room in Los Angeles and one from her residence in Bali.
"I was paying $1,300 for my LA studio. Now I have a treehouse for $400. Dec. 2019 on the left... Jan 2021 on the right," she said of the photos.
"In March, when the pandemic hit and our 6-month plan went out the window, we decided to stay in Bali to "wait it out" and we've been here ever since," she added.
Gray said that 2020 was "the best year" for her even during the quarantine period. By staying in Bali and doing what she said, she was able to focus on her graphic design works "without the dictation of the American news or political drama".
To again allure people to live in the Indonesian tourist haven known as Pulau Dewata (Island of Gods), Gray described some of the major benefits and perks she experienced in Bali, which include "safety, low cost of living, luxury lifestyle, queer friendly and Black in Bali community".
She also wrote sell an e-book about her Bali stay titled "Our Bali Life is Yours" at a $30 price.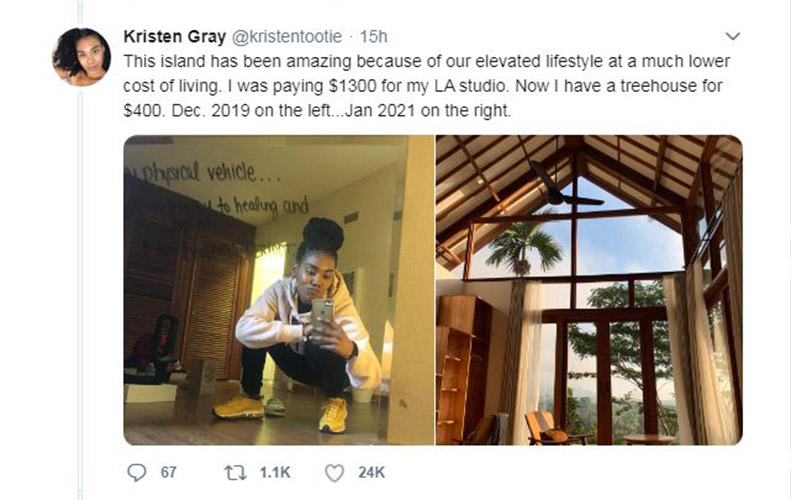 Kristen Gray, comparing her $1,300 studio home in Los Angeles, and the $400 treehouse she rented in Bali.
Her tweets quickly caused uproar.
The hashtags #Bali and #Bule started becoming trending, as netizens were busy talking about Gray and the island.
Gray's viral tweet has angered netizens on Twitter. Moreover, Gray, who is a foreigner, openly invited other foreigners to come and settle in Bali by breaking the law. Citizens also questioned whether Gray paid for her visa or taxes to the Indonesian government because she was working there.
Some angered Twitter users even linked Gray's @kristentootie Twitter account to the immigration.
This issue has grabbed the attention from the Indonesian Tourism and Creative Economy Minister Sandiaga Uno who implied that international visitors must understand that Indonesia is a lawful nation.
"What we need to assert is that Indonesia is a lawful state, we must ensure that international or domestic tourists adhere to CVID-19 health protocols and they must also respect the law," said Sandiaga Uno on January 19.
Despite acknowledging that Bali has been one of the main tourist destinations to conduct remote work, even amid the coronavirus crisis, the Minister reminded that people visiting Indonesia must respect Indonesia's law.
Kristen Gray (center), and her girlfriend Saundra Michelle Alexander (right).
Following this, Indonesian immigration started looking for Kristen Gray.
At first, the immigration office said Gray was summoned for a questioning in Bali, and said that she could face sanctions if found guilty of visa violation.
But because she did more than just overstaying, Gray was charged with an Immigration Administrative action in the form of deportation (expulsion) because she allegedly violated Article 75 paragraph 1 and paragraph 2 of Law Number 6 Year 2011 concerning Immigration.
Kristen Gray was also considered to be distributing information that is considered to be unsettling to the public, including: LGBTQF (queer friendly), and a problematic statement about easy access to Indonesian territory during the pandemic.
"American citizens on behalf of Kristen Antoinette Gray are subject to administrative immigration action in the form of deportation," said the Head of the Regional Office for the Ministry of Justice and Bali, Jamaruli Manihuruk.
Gray pled not guilty.
"I'm innocent, I didn't overstay. I am not looking for money in Indonesia, I am talking about LGBT and I was deported for being LGBT," said Kristen Gray in Denpasar on January 19.
And not just Gray, as her friend Saundra Michelle Alexander who was with her, was also deported.