Internet has long been used for people to gather information and communicate. The internet however, can also be used to deliver their opinions and empower free speech, as well as gathering masses for protests.
And here, India is taking steps to prevent the latter from happening, by ordering internet providers to temporarily suspend mobile data, voice, and SMS services. This, in order to curb protests that happen across India over the National Register of Citizens Bill (NRC) and the Citizenship Amendment Act (CAA) laws.
The blockage targets some parts of New Delhi, the country's capital, the home for almost 30 million people.
The precaution illustrates how India's government is trying to clamp down on its citizens' efforts to voice their opinions on numerous issues plaguing the country, by restricting their ability to communicate, which in turn would stop them coordinate protests.
The news first came when an Airtel's then-deleted tweet noted that the Indian government ordered mobile internet services to be suspended:
Until this moment, India has implemented more than 350 internet shutdowns across the country since 2014. The most notable, is the blackout in the of Jammu & Kashmir.
India, which is considered the world's largest democracy, continues to normalize shutting down internet and suspending mobile communications for its citizens.
The internet shut down in New Delhi came only days after Narendra Modi-led government suspended mobile communications in the northeastern states of Assam, Meghalaya and Tripura - home to more than 36 million people - and then parts of Uttar Pradesh, the most populated state in the country with more than 200 million people.
India's top three telecommunication networks - Reliance Jio, Vodafone and Airtel - began to cut mobile communications in parts of New Delhi, following the government's direction.
By afternoon that day, some said that services had been restored. But that only commenced for several hours, as the Indian government issued a similar direction for Mangalore, a major commercial center in the state of Karnataka.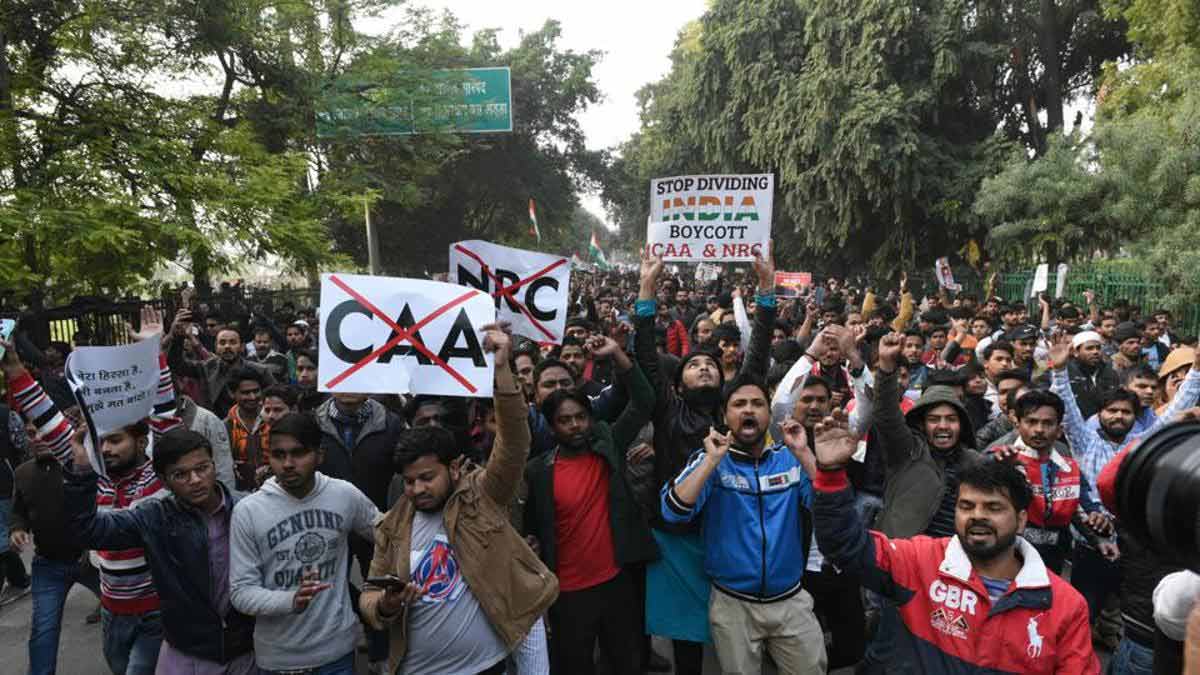 Citizens protested the NRC and CAA at Uttar Pradesh, on December 19, 2019. (Credit: Dheeraj Dhawan / HT Photo)
The NRC is a bill meant to create a database of citizens who can prove their citizenship by way of official paperwork documenting their ancestry in India.
Initially, the law has only been implemented in the northeastern state of Assam, a state in India known for its wildlife, archeological sites and tea plantations, and a home to several tribal communities.
The CAA on the other hand, is a law that allows the government to fast-track citizenship for Hindu, Sikh, Parsi, Buddhist and Christian immigrants from Pakistan, Afghanistan and Bangladesh - but not Muslims, and not people from other neighboring countries like Sri Lanka and Tibet.
Together, these two laws could make many Muslims in India to be displaced, since it would be difficult for them to gather the necessary documentation for their ancestry.
This was why large number of people, most of whom were students, marched in the streets in parts of New Delhi, Mumbai, Mangalore and several others to urge the government to change its mind. At least two people were killed by firearms in the riot, according to local media reports.
While condemned by many governments around the world, India's attempt to curb protests by shutting down the internet has been praised by Chinese state media, saying that the practice of "shutting down the internet in a state of emergency should be standard practice for sovereign countries."
"The internet shutdown in India has once again proved that the necessary regulation of the internet is a reasonable choice of sovereign countries based on national interests, and a natural extension of national sovereignty in cyberspace."